'BIP': How Hannah G.'s Family Really Feels About Dylan Barbour
Dylan Barbour and Hannah Godwin met, fell in love, and got engaged on the most recent season of Bachelor In Paradise. The couple might have had a rocky beginning (Hannah G. was a popular contestant and was pursued by multiple men), but by mid-season, they were definitely one of the strongest couples on the beach.
Though Hannah G. explored her options a little bit in the begining of the season, Dylan knew from his first conversation with the model that he wanted to focus all of his attention on her.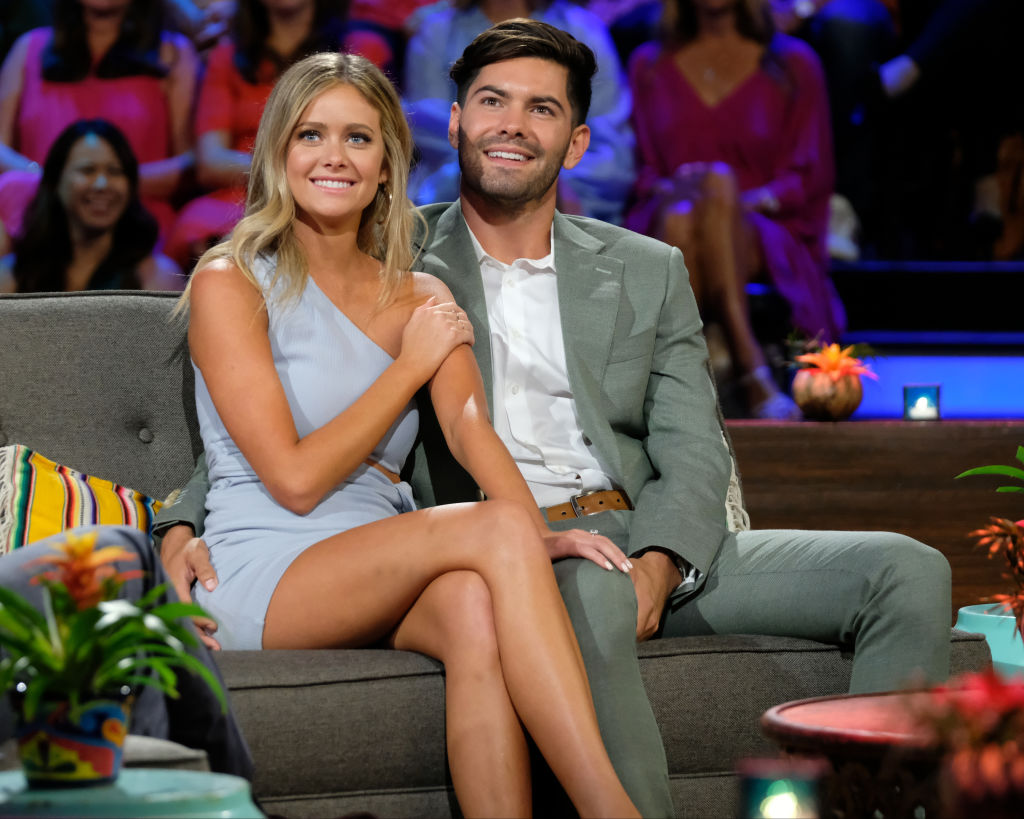 "I think it was our first conversation. I thought she was gonna be someone else and I was hesitant. I talked to other people when I got to the beach. I talked to everyone for like five minutes and I was like 'I'm not gonna be lazer focused.' And then I talked to her and it was over for me from that point. She just completely caught me off guard. I think a lot of people don't know just how funny she is and how sweet and caring she is about everybody around her. Yeah, I was just all-in from the second I met her," he said in a recent interview with Extra.
What eventually drew Hannah G. to Dylan was realizing how compatible they really are.
"I feel like a good basis of a relationship is a good friendship and we have such a good, strong friendship I feel like. We have the same sense of humor, we're good at communicating… there's obviously so many weird social things that are going on when you're filming a show in Mexica and so just watching how he'd react and handling different situations and everything, I feel like that's where I was like 'you're my dude.' I think I learned how compatible we are moreso than comparing it to other relationships. We're just very compatible I feel like," she expressed in the same interview.
Hannah G. and Dylan have met each other's families
Naturally, one of the first things Hannah G. and Dylan did after leaving the beach engaged was meet each other's families.
In their interview with Extra, Hannah G. was asked if her father "actaully approved" of Dylan.
"My dad actually approved and I knew they would. Obviously that's a big part. He's such a gem. My family, literally, is obsessed with him. I think they like him more than they like me sometimes. My mom literally Instagram messages him all these crazy memes and gifs all the time," she responded.
"It's awesome," said Dylan, pleased.
Hannah G. and Dylan are planning on a long engagement
But just because they're engaged doesn't mean Dylan and Hannah G. are rushing to the altar.
Dylan currently lives in San Diego, California, and Hannah G.'s moving to Los Angeles. They say they'll be going back and forth between the two cities for the foreseeable future while they chase their respective careers.
As for when they'll get married?
"Two months," joked Dylan.
Hannah laughed and clarified that they're just going to take some time exploring their relationship. But they assured Extra that they're very happy.  
Read more: Luke P.'s Time On 'The Bachelorette' Made His Brother Question God