'BIP': John Paul Jones Is Making the Best of California Despite Breakup From Tayshia Adams
This past season of Bachelor in Paradise was a wild ride, and while many folks on the beaches of Mexico experienced serious heartbreak, several others found love. And we can't forget Tayshia Adams and John Paul Jones' journey.
When Jones first met Adams, he was infatuated with her from the start. But the older woman wasn't too into Jones at first. Eventually, the two hit it off and dated on the beach, and their infectious laughter charmed BIP fans. Though Adams broke up with Jones on the show, she chased after him afterward for a sweet and loving reunion.
Sadly, Adams and Jones are no longer together. But Jones appears to still be thriving in California despite Adams' absence from his life.
John Paul Jones and Tayshia Adams broke up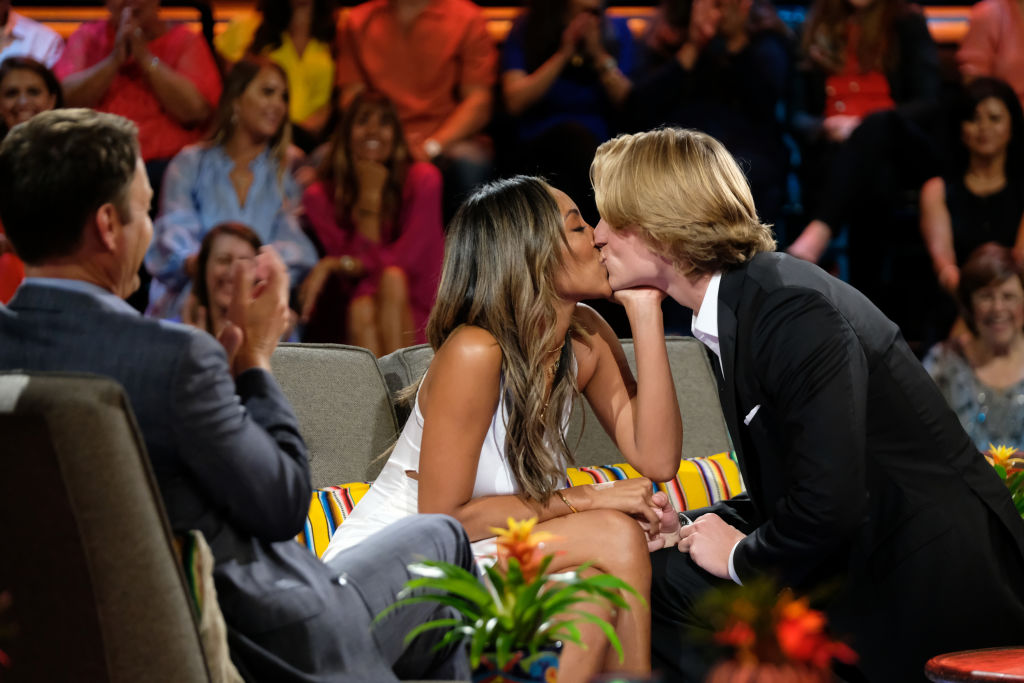 BIP fans though Jones and Adams were destined for a long-lasting relationship, but it wasn't in the cards after all. While they both appeared to have fun together, it looks like Adams may have wanted a more mature man as her mate instead of Jones. As an insider told E! News about the breakup, "They definitely really liked each other but Tayshia is older than JPJ and in the long term needs somebody a little more mature."
Adams also spoke about the breakup on a podcast and on a now-deleted Instagram post. "I know you guys have been asking about John and I recently, and as much as I like to keep my personal life private, I realize you have all watched and been a part of our journey from the beginning," Adams wrote on Instagram. She then went on to explain that their "insane schedules" and the physical distance between them made it hard to maintain a lasting romance.
Jones is staying in California despite his relationship ending
Adams' followers called her bluff on her breakup Instagram post. While Adams claimed distance was one of the reasons for the breakup, it's well-known that Jones moved from Maryland to California, which is where Adams lives.
Back in mid-October, Jones talked to Us Weekly about his decision to move. "Tayshia is only an hour and a half away so that was a big draw and to my surprise, a talent agent reached out to me and they've been consistently getting me auditions and I'm waiting to hear back [on projects]," he said. "I honestly never could've expected this entire occurrence, it's completely crazy. I'll never be able to do this again so it just seemed like the right move."
Jones also noted that Adams was excited for his move at the time, too. "It reduces a lot of the hassle that came with buying a plane ticket and visiting her for a weekend. It was really difficult [being long-distance]."
He appears to be enjoying his time on the West Coast
It wasn't long after Jones' move to California when the two announced their breakup. And many wondered if this meant Jones would head back to Maryland to be closer to his friends and family.
It doesn't look like that's Jones' plan so far, however. He primarily moved out to California for a shot at acting, and the gears are starting to turn. While there's little context for many of his Instagram posts, Jones posted a few photos that look like they're from a movie or music set. And he's also commented on how much he's loving the weather on the West Coast.
"I seriously doubt I'll ever grow tired of these California sunsets," he captioned a post of him relaxing on the beach.
Will Jones stay in California long-term? We're not sure, but we're betting if his acting career pans out, he could certainly make a life in the golden state. Perhaps a reunion with Adams is possible, too!
Check out Showbiz Cheat Sheet on Facebook!