'BiP': Kristian Haggerty Posts About "Respect" After Demi Burnett Breakup
Fans of ABC's Bachelor in Paradise were devastated to learn about the recent breakup between former contestants Demi Burnett and Kristian Haggerty.
The couple had the first-ever same-sex relationship on the Bachelor franchise, and Burnett was the second openly bisexual or queer contestant (after Jaimi King, who appeared on Nick Viall's season of The Bachelor). 
Burnett and Haggerty became instant fan favorites, with many loving the couple's authenticity and emotional heart-to-hearts onscreen. They had a "double engagement," with each proposing to the other at the end of the sixth season of Bachelor in Paradise and on the "After the Final Rose" tell-all episode. 
But the couple broke shippers' hearts this past week, when they officially announced the end of their engagement. Read on to learn more about what the Bachelor in Paradise couple has said on social media since the breakup.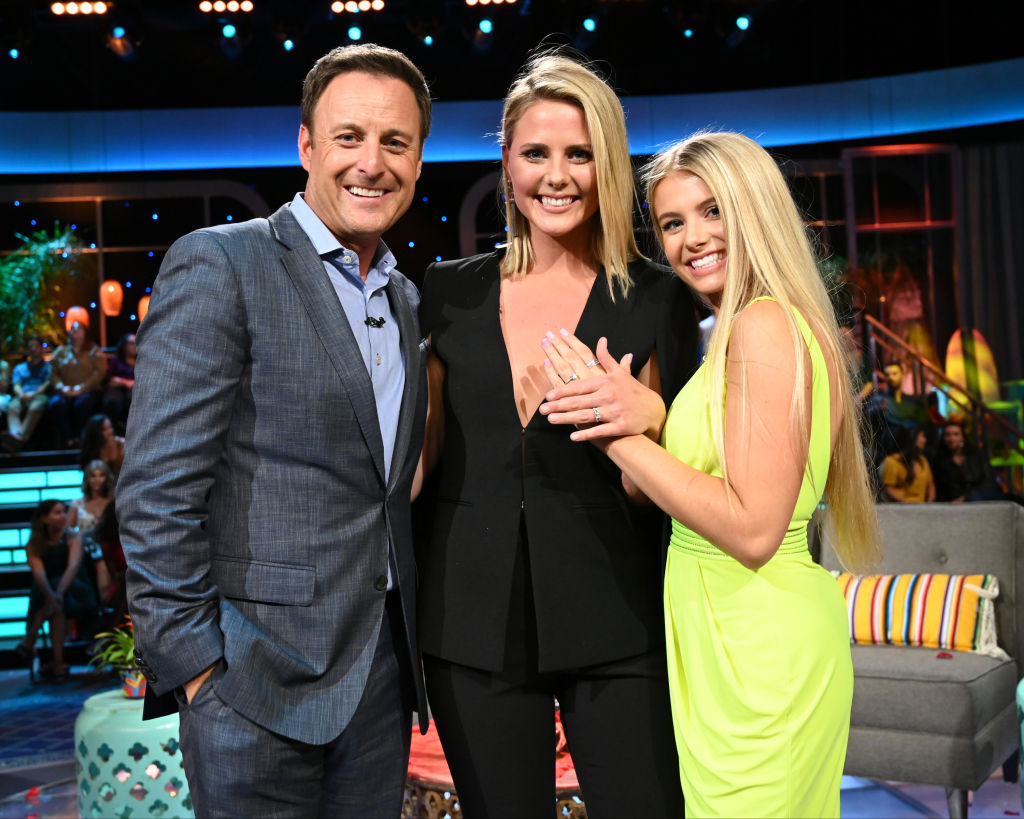 Fans started noticing trouble in paradise for Burnett and Haggerty
Shortly after their last public posts about each other in September (and one for National Coming Out Day on Oct. 11), fans started voicing concerns about Haggerty's relationship with Burnett. The newly engaged couple didn't seem to spending much time together, with Haggerty headed to Florida to see her family and Burnett traveling for social events and work. 
Burnett, who appeared on The Bachelor before joining the cast of Bachelor in Paradise, gave an interview saying that the couple was simply taking things slow and planning to move in together later. At first, this comforted fans, but as time went on, a potential rift between the two seemed more and more possible.
What's more, Caitlin Haggerty, Kristian's sister, seemed to shade Burnett under a "thirst trap" picture of herself in a bikini on Instagram. She implied that Burnett was "desperate" in a now-deleted comment.
The couple issued an emotional breakup statement on Instagram
On Halloween 2019, the former Bachelor in Paradise contestants each took to their respective Instagram accounts to announce their breakup. 
"What has always been at the forefront of our relationship is love and care for one another," the announcement began next to photos of the pair. "Our priority is doing what is best for us. With a heavy heart full of love for one another we have decided it is best for us to take a step back from our relationship. We ultimately want what is best for us in the long run and for us right now, that means being apart and growing individually."
Haggerty and Burnett concluded their statement, "We have felt so much love and support from you all as you've followed our journey together and for that we are grateful. We will forever be proud of the impact our love story has made and we hope it has helped others feel more accepted and confident within themselves. We hope it reminded others they aren't alone and don't need to be ashamed of who they are."
Both also posted Instagram stories of their well-known engagement photo on Bachelor in Paradise with the caption, "You will always have a place in my heart."
Burnett said she was struggling and would be going dark on social media
Besides the official breakup announcement, Burnett didn't say much in the wake of the widely anticipated breakup. On Oct. 31, she wrote on Twitter, "I'm not okay today and I'm going to take a break from social. Thank you to everyone who is reaching out xx." 
Many fans were supportive, while others criticized the Bachelor in Paradise star for what seemed to them like a "publicity stunt." 
Haggerty pushed back against the criticism, commenting under Burnett's Twitter thread on Nov. 1, "Everyone has a right to their own opinion but it doesn't give anyone the right to be mean. If you don't have anything nice to say please refrain from commenting. We are two people who still care immensely about one another and are trying [to] heal. Thank you for understanding."
Haggerty posted an emotional quote about "respect" after the breakup
Although she didn't specifically mention her Bachelor in Paradise ex in her Instagram story, some fans believed Haggerty's most recent Instagram stories were aimed at what she's looking for in a future relationship. Over the weekend of Nov. 1, Haggerty shared a piece of wisdom (which she seems to have written herself, though it's not entirely clear) about choosing respect over love.
"The greatest form of love is respect," the post began. "You're not alone. Talk to loved ones about how you're feeling. You have the power to pick and choose who you keep in your close circle. Keep the good ones close, the ones that love you the most. Never feel ashamed about how you're feeling. Your feelings are always valid because they are your feelings and they stem from your heart." 
Later in the post, Haggerty shared a message of hope and discernment. "Everything will fall as it should and speak for itself," the post read. "We only have control of our own actions to situations. Love without ceasing. Forgive, especially when it's not deserved. Don't be ashamed of the intensity of your love, & be mindful about the quality of people you're loving." 
The inspirational post concluded, "Treat others as you would like to be treated. Treat others with the same grace and love God has given to you." Some fans wondered if these were veiled references to mistakes Haggerty felt she made in her most recent breakup or hopes she had for the future.
Haggerty seemed to hold these ideas close in the earliest days of the breakup announcement, also posting supportive messages from close friends on her Instagram stories. 
Burnett also seemed to try to move on with positivity after the announcement. In response to a fan's comment about her "social media break," the Bachelor in Paradise star responded the following day, "Today's a new day."