'BIP': Kristian Haggerty's Sister Allegedly Called Demi Burnett 'Desperate' on Instagram
The latest season of Bachelor in Paradise may be over, but we're still keeping up with plenty of our favorites from the season. And we can't forget the saga of Demi Burnett and Kristian Haggerty. When Burnett first stepped on to the beaches of Mexico, she let viewers know she'd been seeing a woman off the air — but she still wanted to explore other relationships. After a fling with Derek Peth, Haggerty arrived in Paradise, however — and it was then that Burnett knew Haggerty was the woman for her.
Now, there's a ton of speculation that Burnett and Haggerty are no longer a couple. And it seems Haggerty's sister is throwing everyone into a panic over a comment she left on Burnett's Instagram.
Demi Burnett and Kristian Haggerty got engaged on 'Bachelor in Paradise'
At the end of Paradise, it was Burnett and Haggerty who seemed like one of the most solid couples on the beach. We barely saw the two argue throughout their time on the show, and it was no surprise when Burnett got down on one knee and asked for Haggerty's hand in marriage. Haggerty said yes, of course, and the two have assumedly been happily in love and planning a wedding ever since.
Burnett later posted a photo of her and her fiancee to Instagram, too. "Thanks for coming to Paradise," Burnett captioned the post depicting the two of them in a tight embrace. And fans absolutely adored the photo as well. Oddly enough, this post was from all the way back in August — and the most recent photos of the couple were posted in September.
Burnett told fans her relationship is nobody's business but her own
Since Haggerty has been noticeably absent on Burnett's Instagram for the past month, BIP fans have been wondering what's going on. And confusion grew to an all-time high when fans of the couple noticed Haggerty was posting photos of her seemingly getting close to another woman. "Couldn't do this crazy life without ya," Haggerty captioned this post — and it had many wondering if she and Burnett were still together.
While fans speculated wildly on Instagram, Burnett appeared to set the record straight with an Us Weekly interview. On Oct. 9, Burnett told the publication, "Every relationship is different and it's like — I mean in the most respectful way — it's nobody's business how our relationship works. We both have so much going on right now." Burnett then added that they're still doing the long-distance thing, too. "She's in Florida, I'm in New York but we do spend time together. Just because we don't broadcast it doesn't mean that we're not together."
Haggerty's sister allegedly called Burnett 'desperate' on Instagram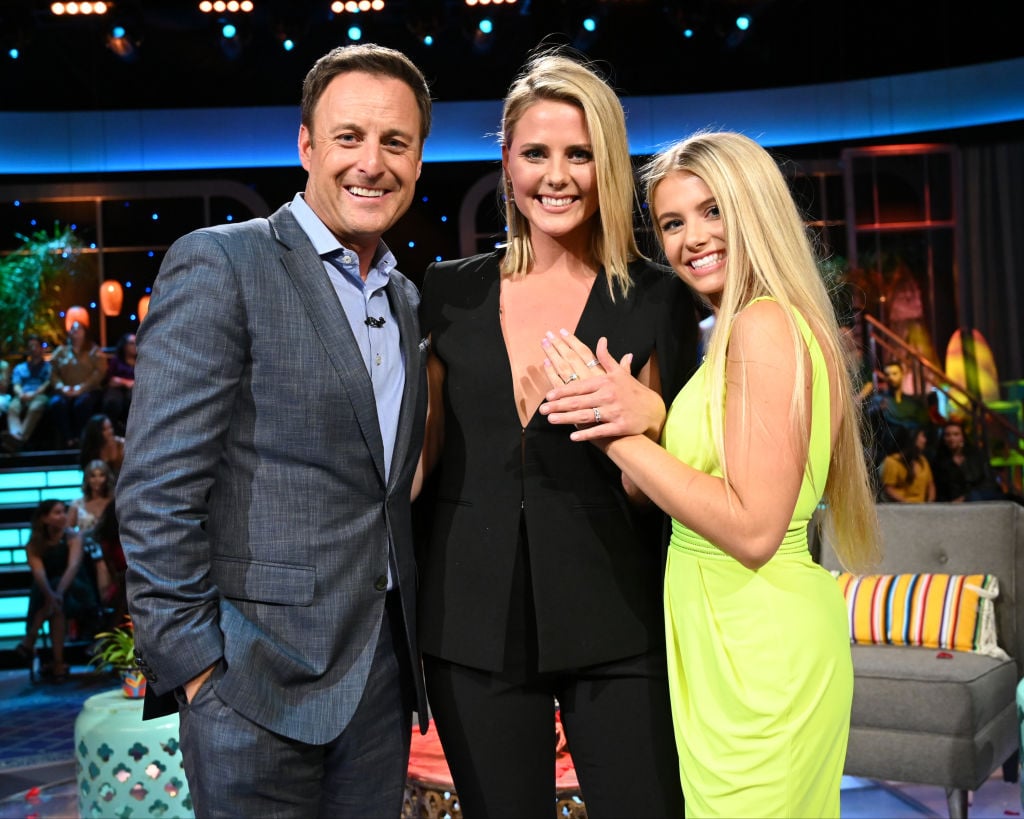 Burnett also mentioned to Us Weekly that she and Haggerty haven't started planning their wedding yet, as they hope to take it slow and enjoy getting to know each other even better. But it seems a whole new wrench has been thrown into the mix. According to Us Weekly, Haggerty's sister, Caitlin, commented on Burnett's latest Instagram post. Burnett posted a photo of herself in a bikini with the caption, "Sorry dad……  #thirsttrap #experienceelderado." And the source claims Haggerty's sister wrote, "Not desperate at all…" in the comments.
The comment certainly gives the vibe that Haggerty and Burnett are not on good terms. And we can't forget that Haggerty also added a quote to her Instagram Story recently about handling tough times with the caption, "Whatever you're going through just know you're not alone. Know you always have choice and control over how you react in every situation. …."
We're not sure if Haggerty was referencing anything with Burnett in her Story, but the timing does seem strange. We'll have to wait for clarity regarding the couple's relationship, as where they stand is murkier than ever!
Check out Showbiz Cheat Sheet on Facebook!