'BiP': Kristina Schulman's Instagram Story Proves Tayshia Adams and John Paul Jones Are Really Together
The end of Bachelor in Paradise has now come and gone, and fans are still reeling over the couples who are now together. We know Caelynn Miller-Keyes and Dean Unglert are still going strong after leaving Paradise together, and Hannah Godwin is still excitedly engaged to Dylan Barbour. And one of the most unlikely (yet still adorable) couples to come out of the show is Tayshia Adams and John Paul Jones.
Adams had a hot and cold relationship with Jones throughout the entirety of the season. Now, the two claim they're together, though many have speculated that it's all for show. It seems fellow BiP star Kristina Schulman has an Instagram Story that shows off Adams and Jones' love, however. Here's what was posted.
Tayshia Adams broke up with John Paul Jones at the end of 'Bachelor in Paradise'
The end of Paradise proved difficult for Tayshia Adams and John Paul Jones. While Jones was all-in for Adams through most of the latter half of the show, Adams remained uncertain if their relationship would work outside of the confines of the show. And after having cold feet, she decided to call things off and leave without Jones by her side.
It wasn't long before Adams had deep regrets about letting Jones go, however. She told Entertainment Tonight, "Honestly, I felt like I'd made a really big mistake letting someone go that genuinely cared about me, but also I knew that my heart wasn't there, so I didn't wanna lead him on or anything." And Jones also expressed how heartbroken he was to ET, as he said, "I was very skeptical of going to Paradise to begin with, and I just didn't have a great experience romantically on The Bachelorette, so it really just kinda questioned the authenticity of everything."
The couple got back together, but rumors persist that they're faking it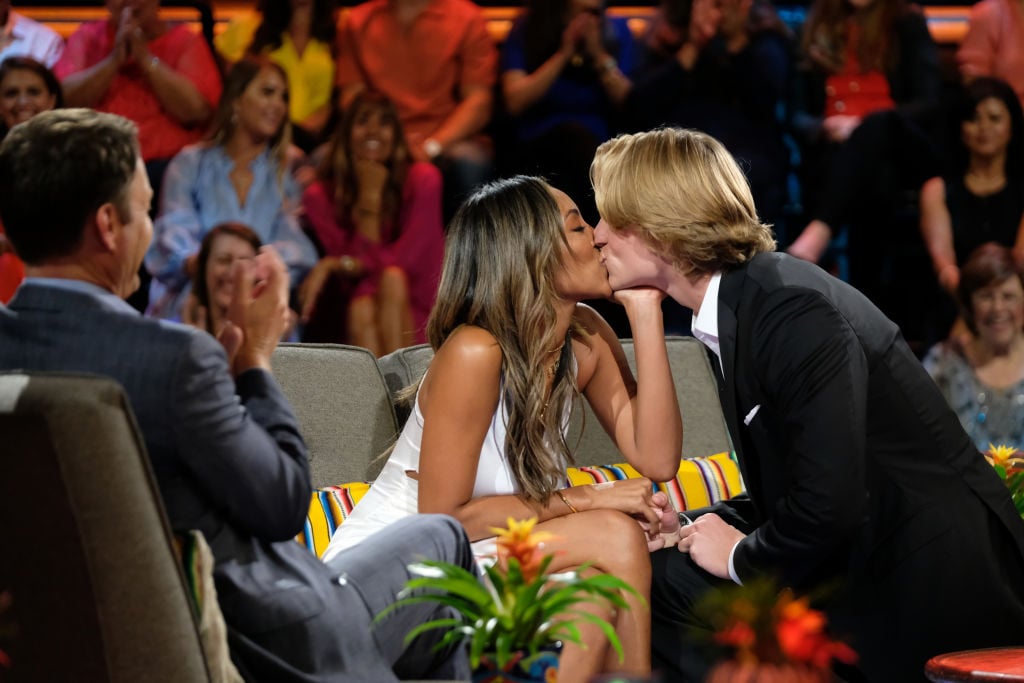 Adams had a serious change of heart after she left Paradise, and that led her to chase down Jones to tell him she made a mistake. "I talked to my mom about it and I decided I wanted to go after him. I'm a bold girl," Heavy reports Adams said during the Paradise finale. And fans assume it worked, as they've since featured each other on their Instagrams and look very in love.
Unfortunately, not everyone believes Adams and Jones are actually back together. Reality Steve, the king of reality TV spoilers, tweeted that Adams and Jones aren't actually together. And even more recently, Mike Johnson and Adams were spotted hugging and looking ultra-close at a Las Vegas music festival, which sparked plenty of speculation from fans, Cosmopolitan reports.
We can't forget that Adams addressed what Reality Steve said, however. On one of her Instagram posts, a follower commented, "Reality Steve says y'all are no longer together." And to that, Adams responded, "guess what…he's wrong!!!!"
Kristina Schulman posted evidence to her Instagram that shows they're really together
Currently, Jones and Tayshia are featured on each other's Instagrams — but if that's not enough evidence for fans, then Kristina Schulman has her own videos she's sharing. Schulman's Instagram Story shows her going out to eat with the happy couple — and the banter that ensues when Jones and Adams don't know they're being filmed is seriously adorable. At one point, Schulman even calls them "Romeo and Juliet." And Schulman drew a heart around Jones and Adams, further proving they really are together despite any rumors.
Considering how candid Schulman's footage appears to be, it's hard to argue that Jones and Adams are faking it now. And we're hoping they continue to make their relationship work, as they clearly make each other very happy. As for Schulman, we'll have to wait and see if she visits Paradise yet again in an attempt to find her one and only.
Check out Showbiz Cheat Sheet on Facebook!