'BIP': Nick Viall Urges Caelynn Miller-Keyes Not To Move In With Dean Unglert For This Reason
Dean Unglert and Caelynn Miller-Keyes got together on the most recent season of Bachelor In Paradise. Fans were skeptical, at first, about how long the couple would last. But it seems they're still going strong about five months later.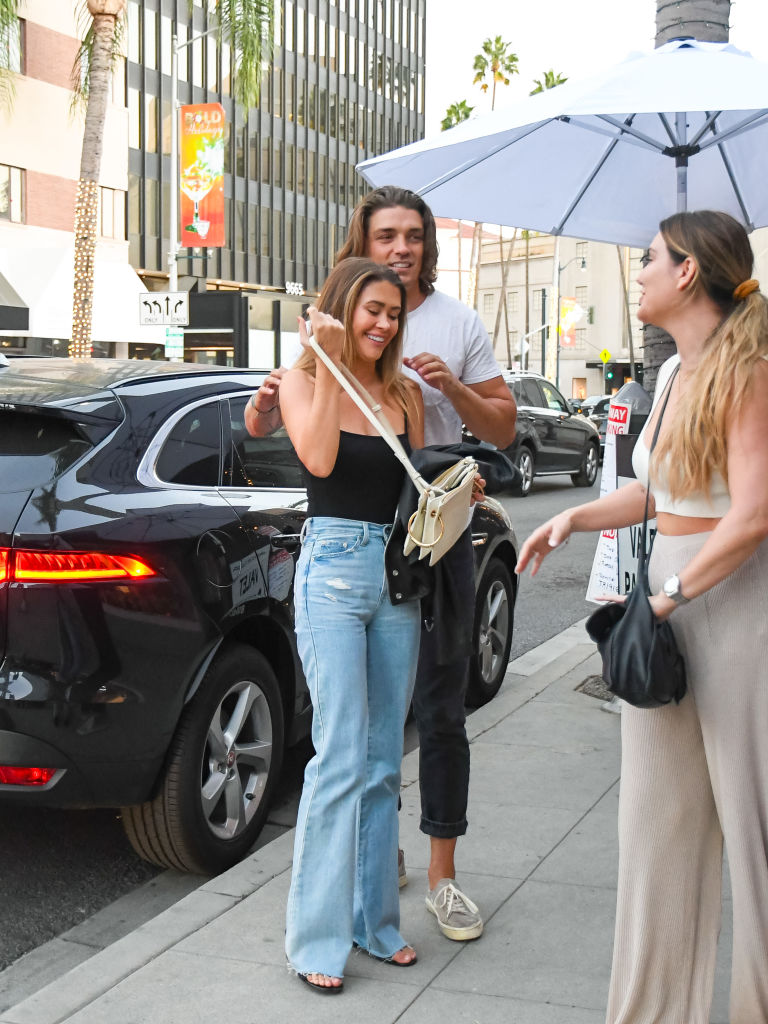 Caelynn Miller-Keyes and Dean Unglert have different ideas about moving in together
Typically, Bachelor relationships are on the fast-track in terms of big milestones. It's not uncommon for couples to get engaged or move in together after knowing each other only a few weeks.
In the case of him and Miller-Keyes, though, Unglert has said that he's determined to take his time and move at the pace of a "normal" relationship.
"We're just gonna, like, date regularly and hopefully something happens and if it does: great, and if it doesn't, we're both individuals who are gonna be ok without it," he told Access in an interview that took place in September.
But that doesn't stop Miller-Keyes from teasing Unglert about moving in together and getting married (because she knows it stresses him out).
"I talk about us getting married like three times a day just to scare him purely. My lease is up in March so I'm like 'when we move in together do you want an RV or a home?' I think we've learned a lot from each other. I know I've learned a ton. I've grown into a new version of myself, a version that I like so much more and I challenge him, too. It's a very unique relationship that people wouldn't expect to work but it does," she said on former bachelor Nick Viall's podcast, The Viall Files.
According to Miller-Keyes, teasing aside, Unglert wants to stay in his van as long as possible.
"He said he would last a year [in the van] so June. But because I want to move in with him he was like 'I'm gonna do another year in the van.' So we'll see," she said.
"In terms of saving money, a one bedroom would be cheaper with two people," she added.
Nick Viall's advice for Caelynn Miller-Keyes on moving in with Dean Unglert
Viall couldn't help but weigh in with a little advice:
"If you want to move in with him, great. Don't do it to save money. A couple cameos, a Fab Fit Fun deal, it'll save your relationship. Money should not be the excuse why."
Ultimately, Miller-Keyes agreed.
"If we're still going strong a year from the next March, maybe we'll get an RV together. Who knows. I'm making this up," she said. "I think, in this relationship especially, we need to take our time."
In the meantime, it's a good thing Miller-Keyes is loving the van life.
"We just traveled to a wedding together and our AirBnB fell through, they didn't let us check in, it was this whole ordeal. And I was like 'Let's just sleep in the van.' And the bride was like sleeping in this casita for the night and then the next night I was like, 'We don't need a hotel let's sleep in the van.' And he was like, 'No we need a hotel, I need to get ready for the wedding, like, in a hotel.' I was like, 'No, let's sleep in the van.' So now it's become this thing where I like sleeping in it more than he does," she said.
Read more: 'The Bachelorette': Tyler Cameron Told His Instagram Following That He's Looking For Love