'BiP': Tayshia Adams Hasn't Posted Any Photos of John Paul Jones in a Month
The last season of Bachelor in Paradise is officially over, but we're still keeping up with our favorite couples who are together after the show. And while Tayshia Adams and John Paul Jones went through a few rough patches on the beach, they're certainly a fan favorite and seem to be making their relationship work now that all is said and done.
We're all rooting for Adams and Jones, and they've completely squashed rumors claiming they aren't really together. Even so, many are wondering why Adams hasn't posted any recent photos of her with Jones. Here's what we've noticed and what fans are saying.
Tayshia Adams and John Paul Jones are seemingly still together post-'Paradise' reunion
BiP fans know Tayshia Adams broke John Paul Jones' heart on national television. While Adams had clear feelings for Jones, she didn't know if she could get to the point that she felt he wanted her to be at, so she broke up with him on the beach. But it wasn't long before she realized her mistake. As she told Entertainment Tonight, "Honestly, I felt like I'd made a really big mistake letting someone go that genuinely cared about me, but also I knew that my heart wasn't there, so I didn't wanna lead him on or anything."
For that reason, she went to Jones' hometown and asked if he'd want to give things another shot — and of course, he said yes. And while Reality Steve claimed Adams and Jones weren't actually together, Adams put those rumors to rest on Instagram, as she replied to a fan, "guess what…he's wrong!!!!" And Jones and Adams have since made public appearances together and posted photos and videos of each other on social media to prove how strong their relationship is.
Adams was put on the spot when asked if she's in love
According to Adams' Instagram post from Sept. 18, she and Jones, or as she calls them, "TAYPJ," are doing great. And she and Jones also discussed their relationship to Access in September. While there's no doubt Adams and Jones are getting along just fine, the interviewer questioned if the two would be ready for engagement any time soon — and it made everything seriously awkward. "Not yet, not yet, no," Adams told the interviewer about marriage with Jones, though she then added, "Eventually."
After the marriage question, the interviewer then asked Adams another personal question. "Are you in love with JPJ?" the interviewer asked. To that, Adams and Jones laughed nervously, and Adams said, "I will tell you when I am, I'll tell you that much." The interviewer then asked Jones if he was "smitten" with Adams, and to that, he answered, "Of course I am. How could I not be?"
She hasn't posted any recent photos of her with Jones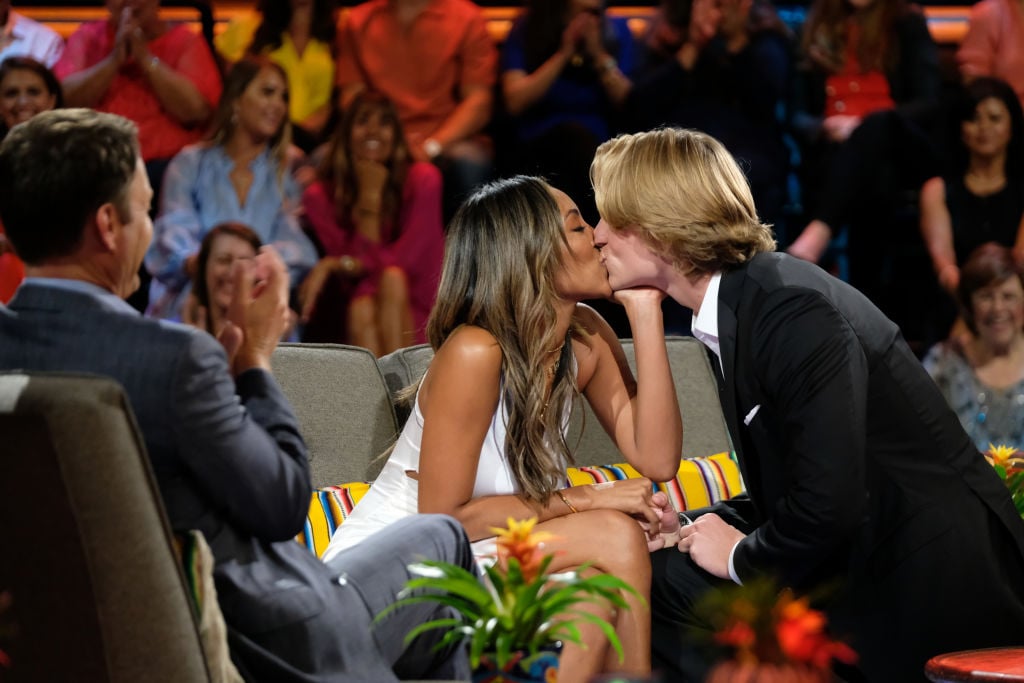 These two really seem to click — but we haven't seen Jones featured in any of Adams' recent Instagram posts. The last post she added of the two of them was from September, and while she's been quite active on social media with her postings, none of them have included Jones. Her fans have noticed, too. "Are you still with jpj? Haven't seen any pictures of you two," a follower commented on this recent photo of Adams. Another wrote, "Are you and JPJ still together @tayshiaaa."
It's likely they're still together despite the absence of Jones on her Instagram, as Jones lives in Maryland while Adams lives in California. And we can't forget that Jones just posted a photo of him with Adams on Oct. 7 to his own Instagram. Not only that, but fellow BiP star Kristina Schulman featured the happy couple in an Instagram Story not long ago. We can't wait to see more of Jones and Adams together on social media, but for now, there's little evidence of a breakup, so all seems to be well!
Check out Showbiz Cheat Sheet on Facebook!