'BIP': Tyler Cameron Teases Dylan Barbour, Tells Him To 'Calm Down' And 'Let Hannah [Godwin] Breathe'
'BIP': Tyler Cameron gives Dylan Barbour a hard time on Instagram about not giving Hannah Godwin enough space.
Dylan Barbour and Hannah Godwin got engaged on the most recent season of Bachelor In Paradise.
According to Barbour, he fell hard for Godwin after their first conversation.
"I think it was our first conversation. I thought she was gonna be someone else and I was hesitant. I talked to other people when I got to the beach. I talked to everyone for like five minutes and I was like 'I'm not gonna be lazer focused.' And then I talked to her and it was over for me from that point. She just completely caught me off guard. I think a lot of people don't know just how funny she is and how sweet and caring she is about everybody around her. Yeah, I was just all-in from the second I met her," he told Extra.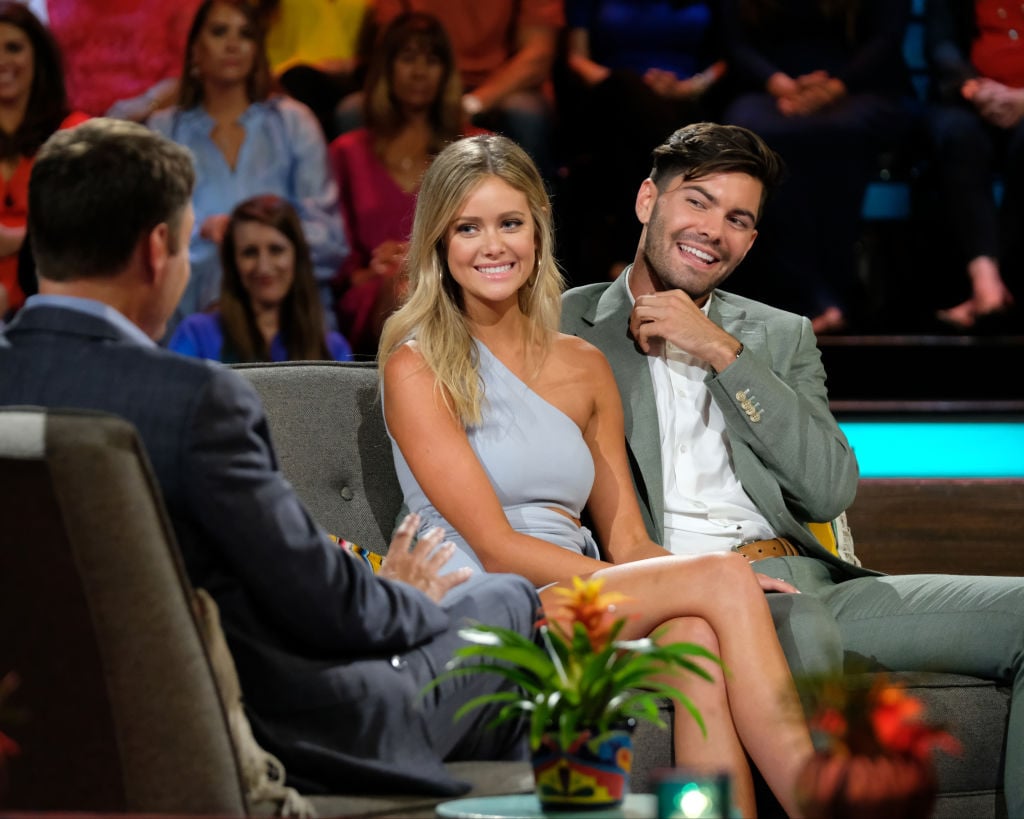 While Barbour was sold on Godwin from the get-go, Godwin took a little time in Mexico this past summer to explore her options. Before heading into Paradise, she said in several interviews that she was looking forward to getting to know Blake Horstmann (we found out later that the two had met up in Alabama prior to filming). She was also pursued by Jordan Kimball and Wills Reid.
But after spending more time with Barbour, Godwin knew they were a perfect fit.
"I feel like a good basis of a relationship is a good friendship and we have such a good, strong friendship I feel like. We have the same sense of humor, we're good at communicating… there's obviously so many weird social things that are going on when you're filming a show in Mexico and so just watching how he'd react and handling different situations and everything, I feel like that's where I was like 'you're my dude.' I think I learned how compatible we are," she told Extra.
While Barbour pursued Godwin, some Bachelor In Paradise fans thought he was coming on a little strong.
"Am I the only person who thinks that Dylan comes off as desperate and clingy in his intensity towards Hannah? #BachelorInParadise," tweeted one fan at the time.
"Dylan and Hannah are cute but he's coming on WAY too strong #BachelorInParadise," tweeted another.
But after Godwin came around, most Bachelor In Paradise fans changed their tune and started really rooting for the couple.
Tyler Cameron teases Dylan Barbour about still being a tryhard with Hannah Godwin
It looks like Barbour isn't totally done getting flak from fans about his intense dedication to Godwin. His good buddy and fellow Bachelorette alum Tyler Cameron swooped into the comments section of a recent Instagram post of Godwin's to tell Barbour to "calm down."
"she's a sassy one (the top, not 3rd person…maybe) 🤷🏼‍♀️ but really, I love going plunge or layering up with this versatile one. from my collection with @justfabonline!!" Godwin captioned the photo.
Barbour, always active on social media and especially with Godwin's content, commented: "marry me?"
Cameron responded: "calm down… let Hannah breathe 😘"
"you're about to start a war," responded Barbour.
Hey, Barbour's eye-on-the-prize mentality worked for him the first time around. If it ain't broke…
Read more: Calling All Mike Johnson Fans: You Need To See This Music Video The 'Bachelorette' Alum Starred In