'BIP': What Dean Unglert and Caelynn Miller-Keyes Spent On Their Trip To Guatemala
Ever since Dean Unglert asked Caelynn Miller-Keyes to leave Bachelor In Paradise with him, the two have been traveling non-stop. Their most recent trip was to Guatemala, where they hiked up volcanoes, ate at local eateries, and explored all the "incredible country" has to offer.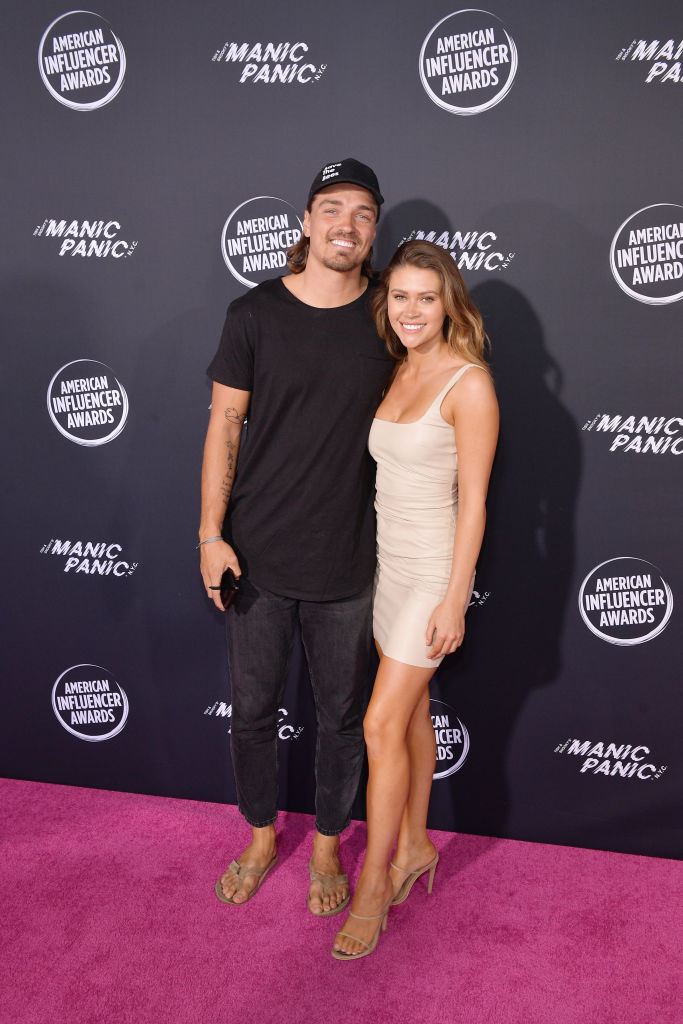 Dean Unglert and Caelynn Miller-Keyes' price breakdown for their trip to Guatemala
Unglert broke down what the trip cost him and Miller-Keyes on his blog, Deanie Babies.
The couple stayed for eight days total (11/19/2019 – 11/27/2019). They flew out of LAX to GUA and flights cost them $488 each. They spent $398 each on lodging (some hostels, some boutique hotels). About $473 went to dining for the both of them together. They spent $265 on transportation there. Along with miscellaneous spending, Unglert totaled the trip to cost $2,942, or $1,471 per person.
Though Unglert's typically of fan of utilizing public transportation while traveling, he and Miller-Keyes decided to rent a car.
"I've always been a big advocate for public transportation but something about renting a car and driving through a foreign country is so much fun to me. We picked up our rental car (booked through Expedia for $265 after taxes and fees) and set off for Antigua right away, just over an hour drive," he wrote in his blog.
Where Dean Unglert and Caelynn Miller-Keyes stayed in Guatemala
Unglert and Miller-Keyes spent most of their trip budget on flights, but lodging was a close second.
The first night, the couple stayed in a hotel in Antigua.
"Our hotel Casa Santa Rosa ($146/night) let us check in early so we could get comfortable and lay down for a bit. I was surprised to see hotels being as expensive as they were. This boutique hotel was quaint and comfortable but for the price tag I expected a bit more," Unglert wrote of the first hotel they stayed in.
Ungerlt and Miller-Keyes also stayed at a hostel through OX Expeditions in preparation for their Volcán Acatenango hike.
"We stayed the night in the hostel the night before we all set out. I thought it would be a good idea to already be in the building and eliminate having to travel there in the morning to meet the group. My one grievance with OX was that I booked us a private room in the hostel that later was occupied so we were given a four bed dorm and a promise that we'd have it all to ourself," he wrote.
Unglert continued: "Surely enough they went against their word and booked another person in the room- something I'm totally fine with but I wanted Caelynn's first hostel experience to be just her and I in a private room so she could sleep a little more comfortably. That aside, the process and stay with OX was as expected and just what it needed to be."
Next, the pair headed to Lake Atitlán.
"I booked us a room in a wonderful little boutique hotel on the North East side of the lake, Casa Prana, that came out to $166/night," writes Unglert.
Before the couple headed home, they stayed at Casa Palopó "for a change of scenery."
"This hotel was just as lovely as the one before it, the restaurant served delicious food, and we even got to take a private helicopter ride 30 minutes West to the Pacific coast," he wrote.
Read more: 'The Bachelorette': Kaitlyn Bristowe Gets To The Bottom Of Why Shawn Booth Hated Nick Viall So Much