The 1 Bizarre Thing Kylie Jenner Loves About Being a Mom
Kylie Jenner surprised everyone when she decided to hide her pregnancy more than a year ago. Though fans had speculated that she was expecting, she did her best to keep it under wraps, then surprised everyone when she had a baby girl, Stormi, in February 2018. Though she was younger than her sisters when she had a baby, she has grown to love being a mother. But there is one bizarre thing she loves the most.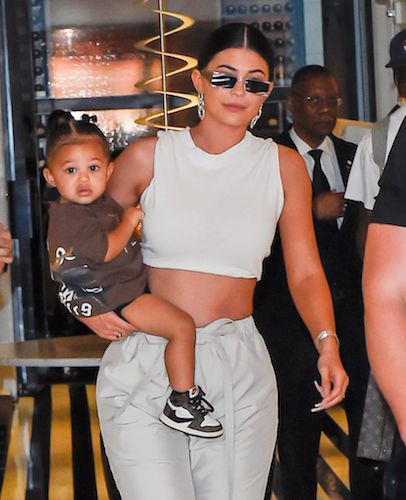 Kylie Jenner and Travis Scott welcomed Stormi Scott a little more than a year ago
When the news first broke that Jenner was pregnant, it was easy to believe it was only a rumor. After all, Jenner had only been dating rapper Travis Scott for a short time before the pregnancy leaked, and since Jenner hadn't made an announcement herself, it was easy to dismiss the claims. Jenner and Scott had only sparked dating rumors in April 2017, and by June 2017, Jenner was pregnant (Scott tweeted that it was the "happiest day" of his life, though at the time, nobody associated it with learning Jenner was pregnant).
Jenner hid her pregnancy from the public because she wanted a sense of privacy
Slowly but surely, people started to believe that Jenner was, in fact, pregnant. Though she hid from the paparazzi, she still did go out in public a few times, and some dedicated fans captured photos of her with what appeared to be a baby bump. Yet Jenner still never came clean that she was expecting. Then, in early February 2018, Jenner announced that she and Scott had welcomed a baby girl, Stormi. Jenner said she had decided to keep her pregnancy private because so much of her life was in the spotlight that she just wanted to enjoy the moment with her family and friends and have a sense of privacy.
She admitted she loves changing Stormi's diapers
A few months after Jenner gave birth, her older sister, Kim Kardashian, conducted an interview with her and asked her all about life as a new mother. One odd thing that Jenner said she truly enjoys is changing Stormi's diapers. "You're less selfish," Jenner said about being a new mom. "I actually enjoy changing diapers. It's really satisfying. To make her clean again. And I don't know, the whole thing is really… It's such an amazing experience." While changing diapers is typically a parent's least favorite thing, Jenner looks at it as doing something for Stormi and making her less selfish of a person.
She also reportedly has nannies to help her as a new mother
When Jenner first gave birth, those close to her said she didn't want to hire a nanny. However, with both her and Scott having such demanding careers, it makes sense that motherhood proved to be a lot to handle with such a busy schedule. According to Life & Style, Jenner now has a team of four nannies that work with her (at various times, we can only assume) to help take care of Stormi. Jenner and Scott are both constantly traveling for various jobs, and it comes as no surprise that she needs a bit of help with her daughter while trying to run her billion-dollar business.