'Black-ish' Star Marsai Martin Set To Become Youngest Executive Producer In Hollywood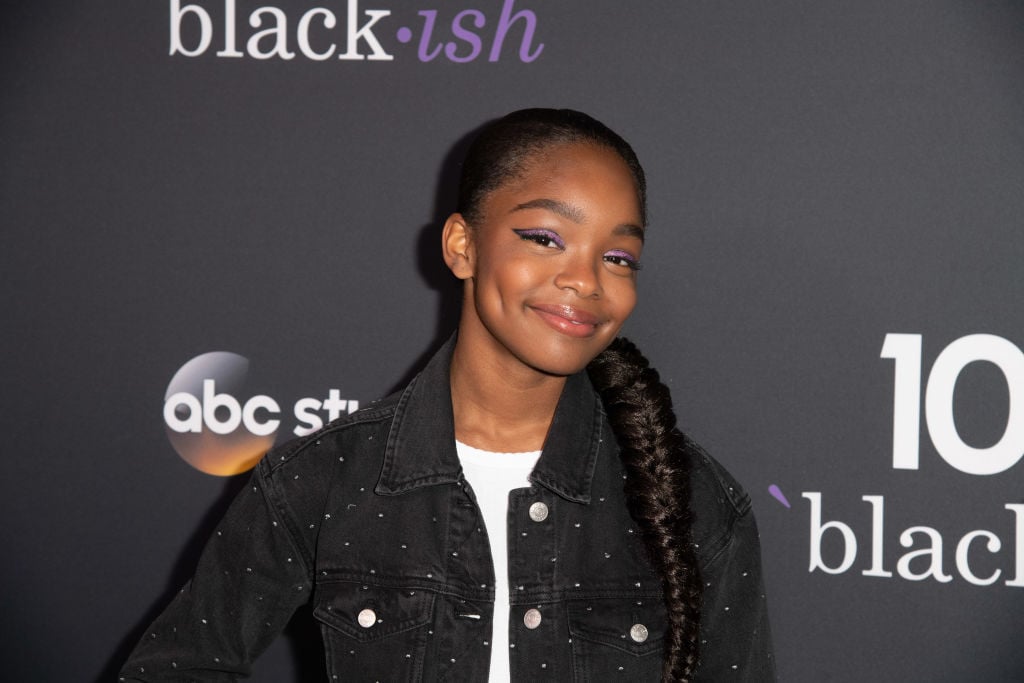 We love her as Diana on Black-ish, and soon we are going to love her even more!
Marsai Martin has stunned us all with her comedic performances on the ABC sitcom and will soon hold the title of executive producer of a major motion picture film at just 14-years-old.
This will be the first time in Hollywood history a person this young has even held a title of such stature!
Martin's film Little hit theaters in the Spring
Marsai Martin is hitting the big screen as she stars in the comedic film Little alongside Regina Hall and Issa Rae.
The official trailer for Little was released January 9 and fans can't get enough of it!
https://www.youtube.com/watch?v=qouhRHvkRdI
The movie will follow the story of a woman who gets transformed into the younger version of herself as she's given a chance to live as a carefree child at a point in her life when adulthood was becoming too much.
The idea for the film came from Marsai Martin who credits the 1980s movie Big,  featuring Tom Hanks, for helping her come up with the body-switching movie.
Martin mentions why she decided to share her idea about the film stating, "It was one of my most favorite films growing up," she said of the Tom Hanks classic. "After the Season 1 finale of Black–ish, we told Kenya Barris about it, and he called Will [Packer] and said: 'Yo, you know the girl who plays Diane on Black-ish? She has this dope idea!'"
Martin is the youngest executive producer
With the trailer of Little just released, fans are genuinely excited to see Martin up on the big screen as we get a taste of her very first produced project.
Not only is Martin an executive producer but she also stars in the ABC sitcom Black-ish. She plays Diane, the smart and mature 11-year-old who constantly outsmarts her siblings and sometimes, even her parents.
Marsai Martin currently holds the title for the youngest executive producer in Hollywood. However, that title will soon go to someone else.
Stanger Things Millie Bobby Brown is currently planning on producing and starring in a film series about Sherlock Holmes sister that is set to be released later this year.
Since Millie Bobby Brown is a year younger than Martin, the title will soon go to her.
Both girls are making some amazing career moves and have made their mark in Hollywood's history, so it really doesn't matter which one holds the title of the youngest executive producer.
Marsai Martin has been getting a lot of praise for her movie role from fellow Black-ish cast members and many other celebrities.
Tracee Ellis Ross took to Instagram to praise her on-screen daughter for her hilarious onscreen work by posting a snippet of the trailer and writing, "YES, MS. MARSAI ~ here's the trailer for her new film @littlethemoviewith @morereginahall and @issarae! i'm so excited! and @marsaimartin will be the youngest executive producer of a major hollywood motion picture in history when the film hits theaters this spring 💁🏾🎥🤩#littlemovie #blackgirlmagic"
Many people are patiently waiting for this laugh out loud comedy to finally hit theaters in April so we get more retweetable memes from the meme queen herself!
Martin is making big moves in her career and we can't wait to see what she is set to deliver in the years to come!