'Black Lightning' Season 3 Episode 8 Recap: Revelations and Revolutions
Black Lightning continues to delight superhero fans. In season 3 episode 8, "The Book of Resistance: Chapter Three: The Battle of Franklin Terrance," Freeland strikes back in a big way. Jefferson Pierce, also known as Black Lightning, fought the A.S.A soldiers in season 3 episode 7, and now he has to deal with the consequences of his actions.
Warning: there are spoilers ahead for Black Lightning season 3 episode 8. So for those of you who don't want to know what happened, stop reading now. If you've already seen the episode, or want to know what happened anyway, keep reading!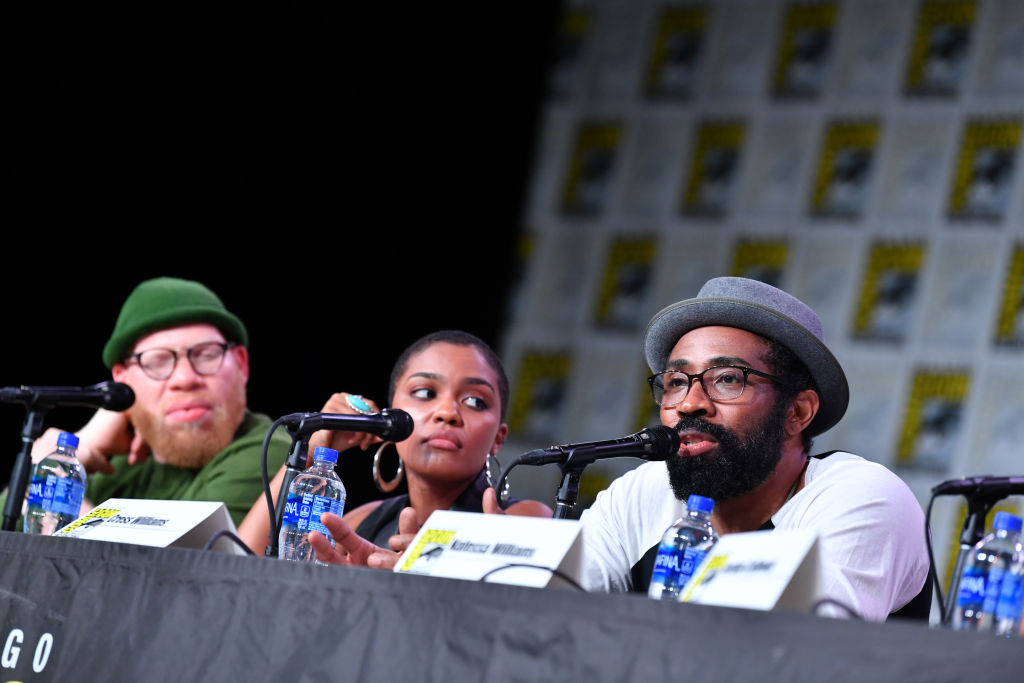 'Pale horse' and returning powers in 'Black Lightning' Season 3 Episode 8
The episode begins with Tobias Whale talking to the ASA's artificial intelligence, much like Jefferson Pierce did during the season 3 premiere. Except Tobias insists that he is not like everyone else. He is not a metahuman, he is the "pale horse" and hell follows him. Meanwhile, Jefferson wakes up and is missing Lynn.
He calls her but she doesn't answer. Peter Gambi is with Anissa Pierce and is testing her powers, which have finally come back. However, she still has a wound from where Painkiller's venom infected her. Of course, Anissa doesn't want to let that stop her.
Gambi shows her news footage from outside Freeland, which is spreading lies about what is going on there. He wants to find a way to spread the truth beyond Freeland.
Metahuman weapons and possibly joining a revolution in 'Black Lightning'
Later on in Black Lightning season 3 episode 8, Lynn is looking for Khalil Payne/Painkiller when A.S.A. soldiers show up with Tobias. He continues to taunt Lynn, saying that the A.S.A. will use the metahumans as weapons once she stabilizes them. She says she knows, but this way they will have a choice. Tobias says that they won't, that no metahuman in Freeland will, and that the A.S.A. will simply create more metahumans using the drug Green Light.
Meanwhile, Jennifer shows up at Brandon's place and he believes that his powers ground hers. This is because her powers are like lightning, electricity-based and his powers are earth-based. Anissa as Blackbird asks Jamillah Olsen, the new voice of the resistance to the A.S.A., if she can put together footage telling the truth of what is going on in Freeland for Anissa and Gambi to broadcast outside of the town. Chief Henderson shows up at Jefferson's house and tells him that they should be working together.
He tells Jefferson that an old teacher of theirs, Mrs. Shepherd, is in danger of being evicted from her apartment by the A.S.A. Everyone else in the building has already left, but Mrs. Shepherd is refusing. Henderson and Jefferson head to her apartment building, Franklin Terrace.
Black Lightning strikes back at the A.S.A. in season 3 episode 8
Later on in Black Lightning season 3 episode 8, Brandon tells Jennifer that Dr. Jace experimented on his mother while she was pregnant with him. In the end, his mother died and he ended up in foster care. Now, he's looking for Dr. Jace to get revenge and Jennifer reveals that she knows where the doctor was last seen. Meanwhile, Henderson and Jefferson arrive at Franklin Terrace.
After convincing the A.S.A. soldiers to let Jefferson in, he goes to talk to Mrs. Shepherd. She still refuses to leave, saying that the apartment building is part of Freeland's history. Jefferson leaves, unhappy until he decides to make a stand. He calls Henderson and tells him to get ready to fight, suiting up as Black Lightning afterward.
Anissa as Thunder shows up to help her father, and ends up fighting Khalil/Painkiller again. She finally realizes that he is Khalil, but ends up defeating him in the fight anyway. Meanwhile, Tobias is trying to convince Lynn to help him break out by giving him Maryam's camouflage powers. At Franklin Terrace, Black Lightning and Thunder, with some help from Henderson and the rest of the rebels, defeat the A.S.A. forces at the apartment building.
Anissa/Thunder then goes to meet Gambi, who is at an old radio tower and is being helped by one of the pod kids, Baron, who is known as Technocrat or T.C. to get everything working. With his help, they manage to get the truth of what is going on spread beyond Freeland. Gambi, back at his hideout, is alerted that the A.S.A. is trying to lock Lynn in.
He manages to save her, but in the process, she drops her bag which contains the cure for the metahuman virus.