'Black Panther 2': Is Marvel Bringing Back Michael B. Jordan's Killmonger?
Rumor has it that Marvel is trying to bring back Michael B. Jordan's Killmonger for 'Black Panther 2,' along with another popular star from the original.
Michael B. Jordan is reportedly returning to the Marvel Cinematic Universe (MCU) in Black Panther 2. Director Ryan Coogler is allegedly having Jordan reprise his role as Killmonger for the highly anticipated sequel – despite the fact that the character perished in the first film. So how is Coogler planning on bringing Jordan back for Black Panther 2?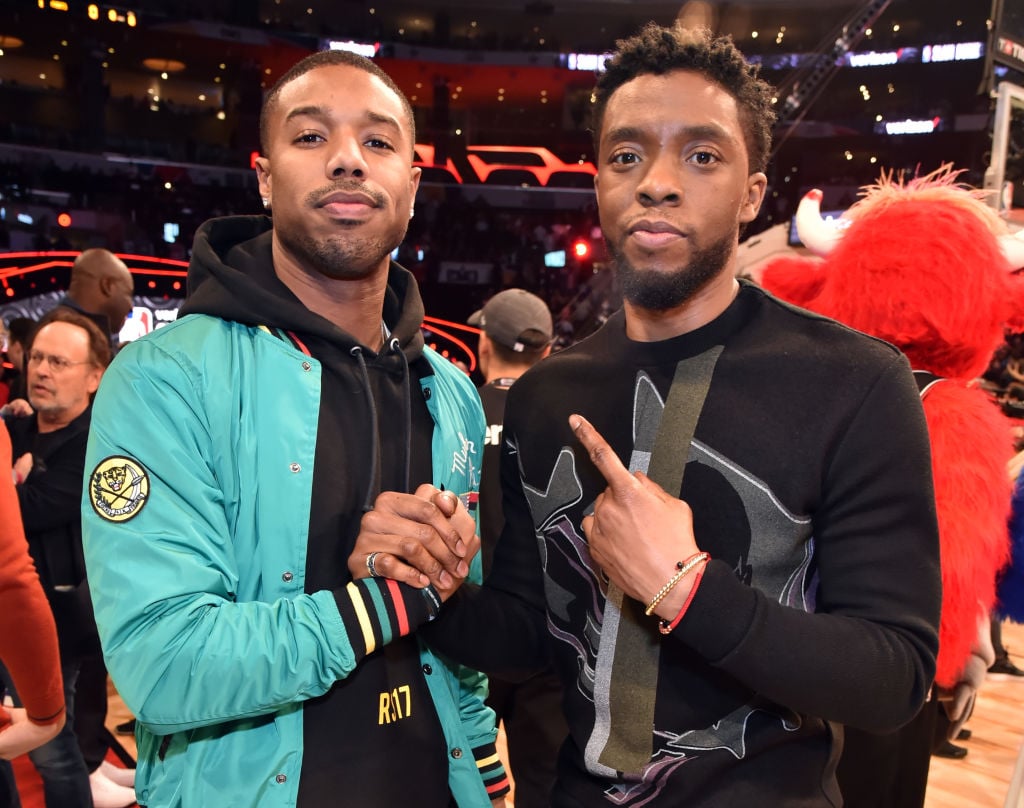 Jordan set to appear in 'Black Panther 2'
Inside sources claim that Coogler wants to bring back the majority of the original cast for the second chapter in the Black Panther franchise. Considering how Black Panther was a huge success in the box office and set a new standard for Marvel movies, it makes sense to bring back that level of talent.
The only problem is that Jordan's character was killed at the end of the movie. That means Coogler and his team are going to have to get creative if they want Jordan to have a surprise cameo.
According to We Got This Covered, Coogler is not planning on resurrecting Killmonger in the sequel. Instead, the director will have Jordan appear to T'Challa (Chadwick Boseman) in the ancestral plane. This medium was used in the first film between T'Challa and his father, who died in Captain America: Civil War.
It is unclear why Killmonger will be showing up in the ancestral plane, though we assume he will have some words of advice for T'Challa.
Fans will undoubtedly be excited to hear that Jordan will have a role in the film, but he is not the only character returning to action.
Coogler to bring back M'Baku
Along with Killmonger, Coogler reportedly wants to bring Winston Duke back to reprise his role as M'Baku in Black Panther 2. In the first movie, M'Baku helped T'Challa regain the throne. He also played a part in Avengers: Infinity War and Endgame, helping defend Wakanda against Thanos (Josh Brolin).
While he has been an ally to T'Challa in the past, sources say that M'Baku will be one of the antagonists in the second chapter.
In the comics, M'Baku is also referred to as Man-Ape and is a supervillain. It is unclear if Coogler plans on bringing this storyline to the franchise, but it will be interesting to see how T'Challa and M'Baku become enemies.
M'Baku is not expected to be the main villain in the sequel.
Other returning characters, meanwhile, include Martin Freeman's Everett Ross and Letitia Wright's Shuri.
Coogler, unfortunately, has not revealed much about the project, so we will have to wait and see if anything of these reports come to fruition. But it is definitely exciting to hear that the project is getting underway and that some of the original cast members are returning.
What else is in the works for 'Black Panther 2'?
While we wait to learn more, inside sources claim the title of Black Panther 2 will be Lost Kingdom.  We still do not know much about the plot of the movie, but the title suggests that Wakanda might be finally coming out of the shadows.
The title, of course, is not written in stone and could change by the time the film is released. But for now, the insider says that this is what producers are calling the project.
Speaking of a release date, insiders claim that Black Panther 2 was originally slated to open in theaters in February of 2022. That reportedly has been pushed back a few months and the movie will not hit theaters until May of that year.
If these reports are true, then Black Panther 2 will become a part of Marvel's Phase 5, which is disappointing for those hoping to see the franchise return in Phase 4.
It is unclear why the film's release date was pushed back, especially considering how the original movie debuted in February.  Insiders say the move might have something to do with delays in production, though Coogler has yet to weigh in on the reports.
While fans wait for more news about Black Panther 2, they can catch Black Widow, starring Scarlett Johansson, which is set to premiere in May, followed by The Eternals.