'Black Widow' Footage Confirms Timeline: Will We Finally Find Out What Happened In Budapest?
Marvel has officially confirmed that Scarlett Johansson will be back in action as Natasha Romanoff in Black Widow next year. Marvel president Kevin Feige confirmed the exciting news during Comic-Con in San Diego and revealed some details about the plot. Here is everything we know about Black Widow, including the timeline and details about a backstory between Natasha and Hawkeye (Jeremy Renner).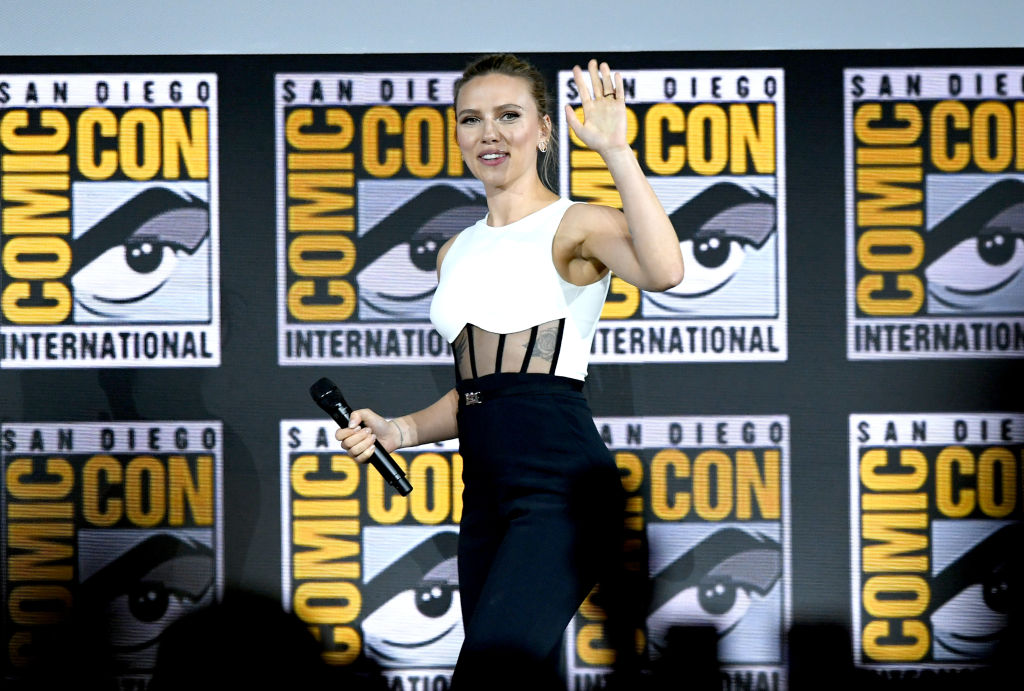 Marvel reveals 'Black Widow' timeline
During the Hall H panel at Comic-Con, Marvel Studios showed fans some footage of Black Widow that sheds light on when the story will take place. Based on the sneak peek, we know that the film will be set after Captain America: Civil War.
As fans will recall, Natasha helped Captain America (Chris Evans) escape with Bucky (Sebastian Stan) at the end of the movie, putting her at odds with Iron Man (Robert Downey Jr.) and the rest of the Avengers. It looks like her standalone project will explore what she did following Civil War and reveal exactly what happened between her and Hawkeye in Budapest.
The Budapest story first cropped up in the 2012 movie The Avengers. At the time, Hawkeye and Natasha made a joke about a mission in Budapest, though they never revealed what happened. We still have no idea what took place in Budapest, but the footage makes it clear that we will see a flashback that reveals more about Natasha's history.
Unfortunately, Feige did not confirm Renner's involvement in Black Widow, so it is unclear if he will be making an appearance. The actor is currently getting ready to star in his own TV show as Hawkeye, so there is a strong chance he will reprise his role for one last film.
Inside the 'Black Widow' footage
The footage that was released during Comic-Con includes some shots of several Avengers movies, including The Avengers and Age of Ultron. According to Comic Book, Natasha is narrating over the scenes, which includes shots from Civil War.
No other movies beyond Civil War are referenced in the clip, confirming that the timeline is set after that film. Natasha also expresses regret about betraying Stark, which could be a central theme in the movie.
As far as the Budapest story is concerned, the footage shows Natasha walking up a spiral staircase and going into a room with her weapon at the ready. She then gets into a fistfight with another character and the clip cuts to other action sequences. The video then shows the movie's main villain, Taskmaster, who fights with Natasha on a bridge. Apart from Johansson, the film stars Florence Pugh, Rachel Weisz, David Harbour, O-T Fagbenle, and Ray Winstone. It is scheduled to open in theaters in May of 2020.
Johansson opens up about 'Black Widow'
In addition to the new footage, Johansson was on hand at Comic-Con to discuss her solo project. Speaking to the crowd, the actress admitted that she was very excited about the Black Widow movie and told fans they will learn a lot about Natasha's dark past. She then teased about how the film explores some uncomfortable topics, though she did not reveal too many details about what's to come.
Weisz was also at the event and talked about her decision to work on the project. Weisz revealed that she has wanted to work with Johansson for a number of years and jumped at the opportunity before even reading the script.
Considering the timeline of Black Widow, the movie should shed more light into Natasha's backstory heading into Avengers: Infinity War. Natasha sacrificed her life in Avengers: Endgame, so it is good to know that Black Widow will not interfere with anything that has happened since the end of Phase 3.
It should also give us a better understanding of why Natasha felt the need to make the ultimate sacrifice in Endgame and add more weight to her overall story arc.
Fans can watch Johansson reprise her role one last time when Black Widow opens in theaters in May of 2020.