'Black Widow': MCU Fans Are Pretty Sure Red Guardian Isn't Making It Out of This Movie Alive
As the release date of Black Widow (maybe) looms closer, fans are wondering if Red Guardian is not long for the world. That may seem like a morbid topic, but given the fact that Black Widow herself has already died, it stands to reason that someone else may not make it out of the movie alive. 
That speculation leads to a more pressing question. With increasing anxiety over the coronavirus pandemic and several movie release dates being delayed, fans are also wondering if the May 1 release date will stick and they'll have to wait even longer to find out Red Guardian's fate.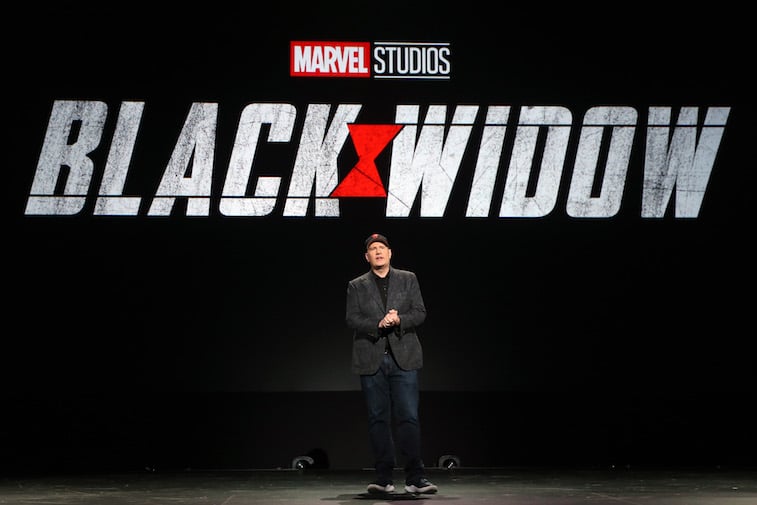 Who is Red Guardian and who plays him?
Red Guardian dates back to 1967, at a time when the Cold War between the United States and Communist Nations was still ongoing. The character was Russia's answer to Captain America, and while that would seem to make him a villain, more often than not he has fought on the heroes' side.
His given name is Alexei Shostakov, who was a test pilot in the Soviet Union. Once the KGB got a hold of him, they arranged for him to marry Natasha, and then the KGB faked his death to manipulate Natasha. He re-emerged later, actually dying when he was shot while trying to save Black Widow and Captain America.
Playing him in the movie is David Harbour, best known for playing Hopper on Stranger Things. In Cinemablend, Harbour described him by saying "I think I'm biased, but I think it's the best character in all of the Marvel Cinematic Universe. I mean, he is a narcissist, so it's very appropriate that I'm playing him and that I think that. But he's just got so many layers. On one level, he's your classic superhero badass character, but then when you meet him, he has this need to be liked, and he wants to be thought of as funny and a big shot — which he isn't."
Why do fans think Red Guardian might die?
On Reddit, fans noticed that in the final trailer for Black Widow, there is a shot of the Red Guardian with a shield much like Captain America. This prompted one fan to write, "Oh, he's definitely dying."  Many fans agreed, with another one sarcastically noting: "Nuh uh. He's got 3 days until retirement. Not gonna happen." This is a reference to the trope that whenever a character says he's about to retire or do something else leading to a happy life, that means he's dead meat. 
One fan, noting Marvel's tendency to bring characters back to life, said, "Don't worry, just like in the comics they'll just replace him with a new Red Guardian. There's been like a dozen of him over the years." Since Black Widow died in Avengers: Endgame, there has been speculation that Florence Pugh's character will be the new Black Widow.
It's also noteworthy that Harbour's most famous character has also gone through an "is he or isn't he dead" debate. Hopper  quite literally disappeared in the final scenes of Stranger Things season 3, and he was presumed dead, but a recently released teaser for Hopper indicates he's still alive, if not exactly well. 
Will 'Black Widow' be pushed back?
Over the past week, with concerns about coronavirus increasing and many governments prohibiting large gatherings, several high-profile movies had their release dates pushed back or pulled off the schedule, including A Quiet Place Part 2, Mulan and New Mutants. F9, the latest Fast & Furious movie got pushed back an entire year.
No decision about Black Widow has been made,  but production has been halted on several Marvel projects, including The Falcon and the Winter Soldier, WandaVision, and Shang-Chi and the Legend of the Ten Rings, with fears that Shang-Chi director Destin Daniel Critton has fallen ill, although it is not yet confirmed he has the virus.
Given the ever-evolving and eerie landscape, fans should hope for the best and brace for the worst.