Blake Shelton and Gwen Stefani Are Planning a Double Date with John Legend and Chrissy Teigen
The Voice stars Blake Shelton and Gwen Stefani are planning an adorable double date with their co-star, John Legend, and his wife, Chrissy Teigen. Ahead of the season 17 finale of The Voice, Stefani and Legend discussed their holiday plans and revealed that they will be enjoying a pre-Christmas dinner with each other. So what are the couples planning on bringing to the date?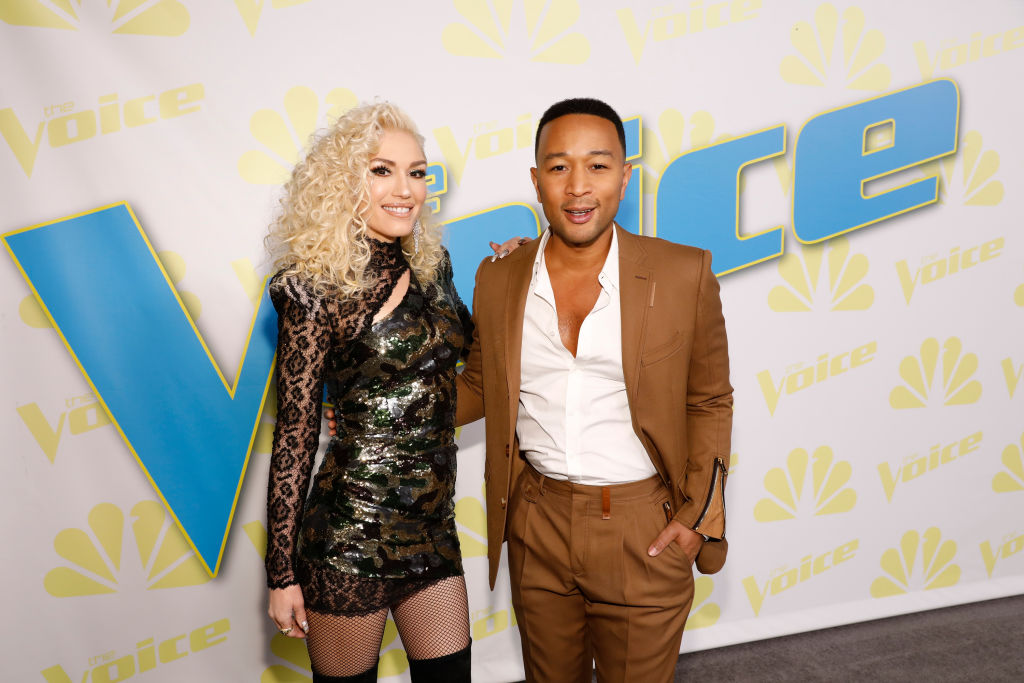 Gwen Stefani and John Legend talk Christmas dinner
Stefani and Legend are currently competing against each other in season 17 of The Voice. We are only a few days away from the highly anticipated finale, and the fellow coaches were recently asked about what they are doing for the holidays.
In an interview with E! News, Legend revealed that he invited Stefani and Shelton over for a dinner date following the season 17 finale. Stefani was super excited about eating dinner with Legend and Teigen, though there is still some uncertainty about what they plan on eating together.
"We haven't planned our menu yet," Legend shared. "We talked about our mac-n-cheese recipes, maybe I'll make that. But we'll figure it out."
Stefani added that she and Blake Shelton have also not planned what they are going to cook for Christmas dinner. The No Doubt frontwoman revealed that they pick a new dish to make every year and do not have a traditional menu for the holiday.
Blake Shelton dishes on there one Christmas tradition
Speaking of traditions, Shelton and Stefani do one thing with her three boys every year. As fans are probably well aware, Stefani makes a wrapping paper wall for the boys to bust through on Christmas Day.
The singer has shared videos of the tradition on social media and we have to admit that it looks like a total blast.
As far as Blake Shelton is concerned, he was also asked about what the holidays are like at his house. The country crooner revealed that things are very chaotic during Christmas and that he never knows what to expect from Stefani and her sons.
"It's chaos, let's just face it," Shelton said. "At our house it's literally chaos. There's not one thing outside of that moment where they run through that wrapping paper wall that [Stefani] sets up every year."
Shelton added that some years everyone gets along just fine, but there have been a few Christmases when the boys have fought over their presents.
Stefani had all three of her children with her ex-husband, Gavin Rossdale. Although Shelton has been married before, he does not have any kids of his own.
Gwen Stefani gushes about Blake Shelton
Prior to the Thanksgiving holiday, Stefani celebrated the 15 year anniversary of her very first album, titled Love. Angel. Music. Baby. Although she was very excited about the milestone, Stefani could not help but use the opportunity to talk about Shelton's influence in her life.
Stefani admitted that Blake Shelton has opened a whole new world of music for her and that he often plays guitar in their home. Needless to say, Stefani never wants him to stop playing (which is absolutely adorable).
"I'm having the most fun of my life ever," she stated. "Blake has introduced me to so much cool music that I didn't even know existed."
Stefani went on to discuss how she was making a mac and cheese dish for Thanksgiving, which prompted Legend to reveal that he was doing the same. If the two make mac and cheese for Christmas, hopefully they both share their recipes with fans on social media.
Shelton and Stefani make fun of Teigen
Blake Shelton and Gwen Stefani are set to eat dinner with Legend and Teigen in the near future, but that did not stop them from poking a little fun at the model on social media a few weeks ago.
Like they do every year, Shelton and Stefani celebrated Thanksgiving at his massive ranch in Oklahoma. While cooking a stew over an open fire, the two shared a quick video of them playfully joking about Teigen's chef skills.
Legend later shared a clip of Shelton asking him if Teigen saw the video. In response, Legend told him that he would show her the video and that they will find out if she is mad once they eat her cooking.
"We'll have you guys over for dinner, and if you survive dinner you'll know if she's mad at you or not," Legend shared.
The comments, of course, were all in good fun and that kind of playful jabbing is typical for the coaches on The Voice. And with only a few episodes left in season 17, fans can expect more of the same, especially on Shelton's end.
Fans can watch Blake Shelton, Gwen Stefani, and John Legend in action when the season finale of The Voice airs Monday and Tuesday on NBC.