Blake Shelton and 'The Voice' Coaches Cover 'More Than Words' in the Most Epic Way
Season 17 of The Voice premieres on NBC soon, but what are the coaches doing to prepare? Ahead of the new season, Blake Shelton and other coaches from the show performed an iconic song you might recognize.
Who are 'The Voice' coaches in season 17?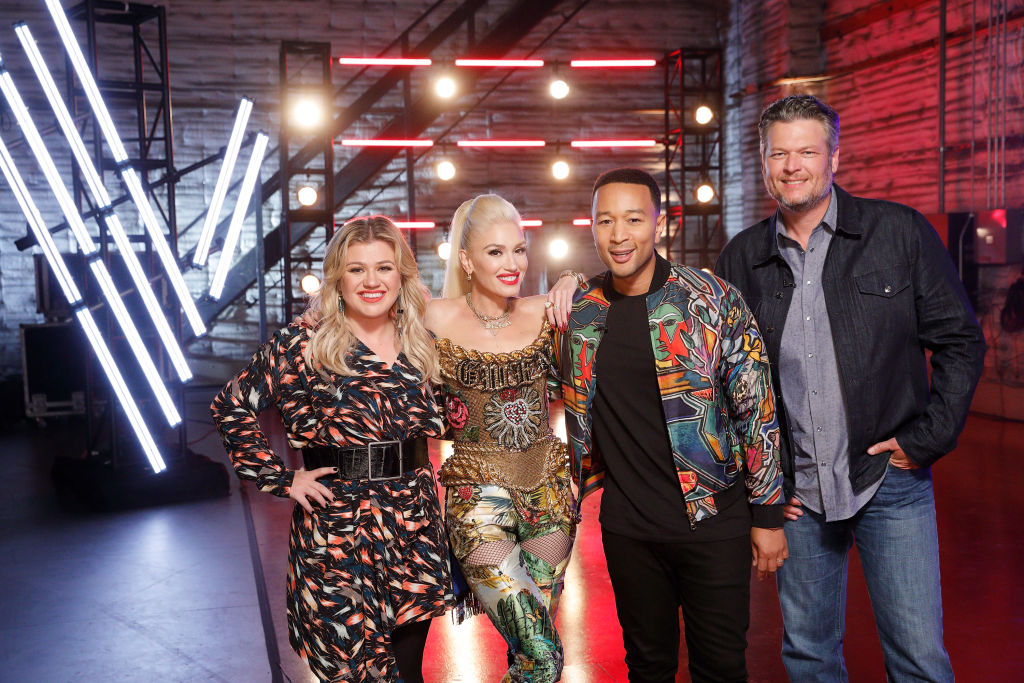 Returning coaches, Shelton, Gwen Stefani, Kelly Clarkson (who's also balancing a new talk show), and John Legend, take the chairs for season 17. This is Clarkson's fourth season, Legend's second, and Shelton's eighth. Stefani is back, replacing former coach, Adam Levine, for her fourth season as well.
"I'm so happy to be back," Stefani told Today back in April. "My life changed so much on this show. And then to be with my best friend Blakey, and to be here with Kelly and John, I feel pretty lucky right now."
Maroon 5 singer, Levine, shocked fans when he announced last May he wouldn't return. He confessed to People in May, he'd "been wanting to move on for a while," and so, he did. Levine was part of the show for all previous 16 seasons.
What '90s song did 'The Voice' coaches perform?
A video of Shelton and coaches surfaced on Friday, September 13. The 1991 No. 1 Billboard Hot 100 hit, "More Than Words," was originally recorded by Extreme, but Shelton and friends have given it an epic update. Stefani jokes in the clip, they're "one-take wonders." She's not wrong.
Prepare for nostalgic vibes all across the board with Extreme's third single from their sophomore album. The Voice band member, Dave Barry, welcomes another familiar face in the mix. Host, Carson Daly, fits right in on acoustic guitar, as Shelton, Clarkson, Legend, and Stefani lead the vocals.
Daly said on Today, he never intended to be part of the official one-time-only performance, but was invited after rehearsals. Who would turn down an offer like that (no one)?
What to expect on season 17 of 'The Voice'
A few changes were made during season 16 of The Voice and some weren't happy. The show nixed knockout rounds (singers go up against one another and are chosen or saved by judges) and added cross battles (coaches pick a team member to go against an opposing team).
With fans voting their favorites in, the show left little strategy in the coaches hands. For instance, Levine didn't have any contestants move through to the next round with the new format. That said, fans didn't love the results.
As for the return of Stefani, Shelton's a happy camper. "I always love having Gwen on the show," he said in a promo video for Season 17. "She literally makes my day 100 percent better."
With competition ramping up, Shelton and Stefani will likely add a little romance in the place where Shelton and Levine's former "bromance" ended.
"We're starting to have pillow talk about it," Stefani told E! News in June. "Every season I've been on it it's been a different version of being with Blake. So this is like a different version of it."
She and Blake have been planning for season 17, but both still intend to compete with one another. "There's not a lot of strategy except for I'm gonna win," she added.
Who are 'The Voice' Season 17 mentors?
Shelton welcomes Darius Rucker during battle rounds, while Legend will have Usher. Stefani snagged will.i.am., and Clarkson taps into Normani's advice for her team.
The Voice premieres season 17 on Monday, September 23 at 8 p.m. EST on NBC.