BlizzCon: Jason Mewes Will Play 'World of Warcraft' With You
BlizzCon invited Jason Mewes to its World of Warcraft convention this weekend. Mewes took a break from his Jay and Silent Bob Reboot road show tour on Friday to attend BlizzCon. He also spoke with Showbiz Cheat Sheet by phone from the convention to talk about his obsession with World of Warcraft.
Mewes was excited to get a peak at the Shadowlands expansion pack Blizzard was debuting at BlizzCon, and he spoke about trying to play WoW on the road. He also spoke about finding Jay and Silent Bob fans online to play World of Warcraft with.
Here's where to find Jason Mewes to play 'World of Warcraft'
Jason Mewes shares his World of Warcraft play on his Twitch channel, so that's your first stop for locating him in the game.
"I started streaming a few months ago on Twitch," Mewes said. "Blizzard sent me the cool World of Warcraft Classic chest which came with a jacket and a statue and the game. I downloaded it immediately and a bunch of the people from my Twitch stream joined me. It was cool because it was a bunch of us all joined together. We all created some characters together and we started exploring and stuff together."
So far, the players who found Jason Mewes knew him as a World of Warcraft player, not the actor from Kevin Smith movies.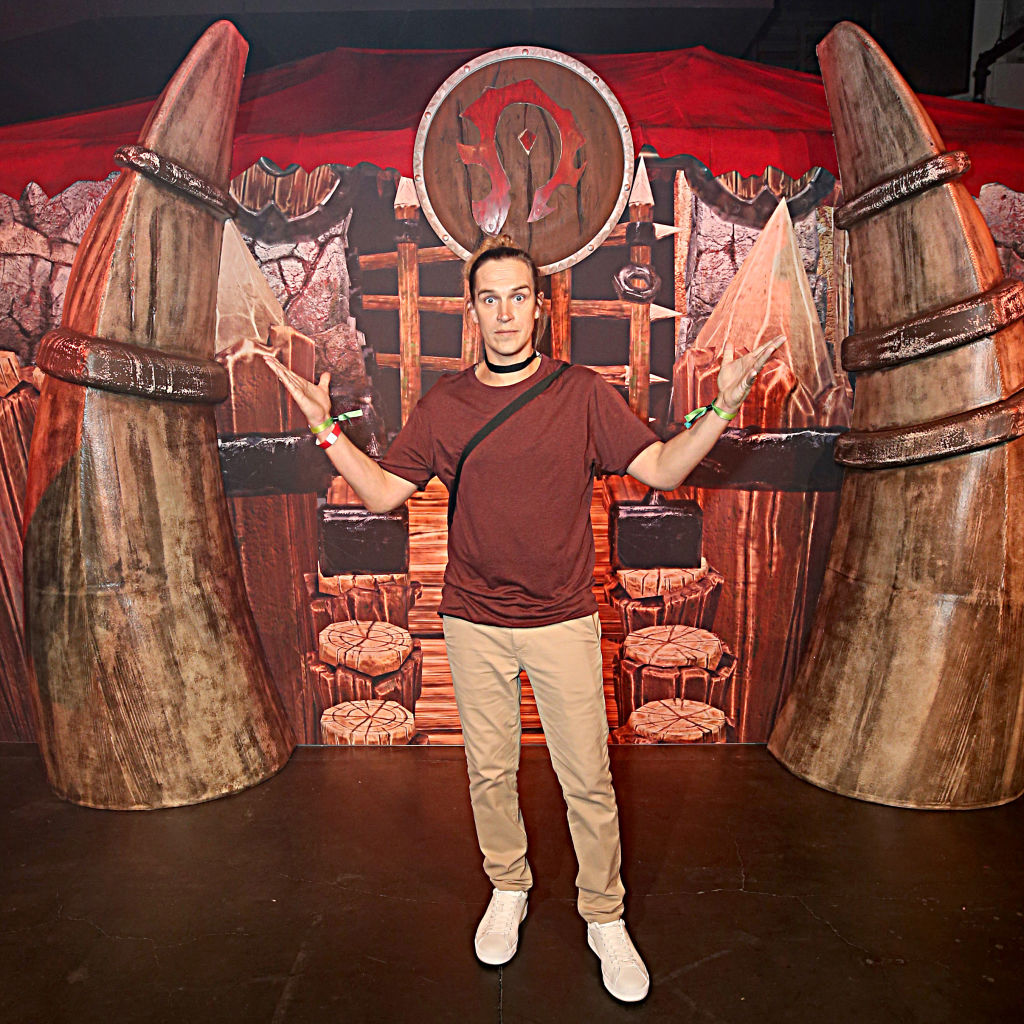 "It's awesome but no one has found me being like, 'Hey, you're that guy' but it's cool because I usually bunch up with people from my feed," Mewes said. "I have a big following. It's awesome, like a good 200 people who have been following me for the last couple months, followed almost every stream I'm on, whether it's me building LEGOs, playing World of Warcraft. Sometimes I do just chatting, like while we're on the tour right now, we just went and saw where Captain Kirk was born, Kevin and I. I'll stream on that but it's been awesome."
Jason Mewes thinks gaming is still a secret world
Jason Mewes feels like he's on the forefront with gaming and streaming. He sees other media falling behind on the future.
"For me, gaming's cool. I love the gaming and World of Warcraft and everything. Kevin showed me an SNL clip. They're making fun of the games because this guy they had interviewing at a League of Legends Tournament and he's like what's this? And he was blown away because he didn't know anything about it, but this guy, one of the players had all these girls like, 'Oh my God, you're the best, you're the best.' So I'm just saying it's such a different world. The gaming now is so huge. I'm glad I've been able to jump into it because again, I've been into games for years but for me to be able to continue now and stream and have people watch me also play World of Warcraft and all the different stuff I do. I like to build LEGOs even on my stream."

Jason Mewes, interview with Showbiz Cheat Sheet, 11/1/19
Jason Mewes wishes he could've stayed at BlizzCon all weekend
Jason Mewes had to get back to Jay and Silent Bob Reboot appearances. Otherwise he would've stayed at BlizzCon all weekend.
"I wish I could come as a fan," Mewes said. "I'm actually on the road right now with Reboot. Kevin and I, our new movie came out, Jay and Silent Bob Reboot and Kevin and I are doing the Reboot road show. So we've been going, I just flew in from San Antonio, TX. But believe me, if I was home and not on tour, I would've been here as a fan for sure. I'm a fan anyway but I'm just saying I wouldn't be here just for today, I'd be here the whole weekend."
It's hard to find good internet on the road
If you're having trouble finding Jason Mewes in World of Warcraft, that's only because he's staying somewhere with slow internet.
"It's been a little harder to do on the road," Mewes said. "I definitely brought my laptop. Again, as long as there's good internet, I can play. That's the thing. Even when I have my laptop and stuff, most hotels have crappy internet. I've been lucky because some of these theaters have good internet so I'll plug in and download updates and all that. So I've been playing but not as much as I'd love to when I'm home."