Blood Orange Released His Fifth Album, 'Angel's Pulse': A Look Back On His Prolific Career
After originally joining the indie rock band, Test Icicles, Devonte Hynes has a successful career under his R&B persona, Blood Orange, 15 years later. His debut album, Coastal Grooves, dropped in 2011, and his sophomore album, Cupid Deluxe, earned more recognition. Then, music publications praised his third project, 2016's Freetown Sound, noting his vocal ability, arrangements, and production skills.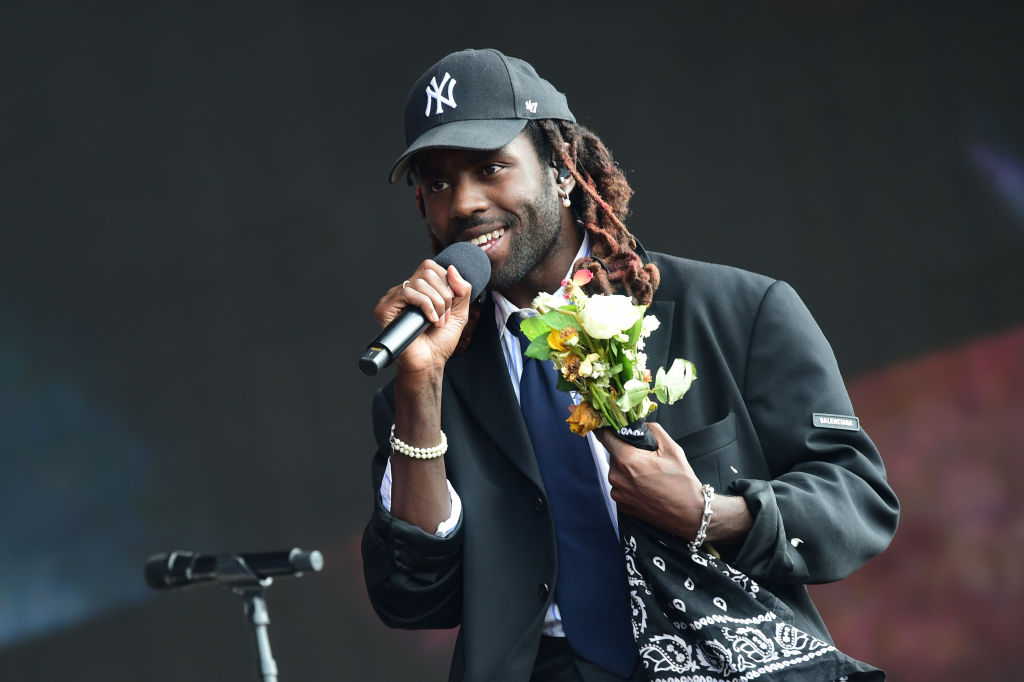 While writing and producing his own music, Hynes also did the same for several other well-known musicians including Solange Knowles. He recently dropped his fifth album as Blood Orange, Angel's Pulse, with features from Justine Skye, Project Pat, Gangsta Boo, Tinashe, Ian Isiah, and more. Keep reading to take a look back on his prolific career.
Blood Orange joined the band, Test Icicles
On December 23, 1985, David Joseph Michael Hynes was born in Ilford, London. He joined the dance-punk band, Test Icicles at 18-years-old, after the former leader, Ferry Gouw, left for a long trip. Initially, the group named themselves Balls but changed the name after Hynes joined, with Gouw suggesting Test Icicles.
Although indie rock primarily influenced the band, the group incorporated different music genres such as punk and hip hop. The members of Test Icicles also included talented English musicians Rory Attwell and the late Sam Mehran. Domino Recording Company signed the group after they released several songs and projects on MySpace.
Blood Orange's success with Test Icicles
In October 2005, they dropped their debut studio album, For Screening Purposes Only. The album also spawned two UK Top 40 singles with "Circle. Square.Triangle" and "What's Your Damage." The group subsequently went on a tour around the United States and Europe. In February 2006, Test Icicles announced they were breaking up, and dropped their farewell EP, Dig Your Own Grave, in April.
The project included a CD that contained remixes and unreleased music from the group as well as a DVD of music videos and live concert footage. After the band went their separate ways, the three artists continued to make music.
Lightspeed Champion's short-lived career
Hynes began recording under the moniker Lightspeed Champion. He then dropped a successful 2008 album, Falling Off the Lavender Bridge under a solo contract with Domino Records. His new name came from a series of comic strips he drew in math books during high school. The musician then released Life Is Sweet! Nice to Meet You two years later before putting Lightspeed Champion on hiatus to fully pursue Blood Orange, an R&B and electronica persona.
Hynes' success as Blood Orange
His debut album as Blood Orange, Coastal Grooves, dropped in August 2011. MTV also featured his single, "Dinner," on the premiere episode of Skins. The following year, he embarked on a 2012 tour opening for the indie rock band, Florence + the Machine. In 2013, he released his sophomore album as Blood Orange, Cupid Deluxe, which Pitchfork Media ranked among the top 100 albums of the current decade.
In 2014, he performed at the popular Coachella Valley Music and Arts Festival. Hynes then released a collaborative EP with New Zealand psychedelic pop artist, Connan Mockasin before dropping his third Blood Orange album in 2016.
The project, titled Freetown Sound, inspired by his father's birthplace in Freetown, Sierra Leone, dropped three days of the scheduled release date. It also received very positive reviews and ratings. Music publications including Noisey, Pitchfork, and The Guardian ranked Freetown Sound as one of the best albums of the year.
Two years later, Hynes released his fourth studio album, Negro Swan, to which critics called his best work yet. On July 12, 2019, Blood Orange dropped Angel's Pulse, after announcing it a month prior to Cultured Magazine.
Dev Hynes also writes and produces for other artists
Hynes has written and produced almost every song on his five albums, and still found time to write and produce for several other artists. His vocals and arrangements appeared on "All Rights Reserved" from English electronic music duo, The Chemical Brothers' 2007 Grammy-Award winning album, We Are the Night.
Hynes also co-wrote and produced songs for English singer Diana Vicker's number one album, Songs from the Tainted Cherry Tree. He has written or produced for several artists including Solange Knowledge, Tinashe, Carly Rae Jepsen, Florence and the Machine, A$AP Rocky, and the late Mac Miller.