'Blue Bloods': Did Donnie Wahlberg Tease That Danny Reagan Might Get Caught in a Love Triangle?
Blue Bloods had a big change with Danny Reagan (Donnie Wahlberg) losing his wife, Linda (Amy Carlson) two years ago. He has slowly been trying to recover.
Now he has two important women in his life. One is his partner, Maria Baez (Marisa Ramirez) and the other is Maggie Gibson (Callie Thorne.) Some fans suspect there might be a love triangle there. Find out what Wahlberg had to say about it and more.
Danny and Maria are still getting help from Maggie on 'Blue Bloods'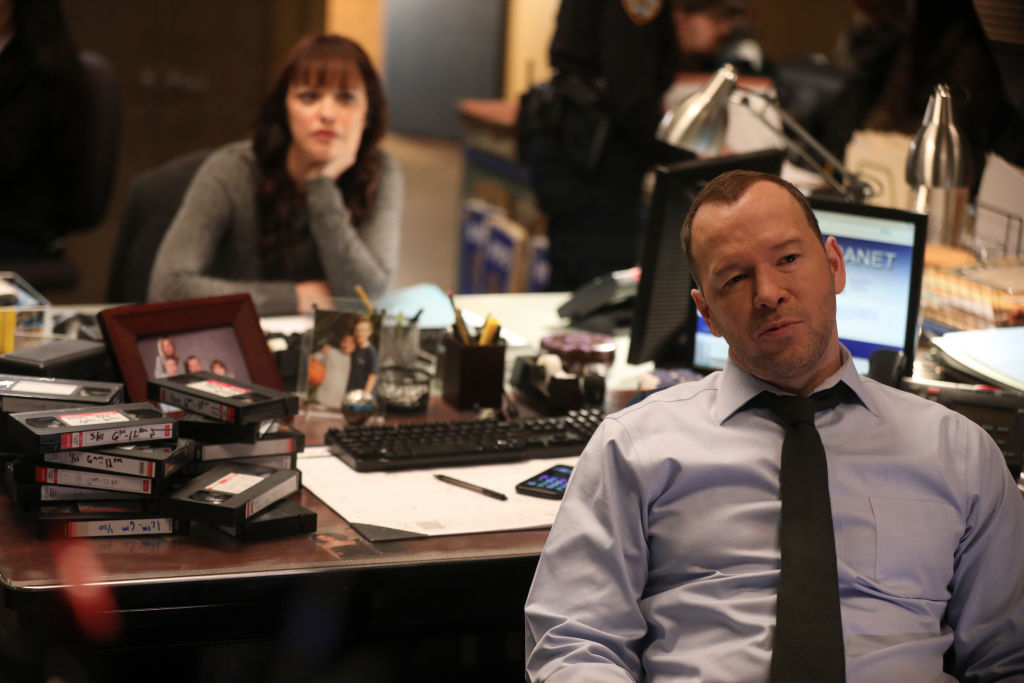 The detectives have been getting extra help to solve their cases. That's because a psychic named Maggie keeps giving them clues to solve them.
This continued in season 10's premiere with Maggie asking for Danny's help to find the murderer of a young girl. However, Maria had a problem with getting Maggie's help this time.
"You know maybe you should just leave him alone. He doesn't need you disrupting his life anymore," she told Maggie. The psychic then denied that she was disrupting his life.
"Oh no? Getting him to take his ring off, asking him for help on cases, that's not disrupting his life?" asked Maria. It's hard to tell if Maria is just being protective of her partner, or if there's some jealousy there due to romantic feelings.
Danny was previously encouraged to find someone new
Danny's wife, Linda was murdered. He finally caught her killer last season and he's been encouraged to move on by multiple people.
His grandfather, Henry (Len Cariou) talked to him after Danny shot someone on the job. Henry told him, "Linda was the one who got you through those others. She also could have gotten through this one." Danny said,"Yeah, but it wasn't in the cards." Henry replied, "So draw a new one."
He's not the only one that talked to Danny. Maggie also noticed that he still wore his wedding ring in a different episode.
"You don't get over it but you do get through it," Maggie told him. "And the only way to get through it is to stop focusing on what you don't have and focus on what you do have."
She gave him a velvet bag and he took off his wedding ring and placed it in the bag. This might be the biggest sign that the character has closure.
He said he loves the triangle that's building
The actor talked about his character's journey in season 10. He said that he's loving the dynamic between him and the two female characters.
"The character of Maggie has been a great addition and obviously Callie Thorne's an amazing actress and brings so much spirit, for lack of a better word, and so much to the table," Wahlberg told TV Insider. "I don't know where all that is going to go, but it is fun to work with both of them and to see the dynamics that are evolving with the characters."
The actor added, "I love the little triangle that's building with those three characters." This might confirm that there could be more to Danny's relationships with Maggie and Maria.
Fans have already started taking sides between the two women. We will have to wait and see if Danny actually starts a relationship with one of them.