'Blue Bloods': Does Donnie Wahlberg Do His Own Stunts on the Show?
Donnie Wahlberg has been playing Danny Reagan on Blue Bloods for quite some time. The detective is often seen carrying his gun and chasing down criminals with his partner.
Those chase scenes sometimes get dangerous and intense. It might make fans wonder does Wahlberg do his own stunts? Here is everything you need to know.
Donnie Wahlberg says he does his own stunts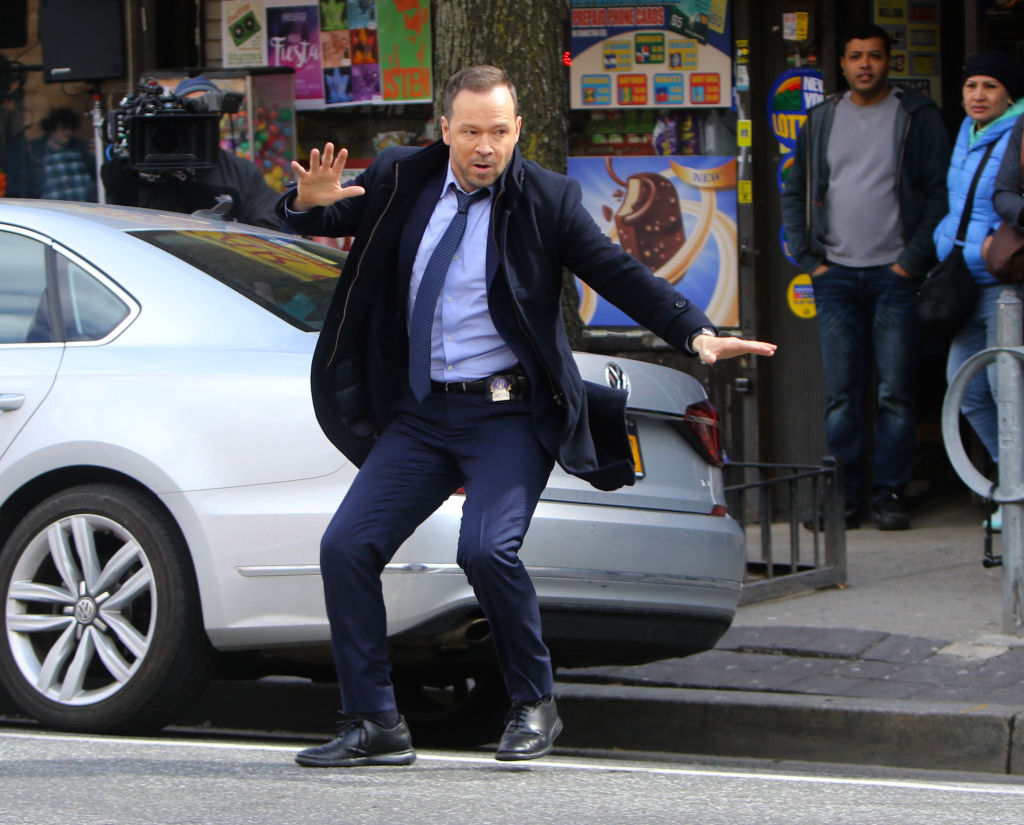 Danny Reagan is often on the streets of New York solving cases with partner Maria Baez (Marisa Ramirez.) The actors are then often seen filming the show on real streets of the city wielding fake guns doing their own stunts.
The actor has also posted videos of him at work. There was one he posted on Twitter of him sliding across the hood of a car then jumping over a bush.
He does get help for some of the more dangerous stunts
The actor is obviously proud of the stunts he does do, but he has no problem giving props to his stunt double. Wahlberg posted a video on Facebook of him saying "I do all of my own stunts" while on set for a scene.
He then says, "But I admit since Tom Cruise broke his foot I gotta be a little more careful, just a little more careful. So I gotta pick my spots." He then shows the filming of a scene starting of his stunt man running into a street then getting hit by a car. Wahlberg says, "Now, it's my turn" and he runs to take his place and throws himself onto the ground.
According to Wire Image, the name of Wahlberg's stunt double is Jared Burke. Stunt doubles aren't the only ones on set to help out actors with the stunts.
A retired officer helps out with stunts to keep them realistic
etired officers often are on the show to keep it realistic. They help with the clothes, protocol, but also the stunts.
Retired Officer Jim Nuciforo talked to AM New York about helping out with Blue Bloods. "I have to show a lot of the actors and stunt officers that in the NYPD, you never, ever, ever have your finger on that trigger until the second you are going to shoot that weapon," he said. "That's a big no-no. If it ever happened, I'd get a call the night the episode airs from other cops."
He doesn't just keep an eye on the small details. Nuciforo is also there to help plan those crazy chase scenes. "The writers will call and say, 'Did anything like this happen to you?'" he revealed.
In the end, Donnie Wahlberg does a lot of his own stunts for Blue Bloods. However, he does get some help for the more dangerous ones and the stunts are planned with the help of a retired officer.
Read more: 'Blue Bloods' Star, Donnie Wahlberg Is Hosting a New Show About Criminals
Check out The Cheat Sheet on Facebook!