'Blue Bloods' Fans Would Love to See Lyle Lovett Again
One of the quirkiest people in the music industry over the last 35+ years is Lyle Lovett, once the husband of Julia Roberts and iconic on his own. With a distinctive appearance and memorable songs, he managed to mesh musical genres while dabbling in acting.
He's still around, though maybe not on the radar as much as he used to be as a musician. As an actor, he's still going after almost 30 years doing small parts in movies and TV.
It took a little while, though, before he jumped into acting after finding success with his early albums of the late '80s. More recently, he's been seen on CBS's Blue Bloods, a role fans of the show found unique. Now viewers want to see his Texas Ranger Waylon Gates return.
Lyle Lovett's Blue Bloods character offered something out of the ordinary
The idea of adding a Texas Ranger to Blue Bloods might sound like trying to pick up more rural audiences not typically attracted to big city crime dramas. One thing for sure is that when Lovett's Waylon Gates appeared, it did receive some initial mixed reaction. This only came from those who thought combining Texas with NYC was like mixing literal oil with water.
For others, the sight of Lovett playing a laid-back Texas Ranger added something different to the show after sticking solely with NYC-based characters. Seeing Lovett as a fish out of water ranger coming in to find a Texan murderer hiding out in NYC truly did add something unusual to the mix.
What made it most interesting was Waylon Gates had to work with Danny Reagan (Donnie Wahlberg). While both initially locked horns, they eventually became an effective cop duo.
By the end, they manage to track down the killer and become friends. Gates even gave Danny a cowboy hat in recognition.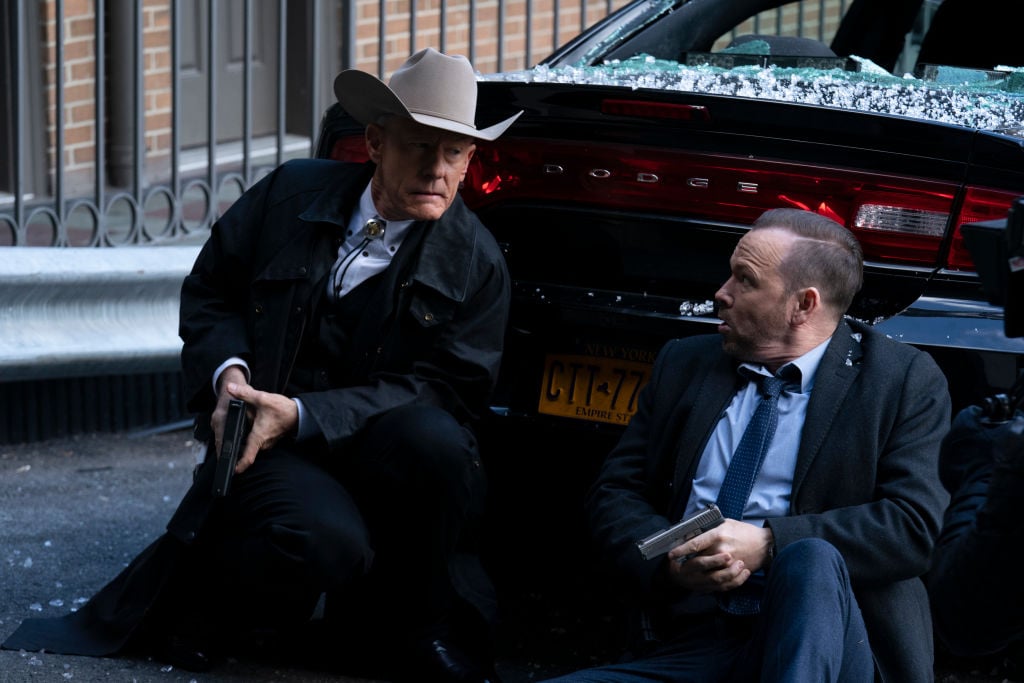 Many fans want Lyle Lovett's character to come back
If a few people felt confused about this team-up, others found it appealing after finishing the episode. Lovett always wins people over, including in all the parts he's played in the past.
From his first role in 1992's The Player (playing a detective, incidentally) up through acting in TV roles on sitcoms like Life in Pieces, he's never been forgettable. Suddenly appearing on Blue Bloods in a standout role took everyone by surprise, something many people want to see again.
Even more so, it's not hard to wonder if this was a setup for a pilot. Since Lovett seems to be on an extended break with music the last five years, doing a TV show as a Texas Ranger would really be interesting.
The only problem is his character might clash with another famous Texas ranger character once with a popular crime show.
Would Lyle Lovett's Waylon Gates clash with Walker, Texas Ranger?
Everyone remembers Chuck Norris's Walker, Texas Ranger that also ran on CBS for eight seasons from 1993-2001 (not including a TV movie in 2005). Norris is so identified in this role, having someone else playing a Texas Ranger seems almost incomprehensible. 
Having Lovett in the role, though, brought something different and a true blue Texan besides. Lovett was born in Texas, so he inhabited this character. He also made it all his own, making it more than possible a series could be made.
Most likely not. Then again, it seems possible the producing team of Blue Bloods is testing things to see what kind of spinoff they could create as the former show starts to go into its likely final stretch. After all, Donnie Wahlberg said it best in a recent Instagram post: "I'm seeing a spin-off! Anybody have any ideas for a title? I got #BlueBloodsTexas so far!"