'Blue Bloods': Frank Will Feel Torn by a New Case Involving Someone He Knows
Frank Reagan (Tom Selleck) is usually seen dealing with the politics around policing. That means he's normally behind a desk instead of walking around crime scenes.
It's been revealed that there will be a case that gets Frank more involved this week. Find out more and how Jamie (Will Estes) will get involved.
Jamie's case recently involved another Reagan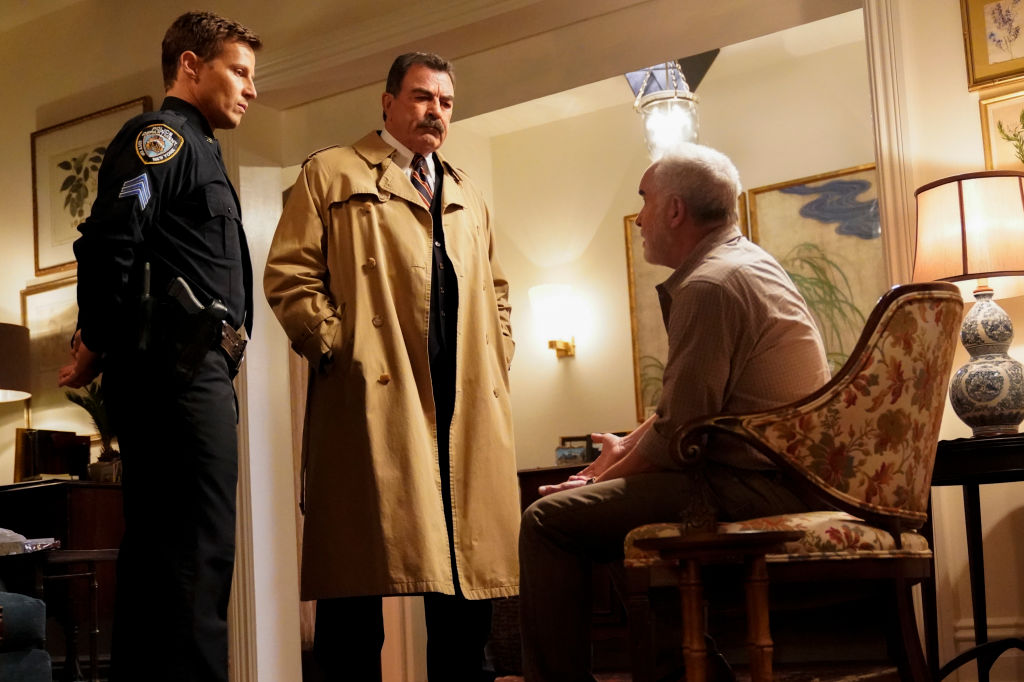 In the episode, "Behind the Smile," we saw Jamie having to pay another Reagan a visit. That's because the person who shot at one of his new officers was on the street partially because Erin (Bridget Moynahan) didn't send him to prison six months ago.
Jamie wasn't happy about this. Luckily, they were able to come up with a plan to catch the criminal. This meant they had to work together along with Anthony Abetemarco (Steve Schirripa) and his brother.
This meant that Erin and Jamie ended on good terms. The family has already had some interesting interactions with each other because of work this season and that includes Frank.
Frank and Erin faced off because he found out the District Attorney's office has a list of police officers they won't use for cases. He threatened to do the same thing for lawyers and both sides agreed to destroy their lists.
Now it looks like the police commissioner will be spending more time with another kid in this upcoming episode. However, Jamie might be giving him advice.
A trailer shows Frank feeling torn
A new trailer shows Frank looking at a crime scene, which is rare for the police commissioner. Jamie is there to tell him what happened.
"Self-inflicted gun shot wound to the head," he tells his father. Frank said, "I've known him for a long time and her. She was real sick."
We see a man sitting down looking upset with a little girl. Then there is a body being moved out of the home.
The next scene shows Frank talking to a different man, showing him a photo of what looks like a bloody shirt. "Yours? Simple question" he asks him. The mystery man answers yes and the next scene Jamie is telling Frank that he can't let him walk.
He will also visit Jamie at his new apartment
Fans also got another teaser for the upcoming episode. A picture shows Frank at Jamie's front door.
It's obvious that Frank and Jamie will be working closely because it's Jamie's case and the father knows the person who died. There is still a lot of mystery over what happened and how they can help each other.
Fans replied to the tweet with the picture to give their guesses on why he's there. "To watch Magnum P.I. So frank can complain about reboots?" one fan joked. Other people had more serious replies.
One person tweeted, "Call with good news, deliver bad news in person." Another fan tweeted, "Jamie's case. Hoping Eddie is involved too. Want her to be home and Frank says he likes the apartment."
Fans will have to wait and see what happens. The new episode airs on Oct. 18 at 10/9 CDT on CBS.