'Blue Bloods' Star, Donnie Wahlberg Celebrated with Festive Turkey Hats for Thanksgiving
Fans have seen the Reagan family celebrate Thanksgiving together in the past on Blue Bloods. The actors actually get a break to go their separate ways to celebrate with their families.
Donnie Wahlberg shared a few photos of him wearing festive turkey hats. Look below to see the post and how his co-star, Bridget Moynahan celebrates the holiday.
Donnie Wahlberg and Jenny McCarthy host Thanksgiving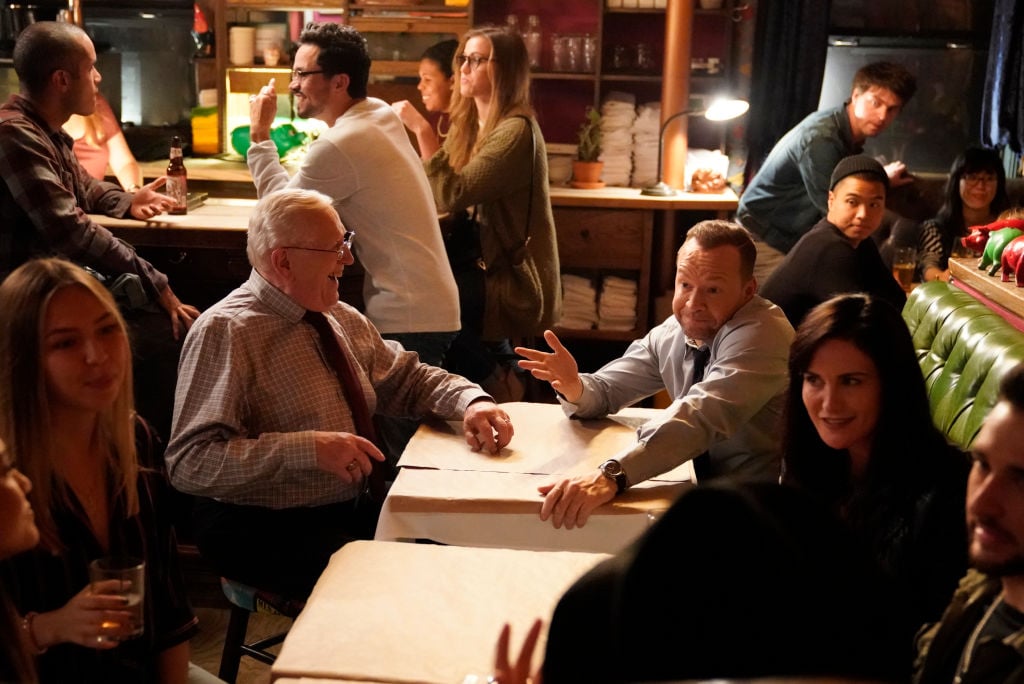 The married couple has talked about what they did for Thanksgiving last year. Their home is the one that many family members go to for the holiday.
"We've got about 12 coming [to dinner] right now, but that always seems to go up," Jenny McCarthy said according to Fox News. "We take in friends and family that might not have anywhere else to go for the day."
Only one of them is the cook it seems. "I'll spend the day in the kitchen," she revealed. "But Donnie will be playing games with the kids in the living room."
He shared photos celebrating with McCarthy
Wahlberg shared that he got to his destination the night before Thanksgiving. He posted a video showing his dog being scared to walk down the stairs to get off the plane. Eventually, he went to pick him up.
He captioned the Instagram post with, "Safe & Sound & On The Ground with Lumpy aka — This mans best friend. #frenchies #frenchbulldog #DWAir."
The actor definitely looked like he had the Thanksgiving spirit. He shared a photo posing with McCarthy wearing a turkey hat. There was a second photo of her wearing a different turkey hat and he had a cooked one on his head.
He captioned the Instagram post with, "Not sure how much I like them — but my wife is def feeling the turkey hats this year. #Thankful to all of those who have come into our lives and made the world a little bit brighter! Happy #Thanksgiving to you & yours from me & mine.
#LOVE is the way!"
McCarthy commented on the post with, "Can't wait to gobble you up." Fans left their loving comments on it. "You guys are adorable! Happy Thanksgiving!" one fan wrote. Another fan wrote, "Well I have to say I do like hers better."
Bridget Moynahan also shared a few Thanksgiving posts
Wahlberg isn't the only Blue Bloods actor to share posts relating to the holiday. Moynahan also posted a few pictures on Instagram.
The first one looked like a beautiful centerpiece of flowers on a table. She captioned it with, "Thank you @angelicaflwrs for making our tables look festive, chic and colorful! #thanksgiving #friends #family #holiday #grateful."
The actress also shared an older picture of her and a cooked turkey to wish people a happy Thanksgiving. The author of The Blue Bloods Cookbook has talked about hosting holidays in the past.
"I always host holiday dinners," she told People. Moynahan said her brother's sautéed leeks is always on the dinner table for Thanksgiving. "It's in the book and it is so yummy and so easy to make. That's always on our menu."
This year there wasn't a Thanksgiving episode of Blue Bloods. At least fans got a peek into how the actors really celebrated online.