'Blue Bloods': This Fan Theory Believes the Show Will Return with More of the Jamko Wedding
Jamie (Will Estes) and Eddie (Vanessa Ray) got married in the Season 9 finale of Blue Bloods. However, not much of the Jamko wedding was actually shown and it has fans talking. There is a theory on how Season 10 will begin. Here is everything you need to know about it.
The finale ended with Frank walking Eddie down the aisle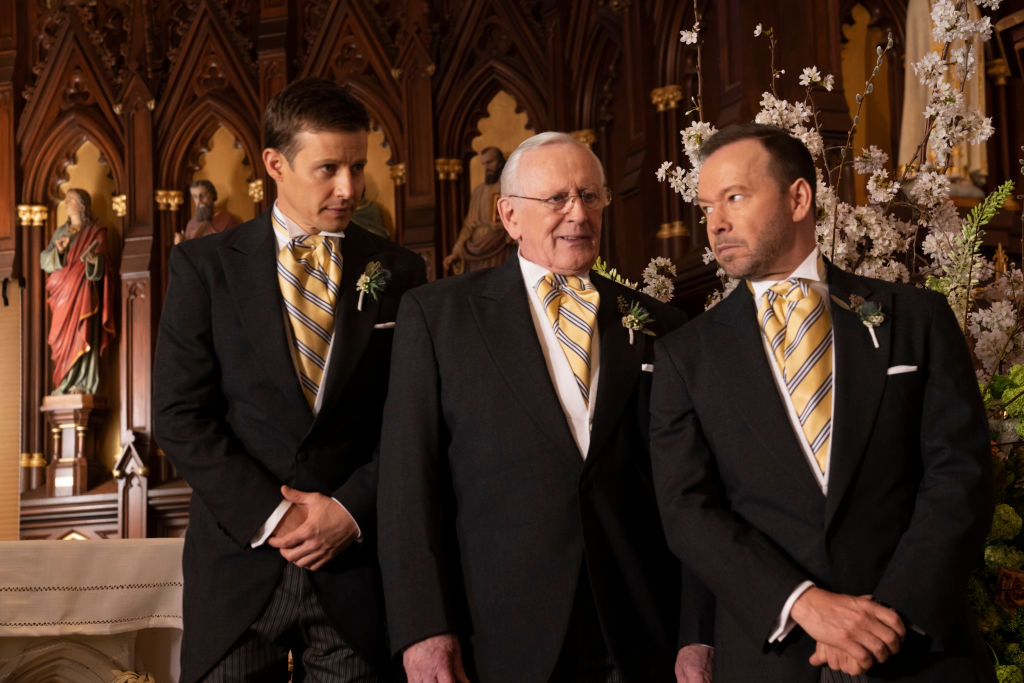 "Something Blue" was heavily teased to show the Jamko wedding. The problem with that is very little of the ceremony was actually shown.
The beginning of the episode was business as usual. Danny (Donnie Wahlberg) and Maria (Marisa Ramirez) investigate a murder case. Eddie and Erin (Bridget Moynahan) argue over whether a witness lied in his statement or not. Everyone in Frank (Tom Selleck)'s office is not getting along with each other.
In the end, the Reagans come together for the rehearsal dinner. Frank gave a lovely speech on why Eddie will be bucking the tradition of getting walked down the aisle for the wedding.
The only thing shown for the actual wedding day is Eddie asking Frank to walk her down the aisle because she is afraid. They start walking and there is a closeup on Jamie's face of him starting to smile.
Fans were shocked by how Season 9 left off before the wedding ceremony
There were a lot of fans looking forward to the Jamko wedding hoping it would be complete with exchanging vows and a kiss. They didn't get any of that and fans weren't afraid to share their disappointment.
It seemed like the theme of the episode wasn't focused on the engaged couple at all. Instead, it was more of Eddie's anxiety about what it would mean to become a "Reagan." That made it fitting to have the police officer get walked down the aisle by her father-in-law, but it left a lot to be desired.
Fans started to come together to talk about what's to come. Season 10 has already been announced so this won't be the last we see of Jamko. But is it the last we will see of their wedding?
A fan believes the show will pick up in Season 10 in the middle of the wedding ceremony
Fans might have been disappointed by where the finale left off, but some still have hope they'll see more. After all, Season 10's premiere will be its 200th episode. It should be big and what could be bigger than Jamie and Eddie's wedding?
One fan tweeted, "I mean they have this photo as an "exclusive first look" so SURELY they're gonna have the rest of the wedding in 10×01??? But seriously why not just put everything in the finale episode??? They were hyping up THIS episode for the wedding??? #BlueBloods#Jamko."
This could be possible, or it's possible that the picture is from a scene that just wasn't used in the end. Fans will have to wait until Season 10 to find out for sure.
Read more:'Blue Bloods': Was It Actually Love at First Sight for Eddie and Jamie?
Check out The Cheat Sheet on Facebook!