'Blue Bloods': Tom Selleck Is Big on Family and Values in Real Life
Blue Bloods is one of the most unique crime dramas on television. The CBS series has garnered tons of attention over the last eight years for more than just keeping fans on the edge of their seats. Blue Bloods tells the story of a multigenerational family who are all in law enforcement. This makes family ties a big part of the show. So much so it ends off with a family dinner scene for each episode.
But while fans know the Reagan clan is all all about family and values, they probably didn't know that Tom Selleck, Papa Frank Reagan in the show, is also big on the same things in real life.
What is Frank Reagan's moral code?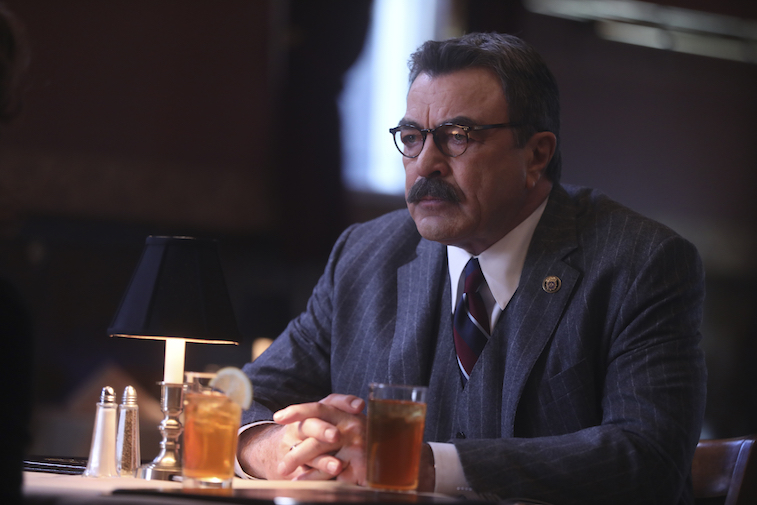 Before we get into Tom Selleck, let's take a look at New York Police Commissioner and beloved patriarch of the Reagan crew, Francis Xavier Reagan. When you watch Blue Bloods, it's evident that Reagan has an unbelievably solid work ethic. First off, he served on the United States Marine Corps during the Vietnam War and received honors for his time.
From there he entered into law enforcement as a patrol officer. In only three years' time, he became a detective. After tackling various roles with gusto, he eventually made it to Police Commissioner. It was no small feat, but years of hard work and dedication is what landed him the job. Reagan believes nothing comes for free.
While being a "hardened" Police Commissioner with decades of experience might take family life off the table for most, it doesn't for Reagan. His life is all about two things — work and family. Sometimes he considers trading in the job to become a full-time family man (and to escape the pressure), which shows just how much he cares about his clan.
After losing his wife to cancer, family became that much more important…resulting in a close-knit crew and delicately balanced work-family life. Having the entire clan in the same career also happens to make things a bit easier for the single father.
How are Tom Selleck and Frank Reagan alike?
Ironically enough, Selleck also served in the military, a life choice that would make him the perfect pick for many of his roles (Thomas Magnum on Magnum P.I., Jesse Stone in Jesse Stone, and even Eisenhower).
While Reagan started his tour in the Marine Corps, Reagan began his as a 160th infantry regiment in the California National Guard. But both of them were drafted into the same war. Perhaps it's this shared experience that is at the root of the two men having similar values!
Selleck is also a father. He has two children. His first, Kevin Shepard, is from his marriage to model Jacqueline Ray. While the two ultimately separated, Selleck is essentially a single dad to Shepard as he adopted him during their time together.
His "baby girl" Hannah he had with his second wife, Jillie Mack. Unlike Reagan, Selleck is thankfully still in a loving marriage. Despite the differences, his loss of first wife and time as a single father is another parallel between the two patriarchs.
How do Tom Selleck's values compare to Reagans?
It's pretty clear that both men believe in hard work and taking care of family. I mean, Selleck officially adopted the child of one of his wives! If that doesn't scream family man, I don't know what does!
The hard work is pretty obvious too. While Reagan worked extra hard to climb his way up the "legal" ladder, Selleck did any jobs he needed to make ends meet until he made it as an actor. He also served his country with not a single complaint, even though the calling came right as he was about to achieve his dream. Talk about a true hero!
It was Selleck's father that instilled in him many of the values he still holds fast to today. His words," A man is only as good as his word.", hit him right and the heart as a child and he would go on to use it as a motto for the rest of his life. For young Selleck, that meant sticking to your guns and working hard to achieve your goals. He made sure to do both during his 74 years on this Earth.
He also proudly stated (probably on more than one occasion) that "My family is my first priority." If that doesn't sound like Reagan, what does? But really it was his comment to the New York Times in 1999 that sold Selleck as an ethical individual with a big heart and sharp mind.
"I've tried very hard to conduct myself in an ethical way, because that's important to my stability now."
Without a doubt, it's the former Magnum P.I. stars core values that have gotten him to where he is today.