'Blue Bloods': Tom Selleck Reveals He Only Eats During the Filming of the Family Dinner Scenes at This Specific Time
Every episode of Blue Bloods show the Reagan family sitting down for a family dinner. This is when the characters get to catch up and talk about what's on their minds.
The cast has revealed what it's like to film those scenes. Find out what Tom Selleck has to say about eating only at a specific time during filming.
Tom Selleck said he'll continue 'Blue Bloods' as long as the cast wants to continue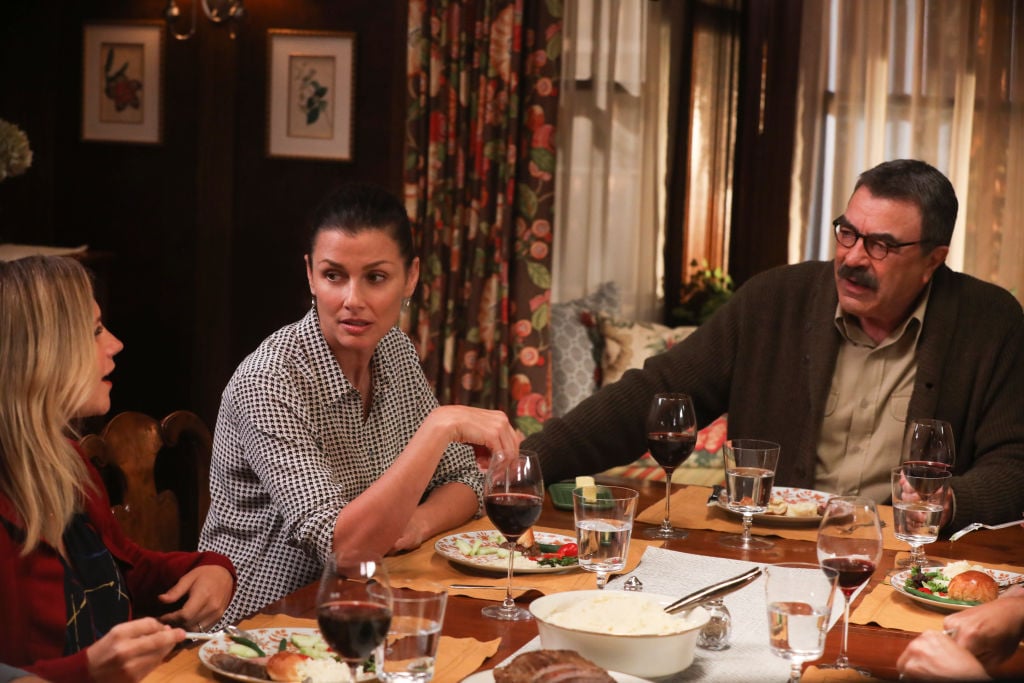 Blue Bloods has been on television for some time and it's still going strong. That's partially because Selleck still wants to star in it and he revealed his reason for signing on for one more year.
"Well, let me say publicly, they didn't offer me a two-year deal, and I don't know why," he told Deadline. "I signed up for a year because that's what they were offering. I love the show. Don't tell CBS that because I got to be a good negotiator."
The actor then talked about why the cast of the family show is so important. "Let me say that it's not like you can get a new detective and bring him to the family dinner table," he said. "These people are related. So, as long as my fellow actors wanted to come back, and that was my only real criteria, I was coming back."
Selleck went on to talk about why he thinks the show works. "Look, as long as the characters are allowed to grow and change, I think it's limitless," he said. "If you do the same story in Season 10 that is very similar to one Donnie [Wahlberg] had in Season 1, it's going to be a totally different story because Donnie has changed, and Donnie has evolved. That makes it wonderfully limitless in my opinion."
The show reached 200 episodes
Season 10 kicked off with the 200th episode of Blue Bloods. The family dinner scene was a little different with Frank's friend, Lenny (Treat Williams) joining the family.
It's the first time someone outside of the family gets a seat at the table. This happens after he turns to the police commissioner for help with his own family problem. Selleck has talked about still enjoying filming these scenes and the only time he eats during them.
He said he only eats when the cameras cut to him
The cast has filmed over 800 hours shooting just family dinner scenes. Selleck said they're still his favorite part of the show.
"We have to shoot everybody not just in a wide shot but in close-ups, but it's still my favorite part of the show," he told TV Insider. "I sound like the fans, but it's mainly because I get to see my friends. The Reagans are close, and we're close. With a cast this big, I might not see Donnie for a month. This format is like a weekly reunion."
The cast still hasn't gotten any better at keeping on track because of this. "We drive directors nuts because they want to get the shot done and we're joking around…a lot," he admitted.
While some of the actors pretend to eat the meal, Selleck has his own strategy. He said he "only eats when [cameras are] cutting to me."
So when someone else is talking fans can assume Selleck isn't still eating. It sounds like the veteran actor has a routine for the family meals.