'Blue Bloods': Was There More Filmed of the Jamko Wedding? Will Estes Talks Season 9 Finale
Blue Bloods fans weren't satisfied with Season 9's finale which showed very little of Eddie Janko (Vanessa Ray) and Jamie Reagan (Will Estes)'s wedding. They were left wanting more and coming up with a theory that there will be more.
But is that actually the case? Estes talked about the big episode and revealed whether other scenes were filmed of the big event.
The Season 9 finale showed just Eddie Janko walking down the aisle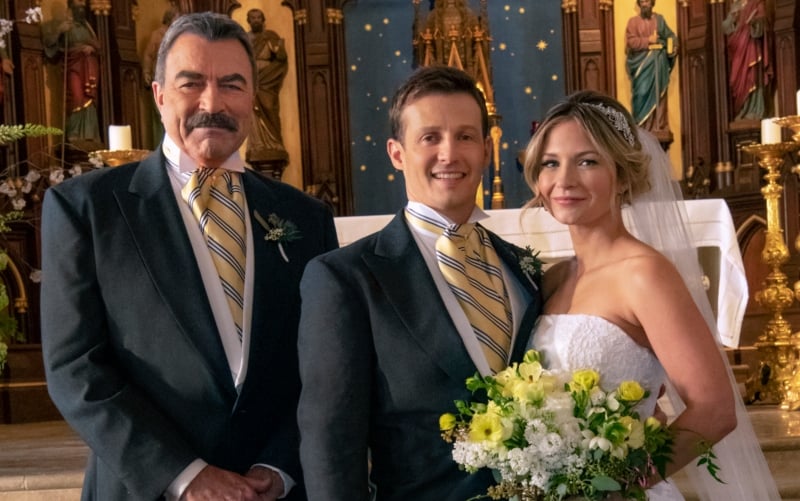 Eddie and Jamie were planning their wedding all season. So fans were really looking forward to finally getting to see it in "Something Blue." That didn't exactly get to happen.
The wedding festivities were pushed to the end of the episode. It then showed the rehearsal dinner with the Reagan family and Eddie's mom. Frank (Tom Selleck) gave a moving speech about Eddie that revealed she will be walking down the aisle alone.
We then saw Frank and Eddie talk when it was time for the actual ceremony. She asked Frank to walk her down the aisle because she was afraid she will fall. The doors opened and they started walking, but it ended there.
A lot of fans felt cheated out of seeing the wedding. There was then a theory that Season 10 will return to show more of it, but is that actually the case?
Will Estes said there wasn't any more dialogue filmed for the wedding
The actor got to address a lot of the fans' questions and issues with the episode. Sadly, he doesn't give much hope that there will be more to see next season.
When he was told that many fans weren't counting it as a wedding because the lack of vows, Estes said "I mean, I was there all day [filming], so… I count it as a wedding!"
According to TV Line, he also pointed to another scene of what could be considered as the "vows" for the event. "We already did the vows at the dinner table…. But I'm grasping at straws. I got nothing."
The actor said an air of mystery could be a good thing. "You know how Hitchcock taught us that the monster you don't see is the scariest? Maybe the wedding you don't see is the most beautiful?"
He went on to talk about what they did and didn't film. "We filmed her walking a little bit more, but there was no other dialogue," Estes revealed.
Estes said anything is possible when it comes to Season 10
Fans came up with the theory that Season 10 will show the ceremony. That looks less likely given Estes said they didn't film any dialogue when filming the wedding. However, he does leave some room for hope.
"Anything is possible…," he said when asked if Season 10 will show more. "I haven't foreseen or heard that, but if you write the right letter to the right CBS executive… it could probably move mountains!"
It sounds like fans might have to push for the show to return with more of the Jamko wedding. There probably isn't much more footage to show at this point.