'Blue Bloods': What Roles Prepared Tom Selleck to Play Frank Reagan?
It's a good thing Tom Selleck decided to keep working in television, even if it was arguably out of necessity due to a movie career fizzling out by the late '90s. Over the last 25 years, Selleck has put in some great work on TV with Friends, his own brief sitcom Closer, the popular Jesse Stone TV movies, plus a recurring role as a casino owner on Las Vegas.
All of these and more helped influence his near-iconic Frank Reagan character on Blue Bloods. Now heading into a ninth season, Commissioner Reagan has fascinated a lot of viewers and may continue to for at least another season or more.
In what ways did the above roles help Selleck make the selfless Reagan more rounded? In some cases, it involved taking from reality.
Both Selleck and Reagan have military backgrounds
If you know a little about Selleck's past, then you may remember he served in the California National Guard (160th infantry regiment) after receiving draft orders for Vietnam in the late 1960s. At the time, he was under contract at 20th Century Fox for an acting program, despite not having much to go on.
His military experience lasted until 1973 and brought a whole new sensibility to understanding what leadership means. You can see how he tapped into his military background for Reagan thanks to his character being a former lieutenant in the Marine Corps during the Vietnam War. While Reagan has far more military honors than Selleck ever received, having the same time reference to Vietnam gives compelling parallels.
While it took Selleck some time to find his footing as an actor after his military experience, he later managed to land roles that played up the idea of bravery, sacrifice, and former military training.
It took seven years and three failed TV pilots before finding his first great role in Thomas Magnum.
How similar was Thomas Magnum to Frank Reagan?
Those of you who were alive back when the original Magnum P.I. aired will remember how instantly iconic Selleck made the role. When we first saw Magnum on our TV screens in 1980, we found out he was a former Naval intelligence and SEAL team member who was retiring from his military role to become a private investigator.
One could almost draw a fictitious line from Magnum's 1980s heyday to becoming the commissioner of the NYPD later in life. Regardless, Reagan is the most heroic of any of Selleck's TV characters. The commish was not only a lieutenant in the Marine Corps during the Vietnam War, but he also bravely made rescues during the 9/11 terrorist attacks.
Another side to the sacrifices Reagan made is that he seemingly wants to be alone in his private life after his wife died of cancer.
Despite this being a notable character, Selleck did other past roles with similar heroics and relational sacrifices for a larger purpose.
Playing Eisenhower helped Selleck learn even more about leadership
According to a recent interview Selleck did for TV Insider, he notes playing Gen. Dwight Eisenhower during his role in D-Day helped understand leadership above any other figure.
Not many actors have attempted to play Eisenhower with such depth, especially during the D-Day Invasion. Outside of Selleck not perfectly resembling Eisenhower, he captured his essence and gave a noteworthy performance. Doing so set him up for understanding the significance of sacrifice and being a ringmaster for something larger.
You can definitely see the calm from his Eisenhower portrayal in Frank Reagan.
The same goes for playing a police chief in the 'Jesse Stone' films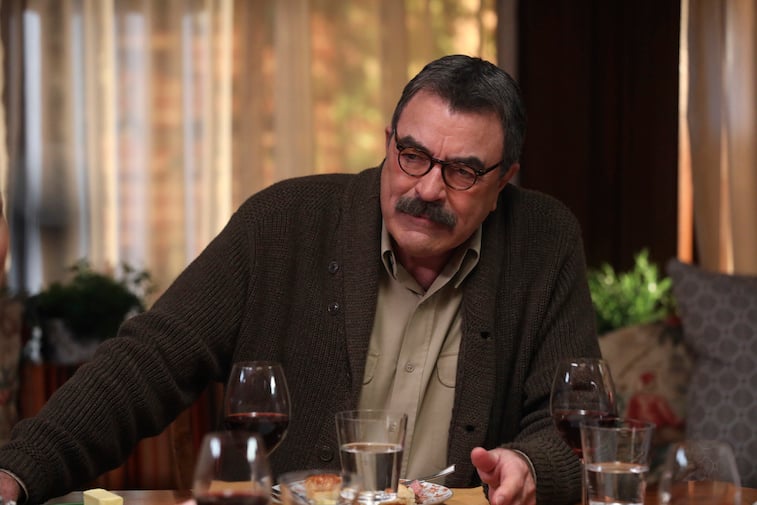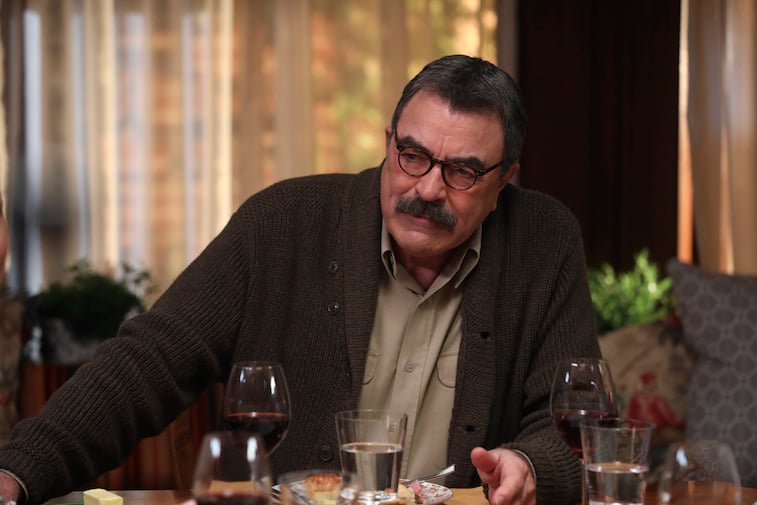 Some might say the Jesse Stone movies were somewhat of a series when you consider nine TV movies were produced to date. Selleck might not be completely done with the character either since he last played the role just four years ago.
He did a few of these movies while subsequently in Blue Bloods, giving him more insight into what it's like to be a chief of a major police department.
Ultimately, Selleck's legacy is going to be that of playing the most honorable cops ever portrayed on TV. In many ways, this is a better legacy than having a long stream of credits in big-screen romantic comedies.