Bob Dylan's Greatest Songs of All Time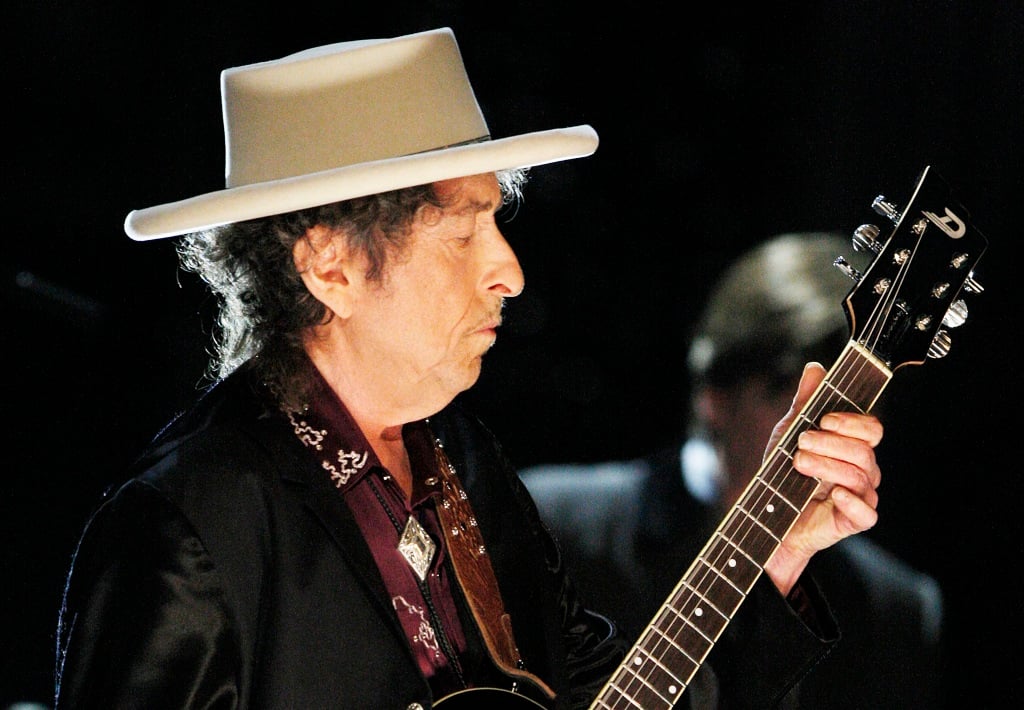 Bob Dylan looms large in the history of American music. The nation's most famous folk musician has reinvented himself so often throughout his decades-spanning career that his apparent "phases" are sometimes difficult to keep track of. Despite several barren stretches in that career, the gravelly-voiced folk singer originally named Robert Zimmerman has continued to create songs and albums for fans to love, demonstrating again and again why he is one of the greatest songwriters of the 20th century. Let's celebrate his songwriting by counting down his 10 greatest songs.
10. 'The Times They Are A-Changin'
Dylan immortalized a feeling that must have permeated the Greenwich Village folk scene in the early '60s with this, perhaps his most famous protest song, which heralded a new world and piled dirt on the corpse of the old. Dylan's young voice is in strong form, and his songwriting voice is already fully-formed, as he uses poetic language like "The line it is drawn, the curse it is cast/The slow one now will later be fast" to create a song that sounds like a snapshot of history — history not through events, but through feeling.
9. 'I Want You'
"I Want You," a pre-release single from Dylan's 1966 LP Blonde on Blonde, which might be called his second magnum opus of rock and roll, is a perfect slice of instrumentally dense pop rock that could only have come from the mind of Dylan. As with "Like a Rolling Stone," the song is so stuffed full of fascinating noise, chaotic and yet totally controlled, that it feels as though Bob Dylan is reinventing what music can be. His lyricism is dense too, half inspired nonsense and half deeply felt emotion, creating a near-perfect pop song.
8. 'Mr. Tambourine Man'
The Byrds may have popularized this song with their jangly folk-rock cover, but the song belongs to Dylan, whose surreal lyrics and lovely playing imbues the song with a complexity and depth of emotion that can make it about anything — LSD, artistry, religion, the relationship between audience and performer? It hardly matters, when the song exudes such timeless loveliness in its acoustic playing and the brilliant touch of delicate electric guitar accompaniment.
7. 'Things Have Changed'
Dylan managed to make himself relevant once more in 1997 with the unabashed darkness of his album Time Out of Mind, but the greatest song from his resurgence, "Things Have Changed," was released as a single three years later. The song typifies the timeless sound of modern Dylan — the music is like a synthesis of almost every genre of American music, as though Dylan has consumed and combined blues, rock, folk, and more into one mean, dark, and effective sound. The lyrics are powerful in their determined cynicism, the perfect match to his shredded, aged voice. Everything works.
6. 'Don't Think Twice, It's All Right'
Bob Dylan had already perfected folk with his second album, the revelatory The Freewheelin' Bob Dylan. Amidst all the timely protest songs, there was this powerful ballad, one of the greatest break-up songs after all. The beautiful strummed guitar shimmers beneath Dylan's pained lyrics, wistful and regretful and just a little bitter about a love he knows he must leave behind. It's a synthesis of so many complicated emotions into three minutes of poetic tragedy. Not bad for a 21-year-old.
5. 'Tangled Up in Blue'
It's a good thing Bob Dylan didn't stick to his original plan to make Blood on the Tracks, perhaps his strongest album of all-time, entirely acoustic, or else we wouldn't have the twinkling, strumming sonic bliss of "Tangled Up in Blue." For all its musical riches, the song is truly about Dylan's lyrics. He's a masterful storyteller, skipping between past, present, and future to tell nothing less than a life-story about a wanderer and his enduring but inconsistent relationship with an unnamed woman. There's so much life crammed into the six minutes of "Tangled Up in Blue." Perhaps that's why it sounds so alive.
4. 'The Hurricane'
Dylan followed up Blood on the Tracks with one of his most musically unique albums to date, the weeping violin-heavy Desire. The album's epic centerpiece is this protest song about the wrongful arrest and imprisonment of boxer Rubin "Hurricane" Carter. The song is nothing if not cinematic, the lyrics telling a clear story and evoking images that burn into the listener's mind with righteous indignation, evident through Dylan's impassioned vocals, Scarlet Rivera's fiddle-playing, and the complex percussion. It's a powerful story, powerfully told.
3. 'Blowin' in the Wind'
"The Times They Are A-Changing" may be more direct in its protesting, its heraldry of a new age dominated by forward-thinking youth, but it doesn't have the emotional delicacy that makes "Blowin' in the Wind" such a triumph. Dylan's song was apparently written in reference to the budding U.S. civil rights movement, and it became an anthem of the movement — a testament to the power of these words, written by a Jewish Minnesotan of all people. The song is universal and political yet intimate and personal, all at once. It's so simple, powerful, and affecting that one can feel confident it will endure and stand the test of time.
2. 'Shelter from the Storm'
How did Dylan write these lyrics? "Shelter from the Storm," perhaps my favorite song from my favorite Dylan album (Blood on the Tracks), is quite probably the greatest example of his affecting, poetic lyricism, especially relating to personal rather than political emotion. The emotion stands alongside more of his evocative imagery, like "The deputy walks on hard nails and the preacher rides a mount/But nothing really matters much, it's doom alone that counts/And the one-eyed undertaker, he blows a futile horn." Dylan's vocal performance gives the lyrics extra oomph, as his voice is uncharacteristically sweet, concealing depths of heartbreak that anyone with a beating heart should be able to understand.
1. 'Like a Rolling Stone'
Bruce Springsteen once said the opening snare shot of Dylan's "Like a Rolling Stone," the opening track to his first and best proper rock album Highway 61 Revisited, "sounded like somebody'd kicked open the door to your mind." He makes a good argument for this song as the greatest of all Dylan tracks. Founded upon some of his greatest lyrical imagery, just vague enough to invite endless interpretations, Dylan made rock music into something intelligent, creating a wall of sound that still invites listeners to imagine how one song could contain so much sound working toward one purpose. It makes for one hell of a song.
Follow Jeff Rindskopf on Twitter @jrindskopf
Check out Entertainment Cheat Sheet on Facebook!