Bobby Flay Net Worth: How the Food Network Star Makes His Money
Bobby Flay is a star on the Food Network. He has hosted numerous shows on the channel and is a renowned chef with a ridiculously impressive resume.
Given how well-known he is, many fans are no doubt wondering whether Bobby Flay also has a high net worth to match. Curious to know how much he is worth? Read on below to find out the answer.
Bobby Flay's early life and childhood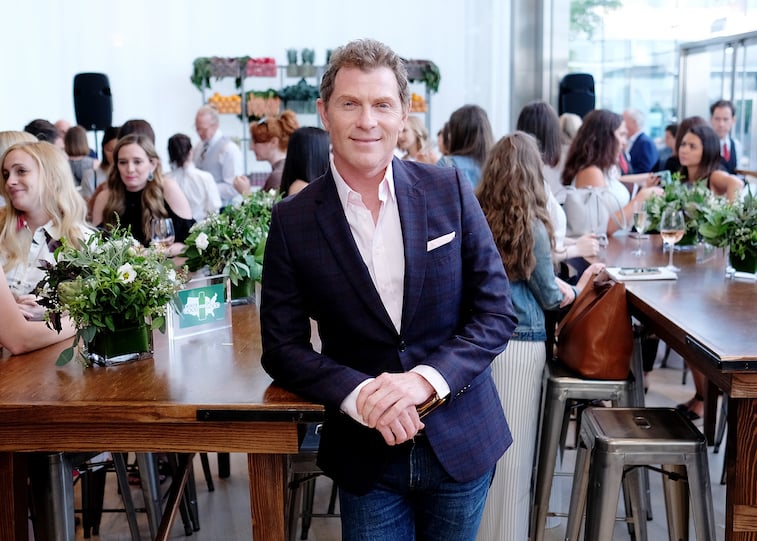 Bobby Flay was born on December 10, 1964, in New York City. He grew up in the affluent Upper East Side of the city, although he has maintained that he was "definitely in the middle class."
In any case, Bobby Flay was interested in food and cooking at a young age – as one can expect. He would spend time making snacks after school and helping his mother with the groceries.
When he was 8 years old, Flay even asked his parents for an Easy-Bake Oven even though his father was insistent on getting him G.I. Joe toys.
The love for cooking drove Flay to work in restaurants as a teenager. He was never the studious type, so he dropped out of school at the age of 17 and went to work at Joe Allen's restaurant, which was managed by his father.
His work impressed the restaurant's namesake, Joe Allen, who decided to pay for Bobby Flay to attend culinary school.
Flay went on to enroll in the French Culinary Institute and graduated in 1984.
Bobby Flay's career highlights
In the early 1990s, Bobby Flay became an executive chef at Mesa Grill restaurant and also opened Bolo Bar & Restaurant.
He appeared on the Food Network for the first time in 1994 and quickly gained fame as a celebrity chef. By the late 1990s, he was hosting shows on the channel such as Hot Off the Grill with Bobby Flay and Grillin' and Chillin'.
Flay is known for his skill in cooking Southwestern dishes, although he did not grow up in the region.
Nevertheless, his talent in the kitchen cannot be denied. He has appeared on many other shows on the Food Network since then. Most notably, Bobby Flay became quite famous after appearing on Iron Chef for 12 seasons. He also was a judge on Food Network Star with Giada De Laurentiis.
Outside of the Food Network, fans have also seen Bobby Flay on other popular TV series, such as Law & Order: Special Victims Unit, Entourage, and Portlandia.
Today, he can be seen on Worst Cooks in America as well as Beat Bobby Flay.
In addition to being a TV star, Bobby Flay has released nine cookbooks as well from 1994 to 2013.
Bobby Flay's net worth and how he makes money
According to Celebrity Net Worth, Bobby's Flay net worth is estimated to be about $30 million. He makes much of his money from appearing on TV, owning various restaurants, and selling cookbooks.
As a multi-millionaire, Bobby Flay's lifestyle is just as impressive as his bank account. He reportedly owns four homes – three in New York and one in California. His recent purchase was the $6.5-million mansion in Los Angeles with neighbors such as Leonardo DiCaprio and Calvin Klein.
Meanwhile, his home in the Chelsea neighborhood of New York City is currently on the market for around $8 million. It has been reported that rent in the Chelsea apartment went as high as $22,500 a month.
Flay's success has also allowed him to give back to his community. As a token of appreciation for his alma mater, the celebrity chef established the Bobby Flay Scholarship in 2003 to give one student every year a full ride to the French Culinary Institute.