Bobby Flay's Instagram Fans Are Freaking Out That He's Single
From chefs to home cooks to those who just enjoy food, there's a little something for everyone on the Food Network. And if there's any chef who's well-known for his Southwestern cuisine and funny demeanor as an Iron Chef, it's Bobby Flay. Flay's been a staple on the network for years, and his daughter is even getting involved in the food world. While he's quite open about his past in the food world, his romantic relationships remain more of a mystery — but it looks like fans just heard that he's officially single.
Here's what his fans are posting on his Instagram and how they seemed to find out this personal information.
Bobby Flay has been married three times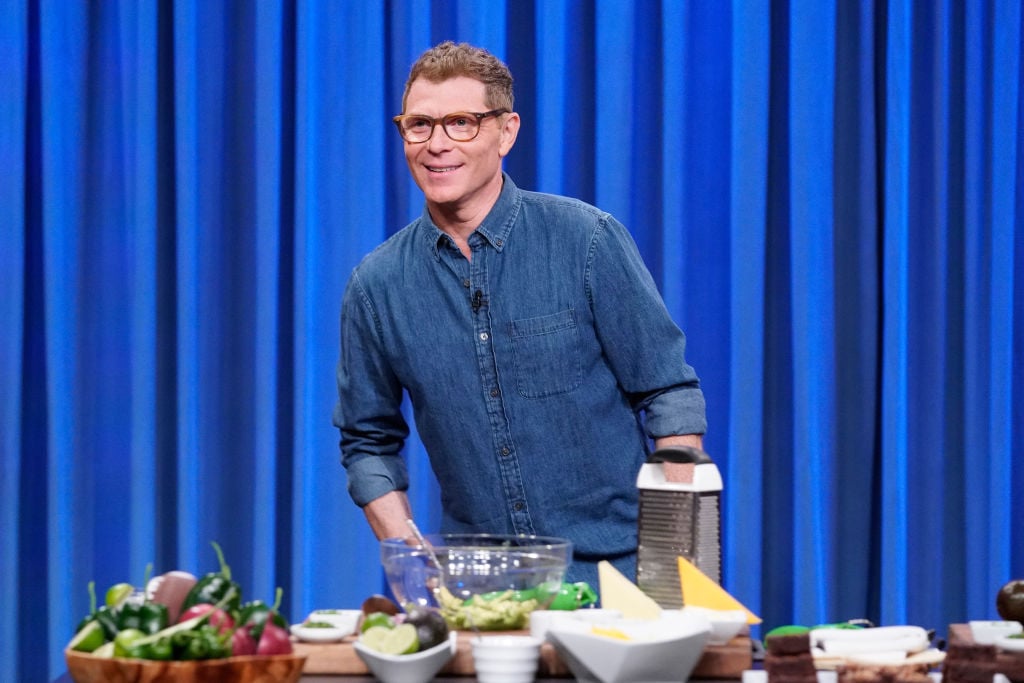 Flay has quite a reputation in the food world regarding his many relationships and marriages. And while he doesn't often come right out and talk about them, word gets around fast. We can't forget that Flay's been married three times with his first marriage occurring when he was just 26 years old. He met Debra Ponzek back in the '90s, as the two were both notable in the food world and hit it off due to their like interests. They married just a few weeks of knowing each other and eventually divorced.
As for Flay's second wife, he married Kate Connelly in 1995, which is also the same year he met her. They had their daughter, Sophie, together, who remains his only child. Finally, Flay's longest marriage was to Stephanie March. He met her in the early 2000s and married in 2005 — but reports released in 2015 claimed Flay cheated on her. While the rumors were seemingly forgotten about, Flay filed for divorce in 2015, so perhaps they were true all along.
He was dating an actress, but she's since moved on to someone new
Despite three failed marriages, Flay is still open to finding love. Less than a year after his divorce from March, it was revealed that Flay started dating actress Helene Yorke who's known for her work on Masters of Sex and Quantico. And Yorke even made a guest appearance on Beat Bobby Flay, which is where Flay explained how the two first met. "So I'm going to let you in on a little secret. Last season I went to a Knick game and I met Helene. Now we kind of date," he said.
We're not sure what happened with Yorke and Flay, but it seems they've gone their separate ways now. On Sept. 11, Yorke posted a photo of her kissing another man wearing a "Yorke" jersey with the caption, "Big snack had a lil' shirt made," and fans had questions from there. As one follower asked Yorke, "@heleneyorke no more Bobby flay?" Another questioned, "@heleneyorke are you not snacking a Flay anymore????booooooooo….lol."
Fans are freaking out on Instagram that Flay announced he's single on TV
Flay hasn't made any huge official announcements regarding his relationship status, but it seems he did mention something on a recent episode of Beat Bobby Flay. On this post he added of the show to Instagram, a follower commented, "best part of the episode is finding out mr.flay is still single." And more followers seemed to verify this truth from there.
"Yesss he is single," another one of his fans commented with multiple heart-eyed emojis. Yet another added, "I don't know who in their right mind would ever kick Bobby Flay to the curb. Hope you find love again." Not only that, but it seems guest star Fran Drescher also asked Flay on a date on the show following news of his relationship status, as another follower wrote, "I can't believe Franny asked you on a date lol, I would be honored to go on a date with her."
Will Flay be taking Drescher out in the future? We're not sure, but many think they'd make an amazing duo. We'll have to wait and see what happens!
Check out Showbiz Cheat Sheet on Facebook!