12 Books Being Made Into Movies in 2016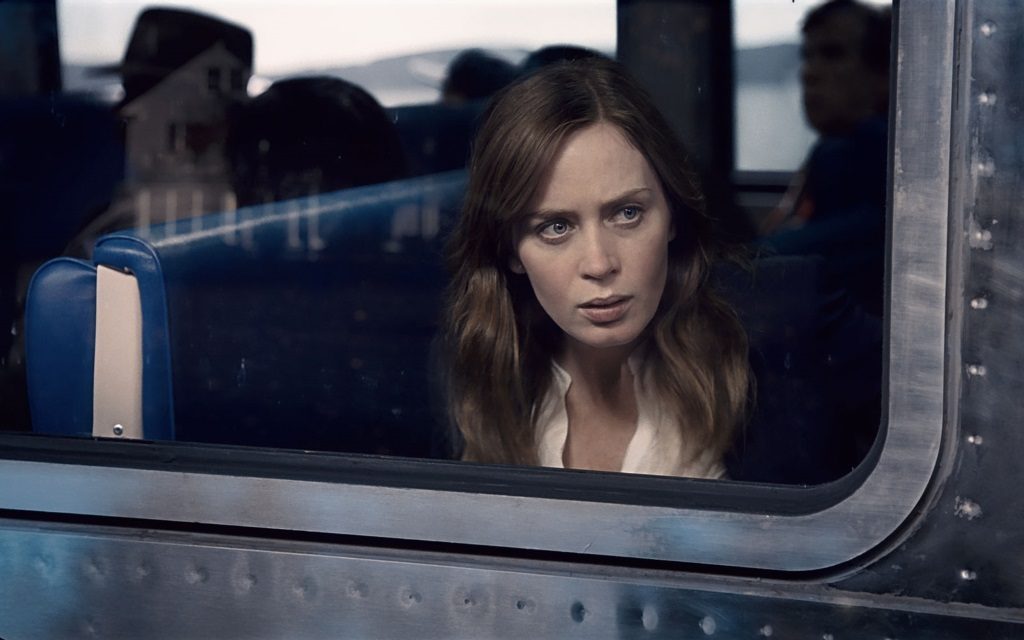 2016 is set to be a big year for book-to-film adaptations. Several highly anticipated novel-inspired projects, like Fantastic Beasts and Where to Find Find Them and Girl on the Train, are scheduled to hit theaters over the coming months. Can't decide which ones are worth checking out? Here are 12 books being made into movies this year.
1. The Divergent Series: Allegiant, premiered March 18

The third installment in the Divergent franchise follows Tris (Shailene Woodley) and  Four (Theo James) as they journey beyond the wall that encloses Chicago. For the first time, they leave the only city and family they have ever known to find a peaceful solution. But once outside, they learn shocking new truths that render old discoveries meaningless. As the ruthless battle threatens humanity, Tris and Four must quickly decide who to trust to survive. Ansel Elgort, Naomi Watts, Miles Teller, Octavia Spencer, and Jeff Daniels co-star.
2. The Jungle Book, premiered April 15
The anticipated live-action/CGI Disney release follows the story of an orphan boy named Mowgli who is raised in the jungle by a pack of wolves, a bear named Baloo and a black panther named Bagheera. Directed by Jon Favreau, the film stars newcomer Neel Sethi as Mowgli. It also features the voices of A-list stars, like Bill Murray, Ben Kingsley, Idris Elba, Lupita Nyong'o, Scarlett Johansson, Giancarlo Esposito and Christopher Walken.
3. A Hologram For the King, premiered April 22

Tom Hanks stars in this comedy drama as Alan Clay, a washed-up, desperate American salesman who travels to Saudi Arabia to secure the IT contract for a massive new complex being built in the middle of the desert. Based on Dave Eggers's 2012 novel of the same name, the adaptation also co-stars Tom Skerritt and Sarita Choudhury.
4. The BFG, premiered July 1

Directed by Steven Spielberg, the upcoming fantasy adventure flick, based on the novel by Roald Dahl, tells the story of Sophie, who encounters the Big Friendly Giant. Despite his intimidating appearance, the BFG turns out to be a kindhearted soul who is considered an outcast by the other giants because he, unlike his peers, refuses to eat boys and girls. Mark Rylance stars as the BFG, while Ruby Barnhill plays Sophie. Bill Hader, Penelope Winton, Rebecca Hall, and Jermaine Clement also co-star.
5. Mike and Dave Need Wedding Dates, premiered July 8
Adam DeVine and Zac Efron co-star as real-life brothers Mike and Dave Stangle, who put out a Craigslist ad for wedding dates only to have the ad go viral. The two brothers chronicled their experience with the ad and the subsequent search around the country in their 2015 book of the same name. Anna Kendrick and Aubrey Plaza will also star in the forthcoming comedy.
6. The Light Between Oceans, premiered September 2
Based on M.L. Stedman's novel of the same name, the upcoming drama stars Michael Fassbender as lighthouse keeper Tom Sherbourne and Alicia Vikander as his wife Isabel, who are living off the coast of Western Australia when they find a baby girl washed up on shore in a lifeboat and decide to keep her for themselves. Rachel Weisz, Caren Pistorius, Florence Clery, Anthony Hayes, and Emily Barclay co-star in the adaptation of The Light Between Oceans.
7. The Girl on the Train, October 7
Emily Blunt stars in the upcoming thriller, based on Paula Hawkins hit 2015 debut novel of the same name. The movie stars Blunt as Rachel Watson, an alcoholic, troubled woman, who is struggling to come to terms with the end of her marriage when she witnesses a murder and starts to realize that she may have been involved in the crime. Justin Theroux co-stars as her ex-husband Tom, while Rebecca Ferguson plays his new love, Anna. Haley Bennett, Luke Evans, and Lisa Kudrow also co-star in the movie, which will be helmed by The Help director, Tate Taylor.

8. A Monster Calls, October 14

Based on the 2011 novel of the same name by Patrick Ness, the movie will follow the story of Conor, a young boy who is struggling to cope with his mother's terminal illness and is repeatedly visited in the middle of the night by a monster who tells stories. Lewis MacDougall will play Conor while Felicity Jones will play his mom. Meanwhile, Liam Neeson will co-star as The Monster and Sigourney Weaver as Conor's grandmother.
9. Inferno, October 28
Directed by Ron Howard and based on Dan Brown's 2013 novel of the same name, the upcoming thriller drama will feature Tom Hanks reprising his role as symbology professor Robert Langdon. After waking up in a hospital room in Florence, Italy, with no memory of what has occurred for the last few days, Langdon suddenly finds himself the target of a manhunt and must team up with Dr. Sienna Brooks (played by Felicity Jones) to try to escape while also solving the most intricate riddle he's ever faced. Omar Sy, Ben Foster, Irrfan Khan, Sidse Babett Knudsen, and Ana Ularu also co-star in Inferno.
10. Fantastic Beasts and Where to Find Them, November 18

The highly anticipated Harry Potter spinoff stars Oscar winner Eddie Redmayne as Newt Scamander, an eccentric globe-hopping English "magizoologist" who travels to New York with his trusty briefcase full of magical creatures. When some of the creatures escape from the briefcase, it sends the American wizarding authorities after Newt, and it further threatens the already tense state of magical and non-magical relations. Katherine Waterston, Alison Sudol, Ezra Miller, Colin Farrell, Jon Voigt, and Ron Perlman co-star in the adaptation, which was scripted by J.K. Rowling herself.

11. The Queen of Katwe, September 30
The film, inspired by Tim Crothers's book of the same name, chronicles the life of Phiona Mutesi, a Ugandan teen chess prodigy who becomes a Woman Candidate Master after her performances at World Chess Olympiads. David Oyelowo will star as the man who mentors Phiona, while Lupita Nyong'o will play her mother. Charity Rose Pimer will play Phiona herself. The movie is expected to premiere sometime this fall.
12. Silence, December 23

Martin Scorsese's next project is based on Shūsaku Endō's 1966 novel of the same name. The historical drama flick will follow two Jesuit Portuguese priests, who face violent persecution when they travel to Japan to seek out their mentor and spread the teachings of Christianity. Andrew Garfield will star as Father Sebastiao Rodrigues in the film, while Adam Driver and Liam Neeson will play Father Franchisco Garrpe and Father Cristovao Ferreira, respectively.