5 Picture Books Grown-Ups Must Also Read
First off, I'd like to suggest that all children's picture books are for adults, and that all books are in fact for adults. Yes, Twilight is admittedly in a different universe than Socrates, but engaging with words and stories is never a waste of time.
Reading a book is a far more active use of one's brain than watching television or playing games on smartphones. And while some children's books deserve special attention from the grown-up crowd — even those without kids — too many of us forget to drift out of the adult section in libraries and bookstores. Next time you're there, here are a few items worth looking up.
1. A Light in the Attic
Shel Silverstein's funky style has permeated many fields outside of children's poetry. He drew comics for a time and even wrote lyrics for famous musicians. Two notable acts he contributed songs to were Dr. Hook & The Medicine Show and Johnny Cash, with "Cover of the Rolling Stone" and "A Boy Named Sue," respectively.
Silverstein isn't lacking in adult content, either, providing lyrics to a song called "Don't Give a Dose to the One You Love Most," about venereal disease: "Giver her some marmalade, giver her some toast / You can giver her a partridge up in a pear tree / But the dose that you give her might get back to me."
That said, the work Silverstein created for children is hilarious, simple, and touching, as readers of The Giving Tree can attest. In A Light in the Attic, Silverstein's drawings are as stylistically nutty as one could hope, and at times, the writing hits points so serious that anyone and everyone could appreciate their gravity — which isn't to say he doesn't tickle the funny bone, as well.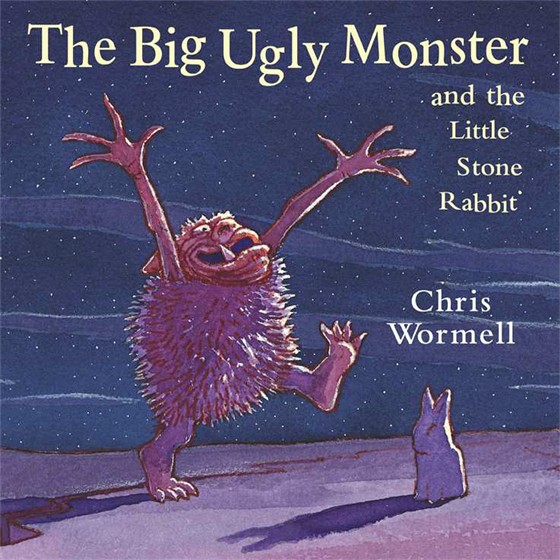 2. The Big Ugly Monster and the Little Stone Rabbit
What makes the illustrations especially impressive in The Big Ugly Monster and the Little Stone Rabbit is the fact that author-illustrator Christopher Wormell is a self-taught artist. Yet though the illustrations are enjoyable and strange, it's the writing that really hits home in this picture book.
The story about a monster so ugly that every living creature vacates his home until it's a desert is unquestionably melancholic. The monster then befriends a small rabbit carved from stone that can't reciprocate love. Eventually, the monster dies and all the plants and animals return. The moral of the story is a little dark if you choose to read it that way, or The Big Ugly Monster can simply be a fantastic love story — the monster only wants to love the stoic rabbit, even if the rabbit doesn't care about him.
3. The Day I Swapped My Dad for Two Goldfish
From the creator of Mirror Mask, American Gods, and Sandman comes Neil Gaiman's epically creepy foray into children's picture books. And boy, are his stories for youth creepy — but in the best possible way. Gaiman's children's offerings have the same dark edge to them as his adult works, but with an amusing twist.
The Day I Swapped My Dad for Two Goldfish follows a pretty obvious plot, as does his other children's book, The Wolves in the Walls. But the simple yet terrifying stories are worth taking five minutes to page through, and Dave McKean illustrates both with layers and collage materials that perfectly fit the feel of the books.
4. Flotsam
David Wiesner is an expert at creating picture books without words, and the illustrations are unspeakably beautiful. In Flotsam, Wiesner takes readers through the ocean from one beach to a faraway shore. A book without words is open to interpretation, sparking our brains to create their own stories, which can oftentimes be more fun in the end.
Flotsam, like many of Wiesner's books, turns rapidly from a realistic childhood story into a magical journey, taking us through fantastical areas of the ocean in which we see a turtle with a city on its back, some incredibly bright fish, and much more.
5. Anything by Chris Van Allsburg
Pick a book, any book: You really can't go wrong when it comes to Chris Van Allsburg. Van Allsburg is the author and illustrator of countless award-winning picture books that have a depth and sometimes eeriness that permeates down to your bones. He's written about magical dream figs, board games gone wrong, and even touched on the lives of ant colonies.
He wrote and illustrated Jumanji and Zathura, two books that have since been transformed into films but that were also astounding and beautiful in their original forms. He created The Garden of Abdul Gasazi and The Sweetest Fig, two rather surreal and bizarre stories that would draw in readers of any age — even without the illustrations.
Don't Miss: 9 Artists Being Inducted Into the Rock and Roll Hall of Fame.