Brad Pitt Admits He Can't Do What These Two Amazing Actors Do
When you think boring, Brad Pitt doesn't exactly come to mind. But the actor insists that's exactly what his life was like two decades ago, and he set out to change that. Compared to other actors, he thought he had less to offer. Leading an interesting life meant being able to play interesting roles, according to Pitt. Here's what he had to say about the situation.
Brad Pitt can't do what other actors do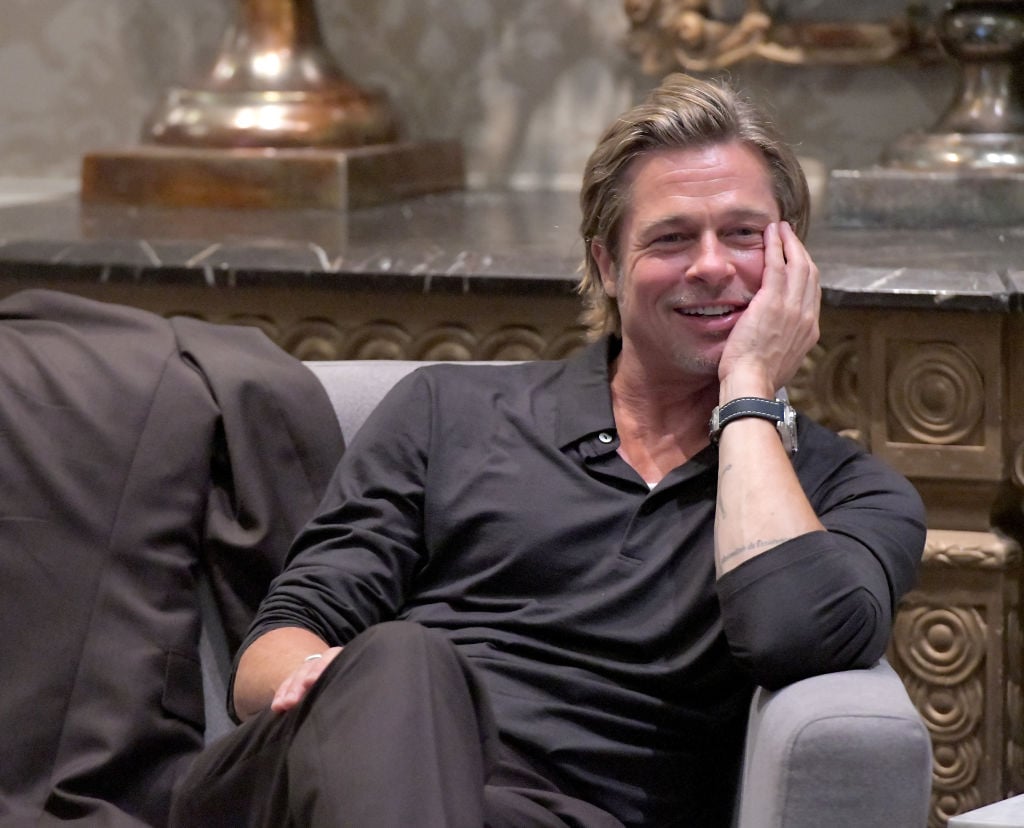 When Pitt takes on a role, he wants to make it special. As he explained to GQ, before he begins with a character, Pitt likes to ask himself what he can bring the role that others wouldn't be able to.
"Well, it's about bringing my personal experience," he said. "My personal humor, my personal, um, embarrassments, and my personal pains. When I watch [Christian] Bale or [Tom] Hardy, I can't do what they do. I love watching them. And I couldn't step into that role." But: "I want to do the same thing on my end."
Bale and Hardy are amazing actors, but we're glad that Pitt doesn't want to be exactly like them. Because Pitt is amazing too, for his own reasons — and he knows that. But it's taken some work on his end.
Sometime in the 1990s or early 2000s, Pitt realized that he was trying to get all these fascinating roles in film, but he wasn't doing anything to make his own life interesting. How could he play an interesting character, without being an interesting person himself? At that point, Pitt changed the way he lived his life.
"Maybe it's just getting older too, man," he added.
Now, the actor tries to live an interesting life and considers that the most important thing he could be doing with his time.
Brad Pitt has commented on living an interesting life before
Unfortunately, Pitt's search for a more interesting life may have been what brought an end to his marriage with Jennifer Aniston. In an interview with Parade in 2011, he made a very similar statement about searching for a more interesting life. Except for this time, he also mentioned Aniston.
He said: "…but I wasn't living an interesting life myself. I think that my marriage [to Jennifer Aniston] had something to do with it. Trying to pretend the marriage was something that it wasn't."
He later apologized for the quote, saying that he never intended to imply Aniston was boring — only that he was a boring person during the marriage. We can't imagine the sexy actress ever being boring, but considering his next lady was world-traveler, Angelina Jolie, maybe, by comparison, she was.
Whatever the reason, Pitt and Aniston announced their split in 2005 among rumors that he was already involved with Jolie.
Did Angelina Jolie offer Brad Pitt excitement in life?
Jolie came into Pitt's life during a time that he was searching for more excitement. He wanted to live an interesting life, and Jolie is certainly an interesting woman. She's known for her humanitarian work all over the world, becoming a United Nations Goodwill Ambassador. Even dangerous war zones don't deter her from performing her humanitarian work. She's traveled through the Darfur conflict region, worked during the second gulf war, and the Afghanistan war.
While Jolie may have opened Pitt's eyes to everything he could be doing around the world, she also made regular movie sets fun. During the filming of Mr. And Mrs. Smith, Pitt and Jolie had to work together doing crazy stunts and activities. Jolie once commented on their work together during a Vogue interview as reported by People.
"Because of the film [Mr. & Mrs. Smith] we ended up being brought together to do all these crazy things," she said. "…Whether it was shooting a scene or arguing about a scene or gun practice or dance class or doing stunts—anything we had to do with each other, we just found a lot of joy in it."
Unfortunately, the excitement can't last forever, and Pitt split from Jolie earlier this year. We wonder if he's still looking for ways to make his life interesting.