Brad Pitt Called Kanye West's Sunday Service 'Really Delightful' And Will Go Back
Kanye West is converting Hollywood to Christianity, one celebrity at a time. Even Brad Pitt is getting on board.
It's been almost a year since Kanye West began doing his wildly popular worship events for the mainstream and he's been attracting A-list faces ever since. Kim Kardashian West revealed on a recent episode of The View that her husband initially started doing Sunday Service sermons so he could find inner peace.
"Kanye started this, I think, just to heal himself," Kardashian West said. "It was a really personal thing, and it was just friends and family. He has had an amazing evolution of being born again and being saved by Christ."
What are Kanye West's Sunday Services?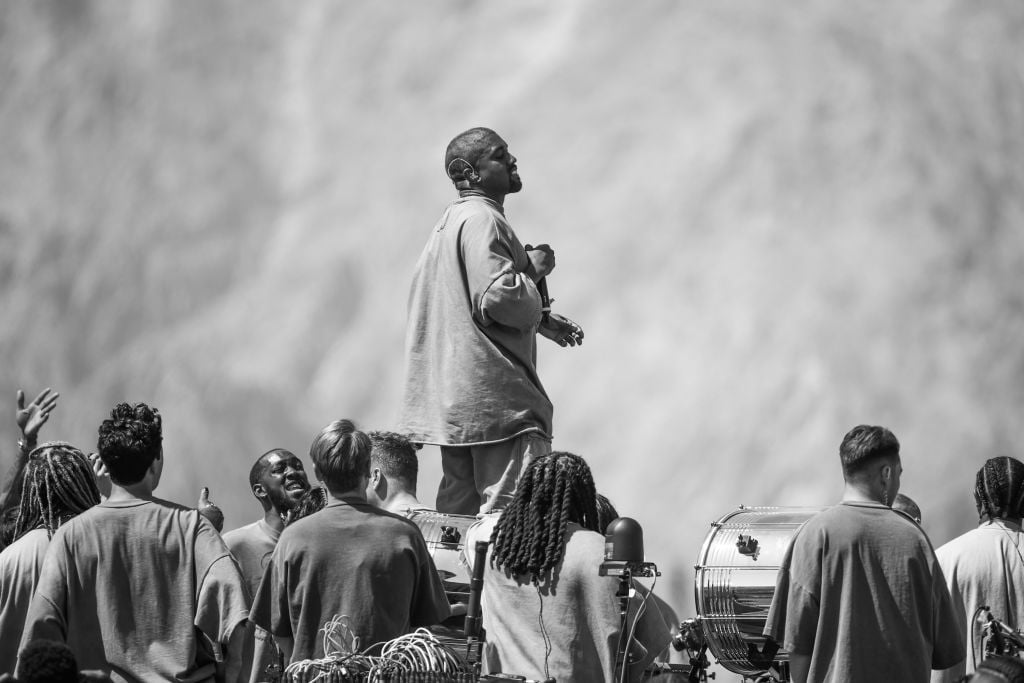 Sunday Service sessions, which combine worship music, positivity, and celebrity status, have become exclusive access events in the Hollywood community. And contrary to what you might have heard elsewhere, Kanye West is not founding a new religion or starting his own church.
Instead, the services are musical gatherings with Christian overtones. Kardashian West explained it's a place to "talk about Jesus and God" and potentially includes guest pastor appearances. But it's not an official non-profit, so it's not really a church.
So many celebrities attend Sunday Services, including Brad Pitt
The list of attendees at Sunday Services reads like a who's who of Hollywood. Recently, A-lister Brad Pitt talked about his experience with Sunday Services during an appearance on Entertainment Tonight. "I think he [West] was doing something really special there," Pitt explained. "It's a pure celebration of life and people."
"It's really delightful," he continued. "It really is."
Photos from the event show Brad Pitt sticking close by Kanye West's side during the Sunday Service over Labor Day weekend. A source told ET that Pitt seemed "just amazed by the atmosphere and love."
Meanwhile, Kendall Jenner was overwhelmed to see her childhood crush Brad Pitt in the audience. She said on The Tonight Show that she had to leave the service early once she recognized Pitt in the audience because she was so starstruck.
What religion is Brad Pitt?
Brad Pitt obviously appreciated the good feelings at Sunday Service, but his journey to finding faith wasn't always so clear cut. In an interview with GQ, the 55-year-old actor admitted that he's gone through several belief changes during his adult life.
"Oh, man, I've gone through everything. Like, I cling to religion," he explained. "I grew up with Christianity. Always questioned it, but it worked at times."
"And then when I got on my own, I completely left it and I called myself agnostic," he continued. "Tried a few spiritual things but didn't feel right."
Pitt is still on a faith journey
Eventually, he gave up on religion entirely. "I called myself an atheist for a while, just kind of being rebellious," he said. "I wasn't really. But I kinda labeled myself that for a while. It felt punk rock enough."
Lately, that's all changed. Pitt said now he's "coming back around" to the idea of religion. "I hate to use the word spirituality, but just a belief in that we're all connected," Pitt said.
Will Kanye West be the deciding factor that encourages Brad Pitt to try Christianity again? It sounds like he might be!