Brad Pitt Had A 'Burst Of Excitement' To Work With Luke Perry In His Final Role
Luke Perry was held in high esteem by his colleagues, fans, and family. In a new interview, Brad Pitt revealed how he felt working with Perry on the upcoming Quentin Tarantino movie, Once Upon a Time in Hollywood, and how he had a "burst of excitement" when he learned that Perry had stepped on set.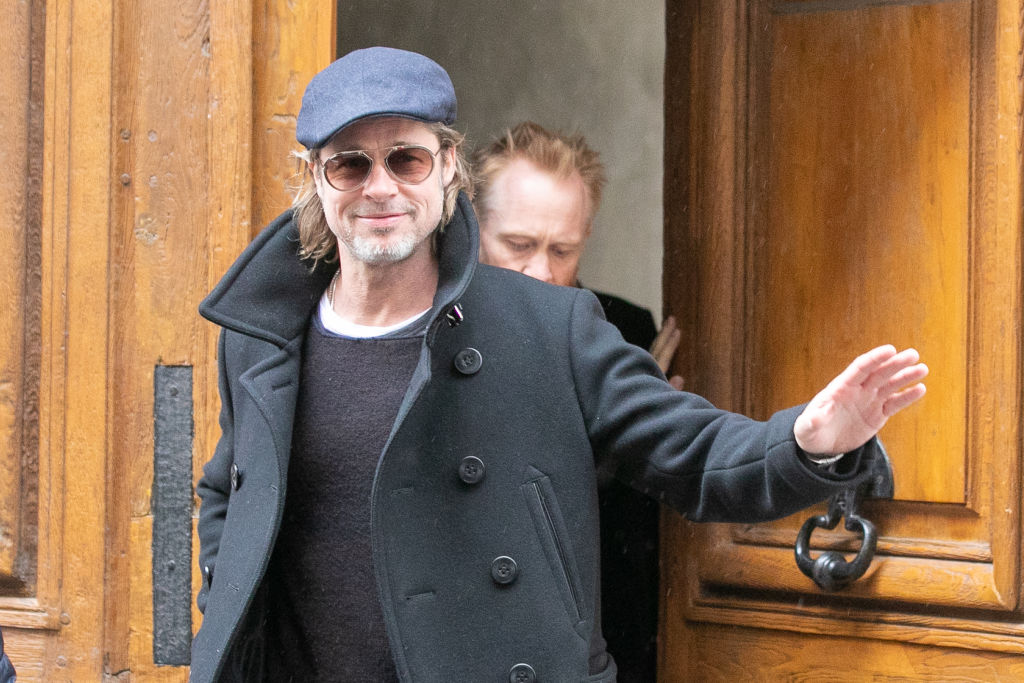 Pitt recalls meeting Perry
Once Upon a Time in Hollywood was Perry's last role before his tragic death back in March. According to ET Online, Pitt remembers exactly how he felt the day Perry walked on the set. Although Brad Pitt is one of the most popular stars in all of Hollywood, he said he was like a kid "in the candy shop" when Perry arrived at the studio. Pitt also revealed that the rest of the cast, including Leonardo DiCaprio, felt the same way.
"I remember going to the studios [years ago] and [Beverly Hills, 90210] was going on and he was that icon of coolness for us, as teenagers. It was this strange burst of excitement that I had, to be able to act with him," Pitt shared.
The World War Z star added that Perry was super humble around everyone and was committed to the project. He also explained how he had the opportunity to spend some personal time with Perry, whom he called a "wonderful guy."
Perry tragically passed away on March 4 after suffering from an unexpected stroke. Once Upon a Time in Hollywood was his last role and will open in theaters this summer.
DiCaprio was starstruck to meet Luke Perry too
Brad Pitt was not the only cast member who enjoyed meeting the 90210 alum. In the same interview, DiCaprio revealed that he couldn't believe it when he saw Perry on the set and experienced a "butterfly moment."
Tarantino, who brought Perry on board, also paid his respects to the late actor. The acclaimed director revealed that he attended Perry's memorial service just days after he finished editing Perry's scenes. Once Upon a Time in Hollywood premiered this week at the Cannes Film Festival.
In the days following Perry's death, several of the movie's cast members offered their heartfelt tributes on social media. This includes DiCaprio, who praised Perry's for being an amazing actor and said it was a great honor to have worked alongside him. Perry's family also took to social media to thank everyone for their continued support. The actor was only 52 years old at the time of his passing and will be sorely missed.
Tarantino hand-picked Luke Perry
Ahead of the movie's premiere, Perry's son, Jack, also talked about his dad's involvement in Once Upon a Time in Hollywood. Jack revealed that his father was thrilled to work alongside Tarantino and that the role gave him a renewed sense of energy.
He also reportedly said that he would be happy if his part in the film was the last role he ever got. As far as Tarantino is concerned, he said that he hand-picked Perry for his part and thought it was perfect for him.
The movie centers on the story of an actor in Hollywood named Rick Dalton (DiCaprio) and his longtime friend/stuntman Cliff Booth (Brad Pitt). The two friends have a difficult time adjusting to the changes in the industry, which are put on full display by their neighbor, Sharon Tate (Margot Robbie). Perry plays the part of Scott Lancer in the film.
Pitt praises Burt Reynolds
Pitt also shared some kind words for the late Burt Reynolds, who was set to appear in Once Upon a Time in Hollywood before his death in the fall of 2018. Although Reynold passed away before filming began, he interacted with Pitt during rehearsals.
It was during one of their rehearsals that Pitt got the chance to spend two days with the movie icon, which he says were some of the best moments he's ever had.
Pitt grew up watching Reynolds in popular movies like Smokey and the Bandit, though this was the first time the pair had ever crossed paths. Pitt praised Reynolds for his sense of humor and his amazing style.
Reynolds, who suffered from several health issues over the years, passed away after having a heart attack in his home in Florida. He was replaced in the film by Bruce Dern.
Fans can watch Brad Pitt, Leonardo DiCaprio, and Luke Perry in action when Once Upon a Time in Hollywood premieres in theaters July 26.