Brad Pitt Has a Heartbreaking Relationship With His Oldest Son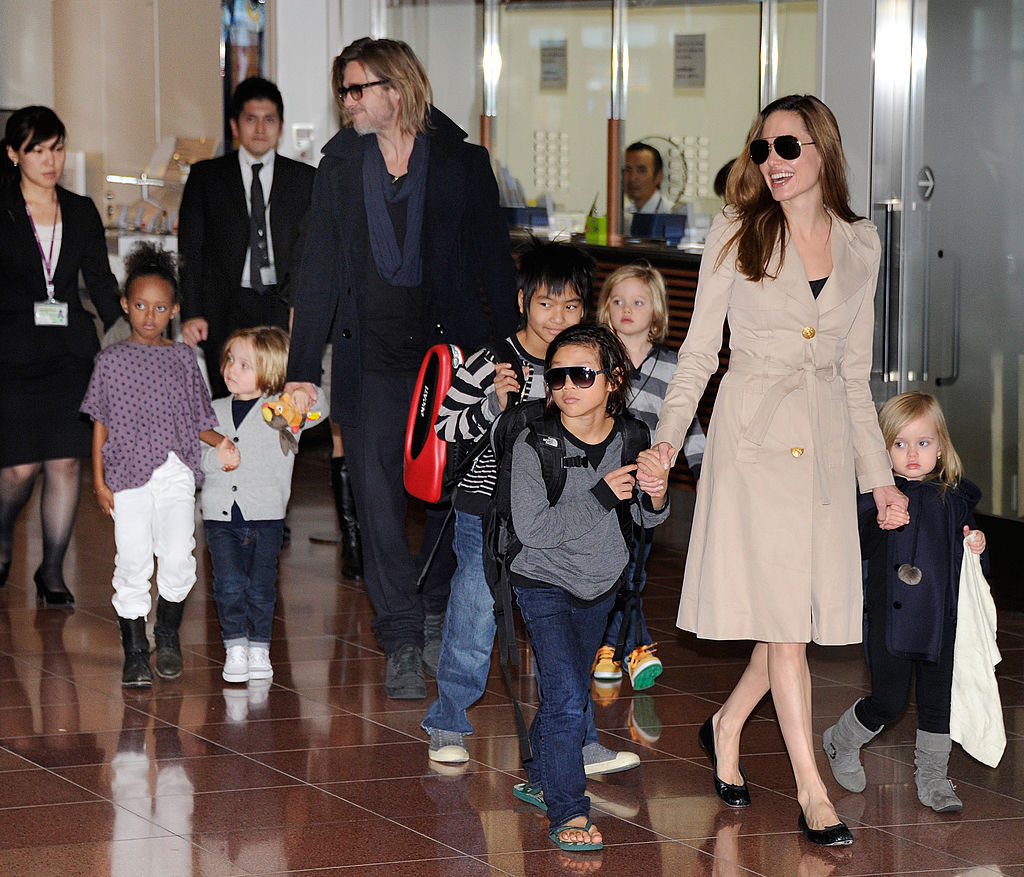 When the Jolie-Pitt children were little, they seemed like the perfect family. Beautiful, superstar parents and six multicultural children, what could go wrong? But since Brad Pitt and Angelina Jolie have gotten divorced, their problems are becoming more obvious to the rest of the world. Pitt's relationship with his children is strained, especially with the oldest, Maddox. Will he be able to mend things? Here's what we know about the situation.
Brad Pitt and Angelina Jolie's family grew quickly
Jolie adopted Maddox from Cambodia in 2002 before her relationship with Pitt began. But after they fell in love on the set of Mr. and Mrs. Smith in 2004, Pitt adopted Maddox as well. Maddox has always been close to his mother, but lately, he's had trouble bonding with Pitt. According to a source for US Weekly, "Maddox doesn't really see himself as Brad's son."
However, it hasn't always been that way. When Maddox was a small child and first met Pitt, he took to him right away. In a 2007 interview with Vogue, Jolie explained how they all became a family. "It's a big thing to bring together a child and a father," Jolie said. "It had never crossed my mind that Mad was going to need a father — certainly not that it would be this man I just met. Until, of course, I got to know Brad, and realized that he is naturally a wonderful father. And we left a lot of it up to Mad, and he took his time, and then made the decision one day. He just out of the blue called him Dad. It was amazing … That was probably the most defining moment, when he decided that we would all be a family."
It was around that same time that Pitt and Jolie started the adoption process for 6-month-old Zahara from Ethiopia. Over the years, they added four more children to the family. Shiloh, the couple's first biological child, Pax by adoption, and twins Knox and Vivienne.
Brad Pitt's relationship with Maddox and the rest of his children is strained
The relationship between Maddox and Pitt came to a head on a flight from Nice, France to Los Angeles. Pitt allegedly had too much to drink that day, and while we don't know what their argument was about, we know it was bad enough for Jolie to take the kids to a separate location without Pitt once they landed. The fight also had major repercussions in his marriage. Pitt and Jolie separated shortly after that flight, although some say she had already made up her mind about the split long before then.
Since that time, Pitt has been working hard to repair his relationship with Maddox and the rest of his children. According to a source for OK! magazine, "He knows he faces an uphill battle with them because they were old enough to understand that things were going horribly wrong between him and Angie at the end of their marriage."
Brad Pitt has been trying to mend his relationship with Maddox
Pitt has attended anger management classes, Alcoholic Anonymous meetings, and therapy in an attempt to be a better father to his six children. He's been trying to spend as much time with them as possible, and he has them at his home this summer, but things are still strained with Maddox. Jolie recently dropped Maddox off at college in South Korea, without Pitt, who reportedly only heard about his son's choice of college right before the media did.
Hopefully, as Maddox gets older, he'll want to mend the relationship with his father. Pitt is certainly trying, and it appears he'll be right there waiting as soon as Maddox is ready.