Brad Pitt Has Kids for the Summer While Angelina Jolie Works
Since the infamous split, Brad Pitt has fought for more time with his children. The separation of Angelina Jolie and Brad Pitt took the world by storm and seemed to shake the very foundations of Hollywood itself.
It appears Pitt will get his wish to spend more time with his kids while Angelina Jolie is away for the summer working. Things seem to be cordial and moving in the right direction for them both, as well as the children.
Angeline Jolie is working this summer filming
The Sun reports that "Angelina [Jolie] is going to be spending a lot of the summer filming Those Who Wish Me Dead, so she reached out to Brad [Pitt] and offered him the chance to look after the children."
"This is a massive step for them and the children, who have only had limited time with Brad since the breakup," The Sun also reported. "It feels like a really positive move all around, and Brad is over the moon. He invited his parents to stay with them at his mansion in Los Angeles so they can have some proper family time together."
It's been almost three years since Jolie and Pitt split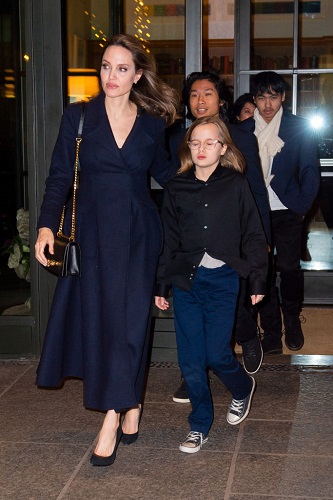 The infamous breakup happened in September 2016, and they have yet to hammer out a permanent custody plan with their six children. In 2018, Jolie and Pitt came to a temporary agreement which gave Pitt more time with his kids in turn. The agreement in question puts Pitt closer to receiving full 50/50 custody with Jolie. It isn't known whether they've come to the end goal or not.
Brad Pitt keeps his time with his children private
A loving family man, Pitt has not been photographed with his kids since the divorce, and clearly cherishes his private time with them. Since his time with them is limited, he clearly doesn't want to share that time with anyone else, and rightly so. Keeping this time private with Maddox, Pax, Zahara, Shiloh, Knox, and Vivienne is important for both him and his family.
What have Brad Pitt and Angelina Jolie been up to?
If reported rumors via anonymous sources can be believed, then things are looking up for everyone all around. Pitt is working on Once Upon a Time…in Hollywood on a press tour. The film, directed by Quentin Tarantino, also includes Leonardo DiCaprio.
Jolie is about to start filming Those Who Wish Me Dead. Things seem to be very cordial between them for the children. Tensions are clearly not as high and things are clearly moving in the right direction.
A judge declared Pitt and Jolie single in April
The former marriage between Pitt and Jolie was declared officially over by a judge, as confirmed by ET. They requested a bifurcated judgement, which essentially would restore their single status while finalizing the divorce itself. The pair originally met while filming Mr. and Mrs. Smith in 2004. They would then be married in 2014.