Brad Pitt Steps Out Looking 'Relaxed' After Reuniting With Jennifer Aniston
Talk about looking as cool as a cucumber. Following his surprise reunion with Jennifer Aniston, Brad Pitt recently stepped out to promote his new movie, Once Upon A Time In Hollywood, and appeared very "relaxed" throughout the event. Not only was the actor happy to talk about making the film with Quentin Tarantino, but he also seemed a little more laid back than usual. The outing happened days after Pitt appeared at a bash with Aniston, sparking even more rumors that a romance might be in the works.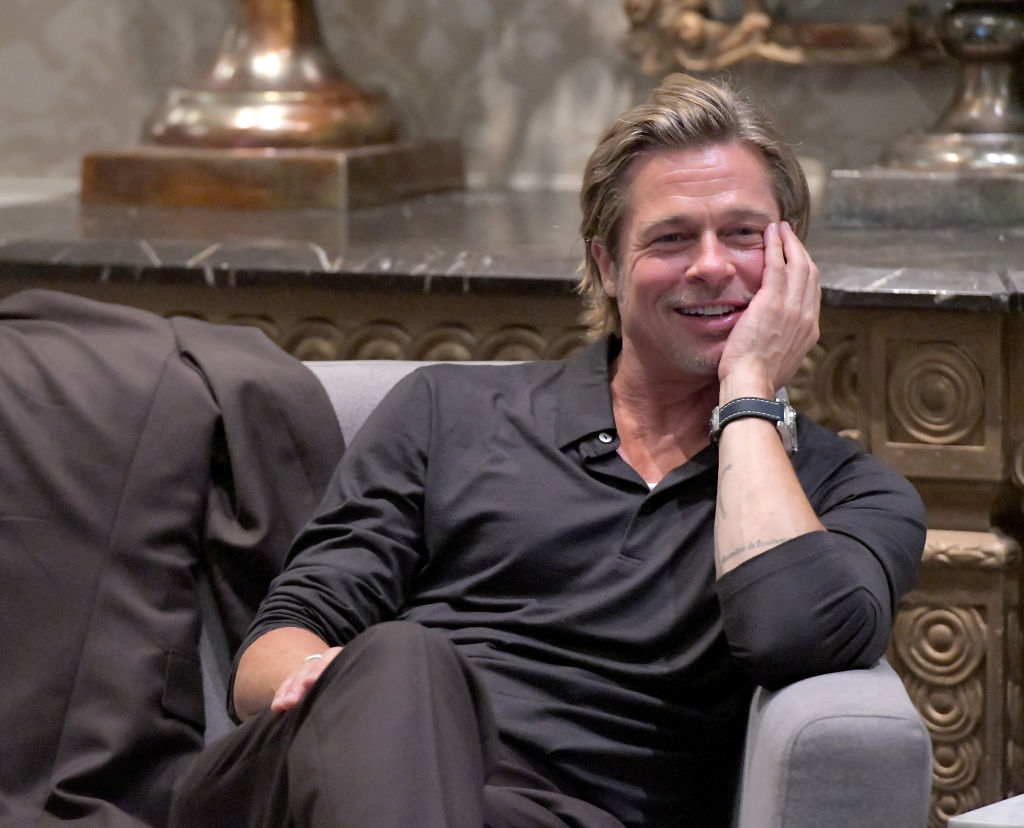 Brad Pitt looks very relaxed after Aniston reunion
Pitt joined several of his co-stars for the promotional event, including Tarantino, Leonardo DiCaprio, and Margaret Qualley. The Ad Astra star reportedly mingled with the crowd once the screening was over and seemed a lot happier than usual.
According to In Touch Weekly, an eyewitness claims that Pitt was very lively throughout the ensuing Q&A session and that he was really making people laugh with his sarcastic jokes.
"He seemed very passionate about the film and had very kind words to say about working with Quentin," the source shared. "He was in good spirits and snuck in a couple of sarcastic jokes throughout the Q&A, making the audience laugh."
There are probably a lot of reasons why Brad Pitt was happy at the event, but it is curious that the outing comes days after he reunited with Aniston at a party. The two were married for a number of years before divorcing in 2005.
Although their relationship ended on a sour note, Pitt and Aniston eventually made amends and were able to reconnect a few years back.
Are Pitt and Aniston getting back together?
Fans have wanted Brad Pitt and Jennifer Aniston to get back together for years. With Pitt parting ways with Angelina Jolie and Aniston splitting from Justin Theroux, the timing seems right for them to rekindle their romance.
Unfortunately, the two have not said anything about a potential romance, so we will have to wait and see how things work out.
That said, an inside source revealed that Pitt and Aniston's bond is getting stronger with each passing year. They might be only friends at the moment, but you never know what that could turn into down the road.
"They're obviously on friendly terms, and the more time that passes, the closer they seem to be getting," a source shared.
The insider added that fans should take into account that Brad Pitt and Jennifer Aniston share a lot of common friends, so appearing at the same Christmas party is not that big a deal. There also could be another reason why Pitt looked so happy at the recent interview.
Brad Pitt gears up for the holidays
Pitt is set to spend Christmas Eve with several of his children, including Shiloh, Knox, and Vivienne. The actor's other three kids, Maddox, Pax, and Zahara are not expected to join him for the holiday.
A source claims that Pitt and Jolie are finally getting on the same page when it comes to their children, and Pitt is really excited about celebrating Christmas with his children. This is a pretty big change from recent years and could explain why the actor is in such a good mood.
Jolie filed for divorce from Brad Pitt in 2016. Although Pitt has had to jump through a lot of hoops in terms of custody arrangements, his Christmas Eve plans are not going to be supervised. Instead, Pitt will be able to spend the holiday with just him and his children, which is how it used to be.
The source noted that Pitt has gone all out to ensure his house is festive enough for the holidays. This includes getting a Christmas tree, decorating the house with lights, and revamping the menu to satisfy the little ones.
Pitt joins Aniston's Christmas party
Aniston recently hosted a Christmas bash for some of Hollywood's top stars. Ellen DeGeneres, Courteney Cox, and Gwyneth Paltrow were among the guests at the party, which was held at her house in Los Angeles.
Brad Pitt, of course, also showed up at the event and reportedly got along great with everyone.
This was not the first time Pitt and Aniston have reunited in public. Pitt was present for Aniston's birthday party early in the year.
In light of the recent events, a source says that Brad Pitt and Jennifer Aniston are just good friends at the moment and have no plans of rekindling their romance.