Brandi Glanville from 'RHOBH' Expresses Condolences for Lisa Vanderpump's Loss
Even though they've had their differences, sometimes life's tragedies make warring friends put down their weapons and show they care.
Lisa Vanderpump from The Real Housewives of Beverly Hills has again suffered a devastating loss. Her mother Jean Vanderpump died at age 84, one year after Vanderpump's brother Mark died.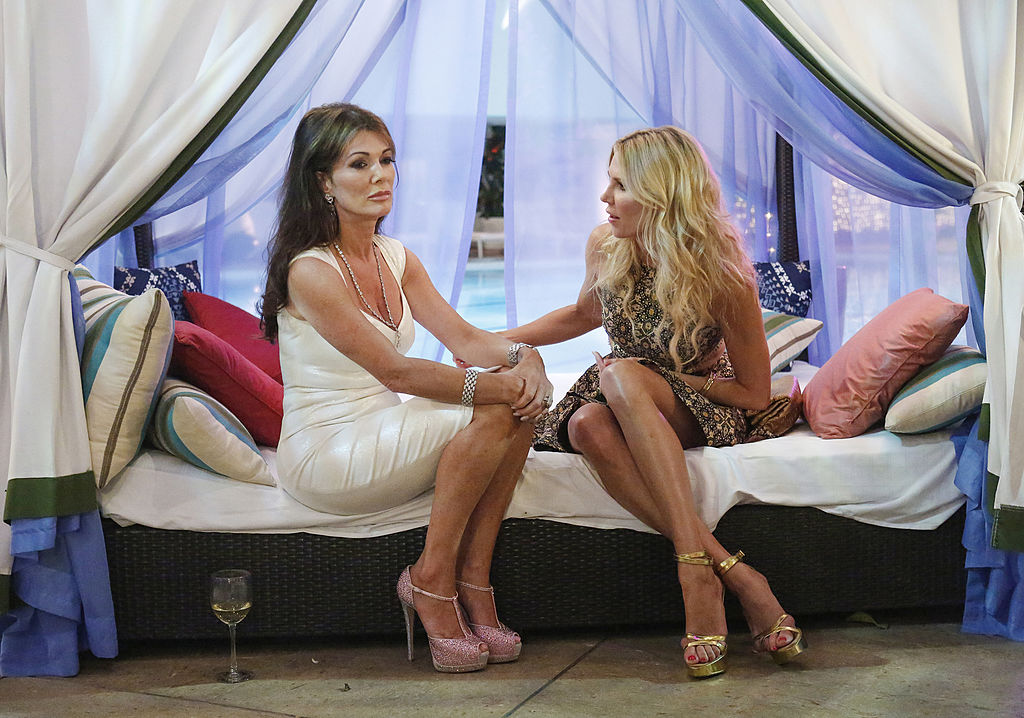 While the majority of the RHOBH cast has been publicly silent about Vanderpump's newest loss, former friend Brandi Glanville has expressed her heartfelt condolences.
Condolences pour in for Vanderpump
At least one other cast member has publicly offered her condolences. Camille Grammer took to Twitter and wrote, "My heart goes out to @LisaVanderpump and her family. Too much loss in one year. Heartbreaking," she wrote. "My deepest condolences to Lisa and her family."
Fans are also commenting and posting about Vanderpump's tragic loss. "@LisaVanderpump I am so sorry to hear of the loss of your mum," a fan tweeted. "She is now with Mark; two angels to watch over you. May she RIP."
Vanderpump has remained publicly silent in her grief. A source told Page Six she was shocked because her grandmother lived to almost 100. "She was expecting the same for her mother — a really long and healthy life." Page Six reports that Jean Vanderpump died of an embolism that traveled to her brain.
Glanville doesn't wish this kind of pain for Vanderpump
Glanville was one of the first from RHOBH to tweet her condolences for Vanderpump's loss. "@lisavanderpump & I will always have our differences but I don't wish this kind of kiss [loss] and pain on anyone ever," she wrote. Glanville later clarified the word "kiss" was a typo and meant to be "loss."
If anyone knows what a blow this is for Vanderpump it is a former close friend like Glanville. After her brother's death, Vanderpump tried to soldier on and often talked about keeping a stiff upper lip.
But only recently Glanville referred to Vanderpump has her own "personal devil" and that Vanderpump tried to ruin her life, People reports. Glanville tweeted about how Vanderpump tried to take her down after she says Vanderpump believed Glanville crossed her.
Her pain is significant
Recent activity following her mother's death shows what a blow this is to Vanderpump. Media reports confirmed not only has she stopped filming Vanderpump Rules, but she also won't be able to attend Jax Taylor and Brittany Cartwright's wedding.
A source confirmed to Radar Online Vanderpump is taking time off and has been in touch with Taylor and Cartwright. "They have reached out to send their condolences, and accept she needs to step away from filming the show right now so she can attend to her family."
And while the support continues for the restauranteur, some fans are admonishing those close to her through RHOBH for not being public with their condolences. Bravo producer Andy Cohen was called out on Twitter for not quickly posting about Vanderpump's loss. But he responded, "Cathy we were in touch privately on Tuesday, but I appreciate your concern about how and when I sent my condolences."