Brandy Starred in This Television Movie With Diana Ross
Brandy and Diana Ross were an unlikely pair when they were cast in a film together. Their music was polar opposite. Ross was a crossover artist from the Motown era who had pop hits after branching out from The Supremes and into solo fame. Brandy was the all-American girl next door of the '90s with micro braids and a gospel tone to her voice. She sold millions with her R&B sound.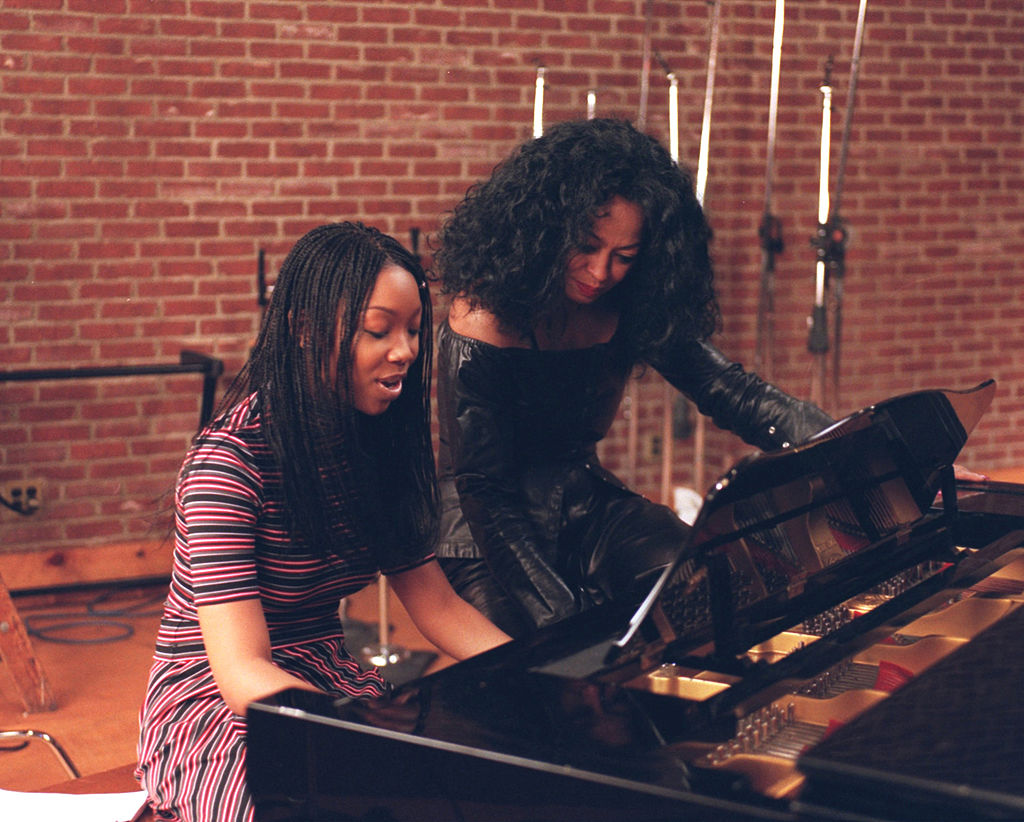 The combination of Ross and Brandy worked. Starring as a mother and daughter with a common talent of singing, their film Double Platinum became a fan favorite.
Diana Ross and Brandy made a talented mother-daughter duo in ABC's 'Double Platinum'
The Chicago Tribune reported in October 1998 that Brandy and Ross were tapped to star in the ABC musical drama, Double Platinum. Coming off the success of Rodgers & Hammerstein's Cinderella, it was Brandy's second made-for-television musical. Ross' previous acting credits included the musical, The Wiz, and starring as jazz legend Billie Holiday in Lady Sings the Blues.
Double Platinum centered on a lounge singer eager to take her career to the next level. She abandons her infant daughter to chase her dream of stardom. Ross played the character of Olivia, and Brandy played her daughter, Kayla. 
Production on Double Platinum began in December 1998. It was released in May 1999 and marketed as a Mother's Day premiere for mother-daughter pairs to enjoy together. It was a Nielsen ratings success, debuting at No. 16 for the week. It later aired in syndication on VH1, MTV, BET, Centric, and TV One.
How did viewers and critics receive 'Double Platinum'? 
To promote the film, Brandy and Ross appeared on The Oprah Winfrey Show. They performed a duet from the film and discussed the filming process. 
Viewers enjoyed the film, and it replayed on ABC after its original release, as well as on other networks in years to follow. Double Platinum remains on the roster of TV One.
Critics, however, were not as impressed. Variety gave the film a slightly harsh review.
"Think of 'Double Platinum' not as a telepic, but as a particularly elaborate Mother's Day infomercial, one that injects superficial poignance as a method of reviving the career of one singer (Diana Ross) and enhancing the surge of a second (Brandy)," Variety's review said. 
A review in Entertainment Weekly agreed. It felt the film lacked "juicy stuff," despite the tension between Ross and Brandy's characters and how singing united and divided the two in the film. 
"First Ross gets a number, then Brandy, then Ross, then Brandy — it must have been written into their contracts," the Entertainment Weekly review said. "Miss Ross, who showed so much dramatic talent in 1972's Lady Sings the Blues, is by now too mannered and guarded a performer to convey much of Olivia's agony, which means that the bright-eyed Brandy comes off much more sympathetically."
In spite of the difference of opinions between viewers and critics, Double Platinum became a cultural classic.