Before Brangelina: The Angelina Jolie Relationships You Probably Forgot
Angelina Jolie and Brad Pitt have been a celebrity couple in the news ever since they started dating after starring in Mr. & Mrs. Smith. But sadly Brangelina is getting divorced. This however isn't the actress's first rodeo when it comes to a high-profile divorce or break up. Don't remember who she was once romantically involved with? Here are five relationships Angelina Jolie had that you probably forgot about.
1. Jonny Lee Miller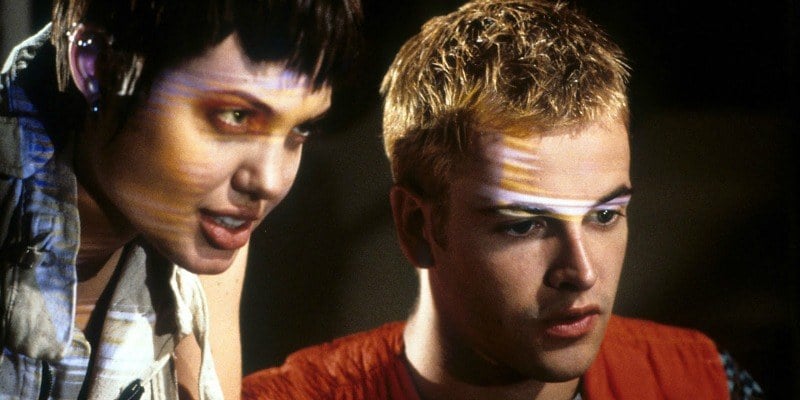 This was the first man to exchange vows with Angelina Jolie. They got married in 1996 after meeting on the set of Hackers. At the time the actress wasn't very notable and the movie was the biggest release she had done. Of course the wedding wasn't traditional at all and therefore made headlines. She was wearing rubber pants and a white T-shirt that read "Jonny Lee Miller" in her own blood, according to Heavy. Their marriage was reportedly a unique one and was open. But even being open to other lovers in the bedroom couldn't save their marriage.
They then got divorced in 1999 but the breakup seemed amicable. He even went to the premiere of her director debut for the movie, In the Land of Blood and Honey in 2011. Jolie has also publicly looked back on their time together filming Hackers fondly. "That's where I met Jonny, who is still a great friend," she told BuzzFeed. "I think of him when I think of that. Although, I'm sure the movie looks so ancient now, but we had a lot of fun making that."

2. Jenny Shimizu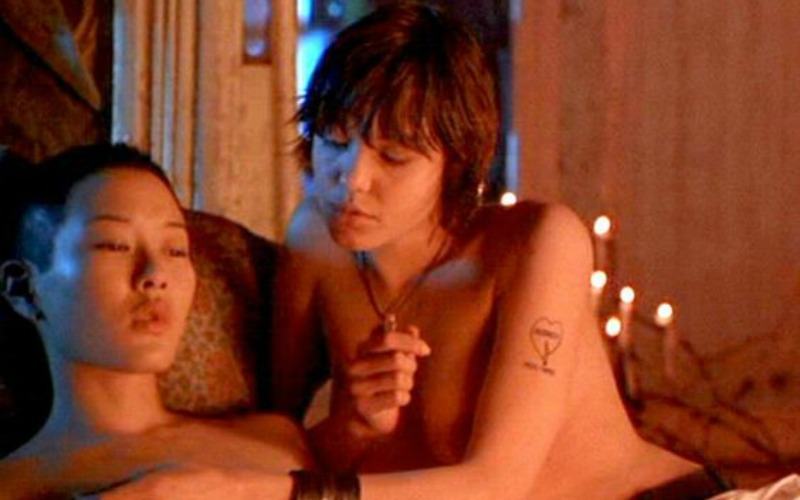 The actress was certainly busy on the set of Hackers. She may have ended up with her costar, Jonny Lee Miller but she also had a strong connection to the model who she met on the set of Foxfire. Yes, Jolie is bisexual and has been open about that and her strong attraction to Jenny Shimizu.
"I would probably have married Jenny Shimizu if I hadn't married my husband," she told Girlfriends. "I fell in love with her the first second I saw her." Apparently that love didn't just go away after Jolie got married. Shimizu later claimed she would have threesomes with the married couple.
"I even took her to dominatrix joints and she loved them all," Shimizu said according to Socialite Life. "The darker and naughtier the better. Then we'd go back to wherever we were staying, desperate to rip each other's clothes off and act out the moves we'd seen. They were amazing nights."

3. Timothy Hutton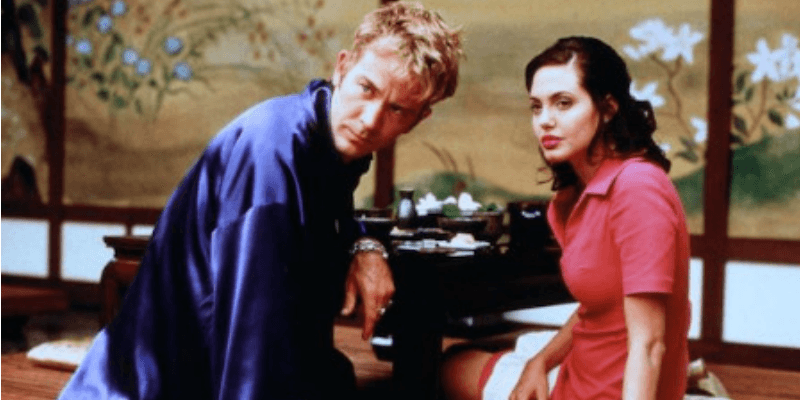 Once again the actress reportedly fell for someone she worked with. The two actors worked together on the set of Playing God. This is a relationship that has gone unconfirmed, but it is said that they dated in 1997. This relationship also might have overlapped with her marriage to Jonny Lee Miller.
4. Colin Farrell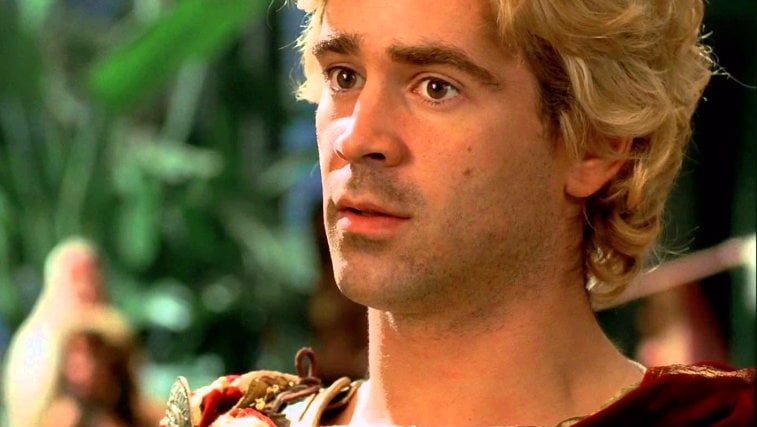 The two stars met on the set of Alexander and were reportedly dating in 2003. However the relationship wasn't exactly healthy. According to Daily Mail, the actor often stayed out in bars until dawn and stubbed out his cigarettes in furniture. She reportedly moved out of the hotel where they were staying together due to his behavior. The two never really confirmed their relationship, but they are photographed looking pretty cozy together.

5. Billy Bob Thornton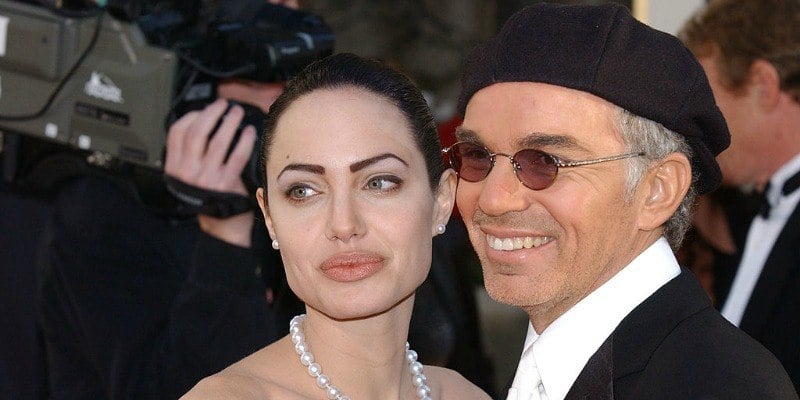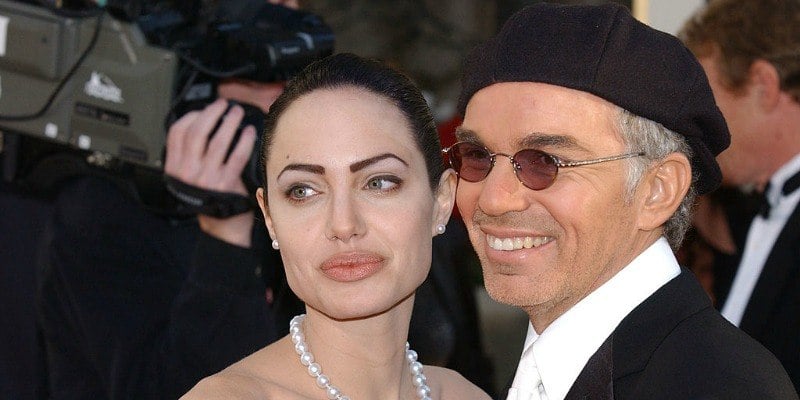 Before Brad Pitt, the actress was madly in love with Billy Bob Thornton. The two met on the set of Pushing Tin. This was pretty scandalous since Thornton was in a relationship with Laura Dern at the time, so he left the actress for his co-star.
They fell in love fast and got married after two months of dating. They made headlines for wearing vials of each other's blood as necklaces. Many fans were pretty freaked out about it, but Thornton later explained to The Hollywood Reporter why they did it.
Vial of blood is very simple. You know those lockets you buy that are clear and you put a picture of your grannie in and wear it around your neck? She bought two of those. We were apart a lot because she's off making Tomb Raider and I'm making Monster's Ball. She thought it would be interesting and romantic if we took a little razorblade and sliced our fingers, smeared a little blood on these lockets and you wear it around your neck just like you wear your son or daughter's baby hair in one. Same thing.
Sadly their efforts to stay close didn't work. They ended up divorcing in 2003. Thornton later took the blame for tanking the marriage. "I blew it because I didn't think I was good enough for her," he said on Nightline. "She has one way she wanted to live her life and I had another way to live mine and I was just too insecure. I did feel like the Phantom of the Opera hiding in the catacombs. People have actually said that I didn't deserve to be with her."
Follow Nicole Weaver on Twitter @nikkibernice
Check out Entertainment Cheat Sheet on Facebook!