Bravo Baby Boom: Which 'Million Dollar Listing' Cast Member Became a Dad?
Andy Cohen's adorable son Benjamin just got a new Bravo play buddy as Ryan Serhant and wife Emilia joyfully welcomed their newborn daughter.
The couple has been extremely tight-lipped about the pregnancy. Likely only close friends and collegeues knew Emilia was pregnant. Her Instagram account showed no hints and Ryan never mentioned that a baby was on the way.
However, now the couple made the wonderful announcement on Instagram this weekend and seem to be over the moon. Both Ryan and Emilia revealed maybe why they were hesitant to dish about the baby before she was born on February 26.
The couple shared sweet images on Instagram
Both Ryan and Emilia posted loving photos on their Instagram pages snuggling their sweet new addition. Just from the few pictures, you can see love in both of their eyes as they gaze at their newborn daughter.
This child is certainly a labor of love. The couple discussed having children on Million Dollar Listing: New York. At one point Ryan shows Emilia a large brownstone and talked about filling it with children. But viewers could see the sadness and worry in Emilia's eyes. The couple struggled to conceive and Emilia ponders how would life be in a large home that maybe they couldn't fill with children.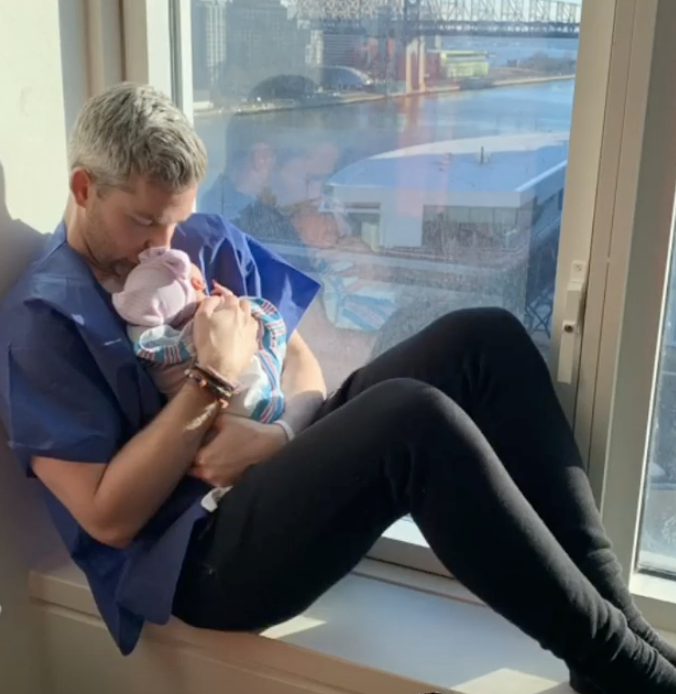 Ryan posted a love letter to his daughter on Instagram about the struggle. He began by telling his daughter how much she was wanted. "Your momma and I have waited almost 3 years to meet you. We had no idea how difficult getting pregnant with you was going to be. We tried everything."
This may be why the couple didn't want to reveal the pregnancy
Ryan admits the couple worried they'd never realize their dream of parenthood. "We were so nervous you might never come," he wrote. "When we finally decided to try IVF, we were so scared it wouldn't work. And then you stuck. And then we heard your little heartbeat for the first time. Your mom and I were so excited every time we would go to the hospital to see you, but even more terrified we would lose you."
Like many parents who endure IVF, Ryan wrote that he and Emilia were worried it was just too good to be true. "And because of that fear, we loved you as hard as we could from the moment we knew you existed. We thought if we put that love for you out there, you would hear it, and you would make it."
Emilia echoed Ryan's assertion in her Instagram post. "I have waited to exhale for months. It took a long, painful journey to meet you. From the first time we heard your heart beating, I instantly wanted to cocoon you and protect you from the world. I talked to you every single day for 41 long weeks, begging you to 'stick'. (Until the last two weeks I begged you to stop kicking my ribs so hard with those big feet and come out!) I told you every day how much I love you."
But then the couple privately celebrated that their dream would come true
Both Ryan and Emilia share how they enjoyed watching their baby grow and get stronger. "I rubbed my belly and cherished every single movement, as any sign that you were listening," Emila wrote. "Every night, I prayed with all my soul that you were healthy and thanked God for the miracle that you are."
Ryan also wrote about watching this miracle evolve. "I watched you grow slowly with your momma every day, waiting for the moment I would finally meet you. I feel like I've spent my whole life working towards this moment when everything would make sense."
He also celebrates his wife's fierceness and bravery. "One day when you read this, I hope you can look back and be proud. And please go and give your Mom a BIG kiss because she's a true warrior, a fighter with the biggest heart, and the Queen of my world. Seriously – one day we will tell you about all the shots, the pain, the sickness, and what birth was like for your Mom on Tuesday the 26th – it was insane! We love you now and forever, our new, beautiful, little puff."
Check out The Cheat Sheet on Facebook!