Bravo's 'Summer House': Carl Radke Teases More Cast Summer Parties With Fan Access (Exclusive)
Carl Radke isn't sure if Summer House will film this summer, but fans will still get to party with the cast, he shared exclusively with Showbiz Cheat Sheet.
Last week, the casts of Summer House, Vanderpump Rules, and Southern Charm bonded during a special Zoom party. Fan reaction was overwhelming, and more than 500 people attended. Many shared videos and thrilled reactions on Instagram. The party was designed to be a fundraiser, but it also marked the launch of the newest cocktail spritz from Kyle Cooke's Loverboy brand.
Although a number of celebrities have done Instagram Live chats, this Zoom party felt like a real-life event for many participants.
"It was such a great event," Gabriella Schwager, CEO of Stars Marketing Group shared. "Not only was it fun, but it was also run so well."
Schwager described insider stories from cast members, Tom Sandoval's cocktail crafting demonstration, and Shep Rose's impromptu graduation commencement speech. The event was capped off by a sing-a-long with everyone on the video call.
"Even though the turnout was over 500, you felt like you were there with them," Schwager dished. "It was like a normal Zoom call I would have with my own group of friends." Schwager's company recently added Radke to its celebrity roster.
Radke says the party was a huge hit
Radke received a flood of messages from fans telling him the party was far better than they anticipated. Plus, the group held the event for a good cause, raising money for the USBG National Charity Foundation. Participants could either buy a ticket for the event or receive a discounted ticket with their purchase of a Loverboy Spritz.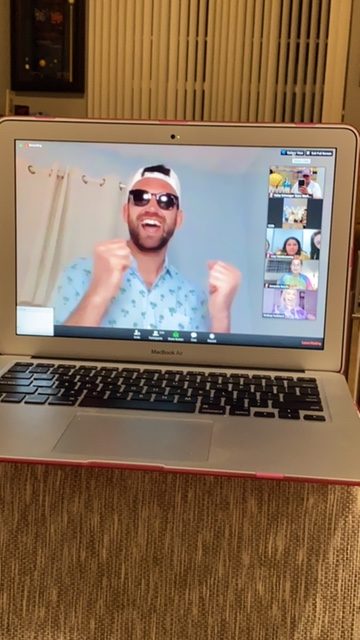 The original goal was to raise $20,000. "Kyle announced at the event we raised $25,000," Radke shared, adding that he thinks the amount may increase. "So we are thinking about doing more of them." The Bravolebs donated 100% of the proceeds to the foundation.
The Summer House friends teamed up with Southern Charm and Vanderpump Rules because of the commonality between the shows and overall fundraising goals.
"Shep is an investor in a couple of bars in Charleston and Austen [Kroll] has his beer," Radke said. "Also adding Tom [Schwartz] and Katie [Maloney-Schwartz] and Tom Sandoval, who have TomTom. So I think it all tied together well for the bartender's guild."
More 'Summer House' (and special guest) parties are coming
Radke explained that there was definitely a method to the cast's madness. "We had a structure," Radke explained. "Even the parties you watch on the show, we put a lot of effort into planning and preparing for those. They don't show it as well as I'd like, but a lot of the weight of those plans falls on us."
All that means this crew is going to be boss at planning a Zoom party to end all Zoom parties. Radke said they wanted to ensure fans who bought tickets were going to have a blast.
"We didn't want to just get on there and be like, 'Oh hey guys it's us!' We wanted to have a message of what we were doing and thanking everybody. Just kind of being our goofy selves bantering because we are all friends."
The sing-a-long was a surprise
Having various cast members from Bravo series pop in on the Zoom call made it a bigger party too. "For the most part, it was all planned, but the sing-a-long from Wilson Phillips that is legit what we sing in the car. Me, Lindsay [Hubbard], and Danielle [Olivera] we sing that song every weekend driving out there."
Why the song "Hold On?"
"The whole message is 'hold on for one more day.' Filming is fun, we have a great time but it's a lot," he admitted. "You're driving back and forth to the city and to the Hamptons. Hold on for one more day!"
Radke says he planned the sing-a-long but didn't share the idea with everyone on the call until the last minute, which made it extra fun. He said that fans should check back for the next party, which may happen around the new Loverboy rollout.
"I'd love to do another one, but we just don't know what that looks like just yet," he said.