Brie Larson May Have Given Stunt Performers In Hollywood a Chance to Shine
We've seen numerous calls from people in the film industry to create or reinstate certain award categories at the Academy Awards. While we've seen requests for everything from motion capture artists to bringing back awards for child actors, you also see those championing awards for stunt performers.
These people still go mostly unsung in the realm of making movies. Far too many of them also risk their lives (and sometimes die) just to make an A-list star look good.
Leave it up to socially conscious Brie Larson to place more attention on those who work as stunt performers. When Larson recently invited her own stunt doubles on stage with her at the MTV Movie & TV Awards, she likely helped open more respect and work for the women (and men) working in the field.
The two women who work as Larson's stunt doubles might have opened new doors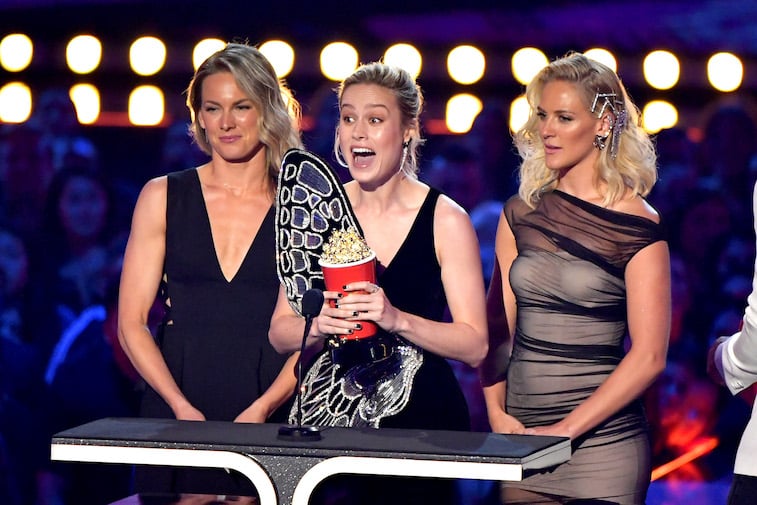 Everyone was amazed Brie Larson called her two stunt doubles for Captain Marvel up on stage when former won an award for "Best Fight Scene" at the above MTV telecast in June. Larson even stepped aside and let the two women talk as a form of introduction on who they are and the sacrifices they continue making.
Thanks to Larson's humbleness, she promoted the fact these two stunt doubles did a majority of the most complicated action scenes in the film. Yes, they did resemble Larson somewhat, though they've worked for many other actresses in films going back a decade.
Everyone sat up and took notice after years of women stunt performers usually being ignored in favor of the males. Yet, both genders haven't gained the respect they deserve, other than hearing about them if one dies in a freak movie stunt accident.
We've heard far too many stories of those deaths and sometimes life-altering injuries. Those who work as stunt doubles are tired of not receiving recognition, as in a special award category at the Oscars. AMPAS might be under pressure to amend this soon.
A push to create a new Oscar award category
Many stunt doubles have complained to AMPAS about not having a stunt award category, something latter have said can't be done without having 100+ members in their Academy category. It's being reported this might very well happen before the end of the year, leaving it open to AMPAS looking at adding the stunt category eventually. Otherwise, there could be a stunt performer boycott of the 2020 show.
Maybe some will argue it's a limited amount of people in this category, meaning possible multiple wins for some who work in all the top Oscar-caliber films. No doubt this is why we haven't seen a motion capture award category either since Andy Serkis has primarily dominated this performance art.
What's really holding it back is likely AMPAS worried about statistics on who wins the most Oscars. If a stunt double ends up winning four or five Oscars within a decade, it would outdo the top categories of actor and actress, something the Oscars never want to overshadow.
Everything seems to go by numbers, unfortunately, meaning there possibly won't be a stunt award category any time soon.
There may be more people interested in being stunt performers
Down the road, there may be a stunt double category at the Oscars. One thing for sure is Brie Larson broaching this subject likely had numerous women looking into doing stunt work in films. No matter how many risks are associated with it, a lot of people are out there who'd find it worth the dare.
Larson also isn't the only celebrity endorsing this to be recognized at the Academy Awards. The projected boycott of the 2020 telecast may intensify this further with more public pressure to comply.
Should there be multiple hundreds of stunt performers within the next five years, then those chances of a select few winning multiple Oscars might diminish. Statistical odds will ultimately make real change happen over the pleading of influential people.