Brie Larson and Samuel L. Jackson Sang Ariana Grande In 'Carpool Karaoke'
As those who've seen Captain Marvel know, Larson's heroine spends a lot of the film with SHIELD agent Nick Fury, played by Samuel L. Jackson. The two actors obviously grew very close during filming, as can be easily seen in their on-screen interactions. But recently, they showed us just how close they are during an episode of James Cordon's Carpool Karaoke segment.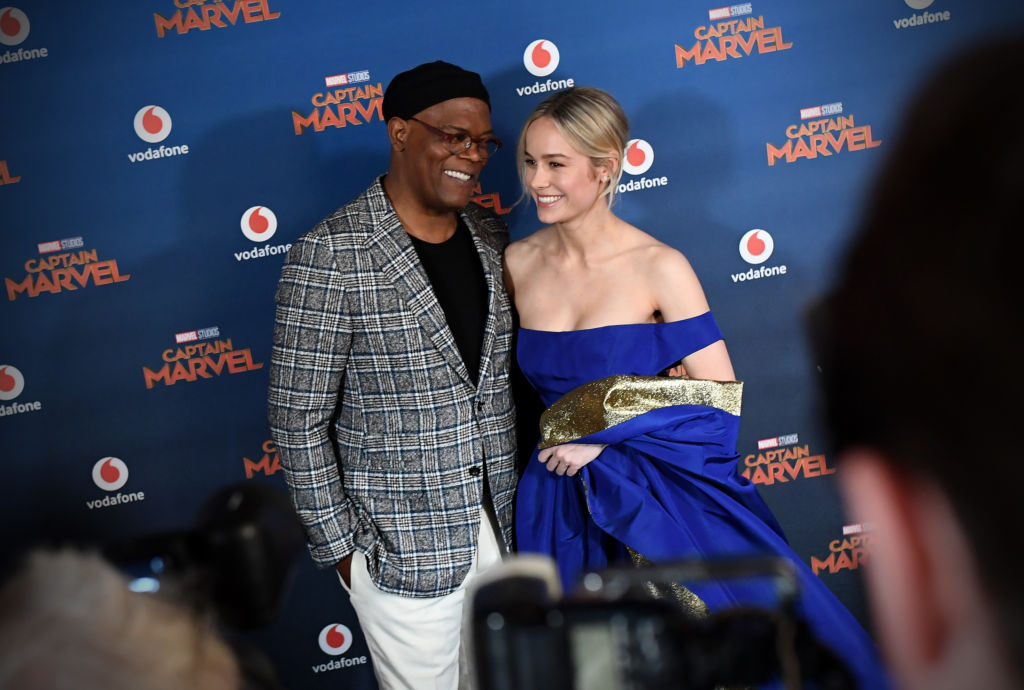 Are Brie Larson and Samuel L. Jackon friends in real life?

On the night of the Captain Marvel world premiere in Hollywood, Larson appeared on Jimmy Kimmel Live. The actress spoke about the film and her role, as well as her relationship with her co-star. Doing press for the film, the two have had to travel a lot, which Larson said is "the best," noting that "he is without a doubt the person [she's] traveled with of any person in [her] life."

Kimmel inquired about their friendship, to which Larson said, "our love is real." She also noted that the two text a lot and have code words, which "deal mostly with people that we hate." However, there's one part of Jackson's life that she has yet to infiltrate: his yearly trips to Italy with Magic Johnson. Larson and Kimmel commiserated over how both of them have tried to get Jackson to invite them over the years, but to no avail.

What movies have they been in together?

As Larson said to Kimmel, she and Jackson have worked on three movies together. Captain Marvel is the latest, which came right on the heels of Kong: Skull Island, another big-budget film that included a lengthy international press tour. So what's the third movie?

In fact, the film Larson is referring to is an indie flick that she directed, Unicorn Store. Because the time from casting to production to actual release is generally a few years when it comes to these major films, Larson likely asked Jackson to be a part of her project during the filming of Kong: Skull Island. So the two have spent a lot of time together over the past four or five years. Unicorn Store is scheduled for an April 5, 2019 release on Netflix.

They've been doing a lot of press for Captain Marvel

As previously stated, there's a lot of time spent together for co-stars of films of this magnitude. Prior to its release, Larson and Jackson have been doing a lot of press for Captain Marvel, including appearing on late night talk shows, like The Late Late Show With James Cordon.

One of the most popular segments on Cordon's show is Carpool Karaoke, in which the celebrity or celebrities who are guests drive around (often with Cordon) while singing songs that come on. In a teaser released prior to the episode, Larson and Jackson sing along to Ariana Grande's hit single "7 Rings," which has earned itself some controversy since the music video dropped. Jackson and Larson appear to know all of the words to the pop tune, miming actions and singing to one another.

Captain Marvel is poised to make this much on its opening weekend

Presale numbers for Captain Marvel show that the film is projected to make more than $125 million in the U.S. and Canada and $350 million worldwide in its opening weekend, according to Variety. This would put it higher than the last Marvel film to hit theaters, Ant-Man and the Wasp. Though next month's Avengers: Endgame will definitely top this number, this is still a very solid opening weekend.

But aside from box office numbers, the big question on everyone's mind is whether or not Jackson and Larson will reprise their roles in Avengers: Endgame. A Captain Marvel appearance is almost guaranteed at this point, and IMDb confirms this. Jackson, however, is not on the cast list, as is the case for the rest of the heroes who vanished with Thanos' snap in Infinity War. But don't worry — that doesn't mean he won't make a surprise appearance, so there is a chance that this will mark the best friends' fourth on-screen collaboration.