Brie Larson And Tessa Thompson Made Captain Marvel And Valkryie Shippers' Dreams Come True
Many Marvel Cinematic Universe fans want to make history by establishing a romance between Brie Larson's Captain Marvel and Tessa Thompson's Valkyrie in the upcoming films. Here's what the actors themselves have to say about that.
Fans ship Captain Marvel and Valkyrie in the MCU
A quick recap: Valkyrie first appeared in the 2017 flick Thor: Ragnarok. Portrayed by Thompson, the character is a former warrior with a drinking problem who joins up with the lead character and others to save her home planet of Asgard. In some of the comics, she's bisexual, but this isn't made clear in the film.
In 2019, we then met Carol Danvers in Captain Marvel. Carol doesn't have a romantic interest, though many felt that her relationship with her best friend, Maria Rambeau, wasn't entirely platonic. It didn't take long for fans to put the pieces together and ship Valkyrie and Carol as the potential first all-female couple in the MCU.
Brie Larson and Tessa Thompson are friends in real life
Now, for the actors who portray the characters. Not that it's necessary for them to approve, but let's just say Larson and Thompson are more than on board. Whenever fans share images they've created featuring the two characters, you can almost guarantee either Larson or Thompson will retweet them.
While both are known for being allies to the LGBTQ+ community (and Thompson herself has said that she is attracted to both men and women), it also helps that they're clearly friends in real life. They also support many of the same causes, like Time's Up.
Valkyrie is now canon bisexual
Many fans were a bit disappointed that Valkyrie didn't get a love interest or a confirmation of her sexuality in Ragnarok. Fortunately, this will be amended. At San Diego Comic-Con in July 2019, Thor: Love and Thunder was announced, and there, Thompson made an announcement.
Speaking about Valkyrie as the newly crowned King of New Asgard, she said, "I think first of all…she needs to find her queen. That'll be her first order of business." So it looks like there's definitely a female love interest in the character's future.
Larson and Thompson support this ship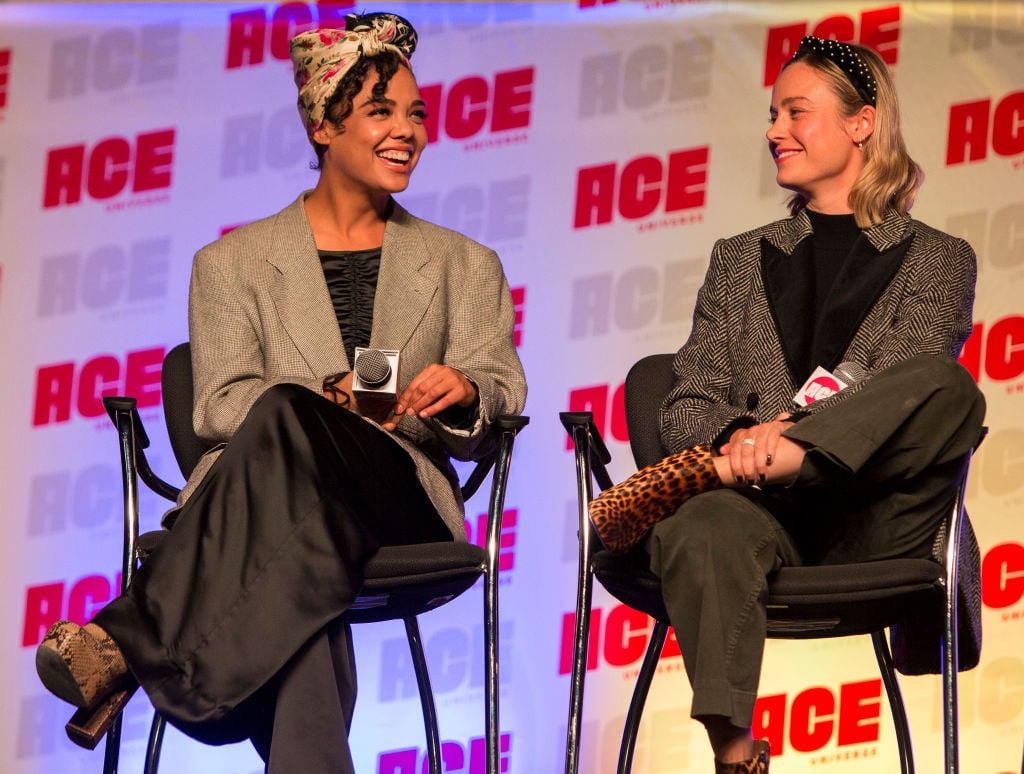 "We're here to ship, y'all!" said Brie. She says this was "already established." "So what you're saying is, Valkryie has found her queen?" asked the moderator. "Brie is my real-life queen in general," said Thompson. "If it becomes canon, that's cool, too."
When asked what they're looking forward to in their upcoming projects, an audience member shouted out "lesbians!" Both Larson and Thompson laughed at this, declaring the panel over. "How do I top 'lesbians'?" said Larson. "I'm sure the lesbians could show you, right after this panel," quipped Thompson.
Will they appear in a Marvel movie together?
So far, it's been announced only that Thompson will return as Valkyrie in Love and Thunder. Larson knows that Captain Marvel 2 will happen, but as of yet, there's no set timeline. While both were in Avengers: Endgame, they had little interaction, so that's what fans are waiting on.
Both say they have "no idea" about what's to come for their characters in the future. "I want to work together as a team, us women, doing things," said Thompson, a pointed nod at the rumors that have been circulating about an all-female Avengers flick.