'Bringing Up Bates': How Many Grandchildren Do Gil and Kelly Jo Bates Have?
The lives of the Duggar family and the Bates family seem to align almost perfectly. Both famous families have 19 children. Both famous families are reality TV stars, and both are busy welcoming new grandchildren into the fold. The Bates family just welcomed another grandchild a few days ago, in fact. Chad and Erin Payne announced the birth of their fourth child, a daughter named Holland Grace, on Nov. 26, just one day before the Duggar family announced the arrival of Maryella Duggar, the sixth child of Josh and Anna Duggar. So, how many grandchildren do Gil and Kelly Jo Bates have?
Who are Gil and Kelly Jo Bates?
Gil and Kelly Jo Bates are famous for their show Bringing Up Bates. The show follows the lives of the supersized family as they navigate the world while adhering to their strict, ultra-conservative Christian values. Just like the Duggar family, the Bates family homeschools their children, and they don't believe in the use of birth control. Just like Jim Bob and Michelle Duggar, Gil and Kelly Jo didn't grow up in the ministry they've raised their family in.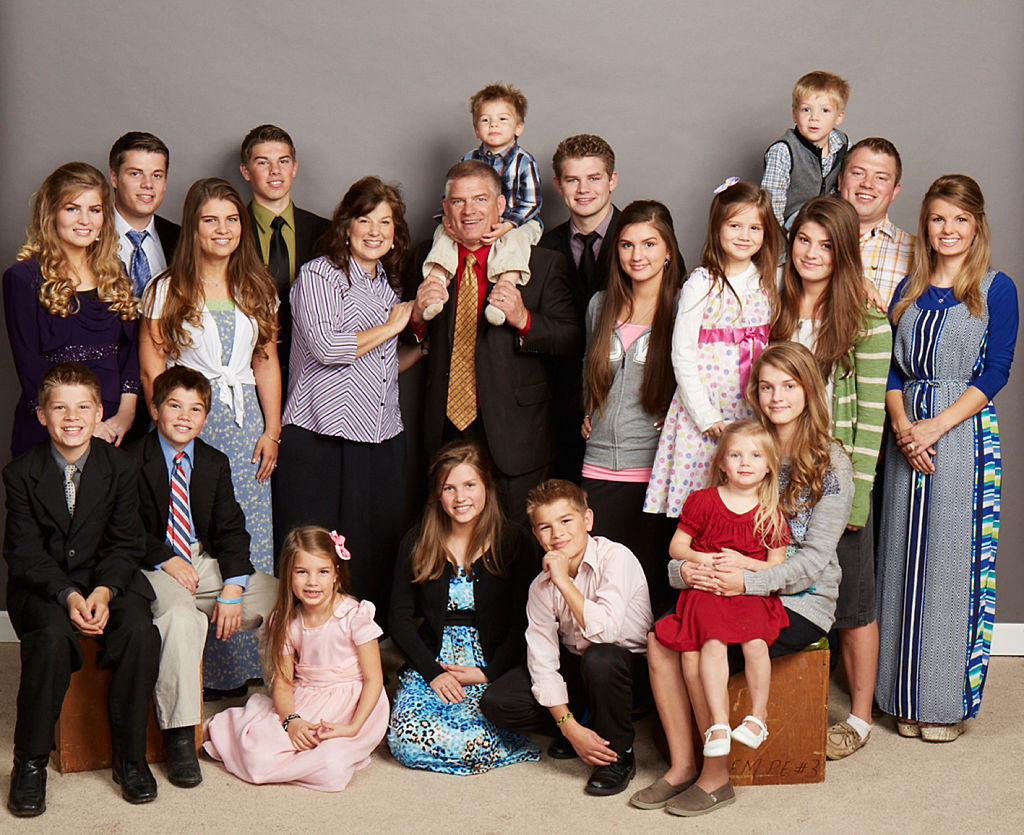 Gil and Kelly Jo met in college. Kelly Jo actually tutored Gil in science. They began dating shortly afterward and married in 1988. The couple has openly admitted that they originally intended to hold off on having children until they had been married for several years. That's not the way it happened, though, and their supersized family was born.
Fans were first introduced to the family when they appeared on 19 Kids and Counting, the TLC show dedicated to the Duggar family. The Bates took their reality TV career to UpTV in 2015. A new season of the show is set to premiere in 2020, although an exact premiere date has not been set, according to The Cinemaholic.
How many grandchildren do the famous couple have?'
Gil and Kelly Jo may be famous for being parents to 19 children, but their family is multiplying with the introduction of new grandchildren. Right now, the East Tennessee family includes 12 grandchildren with two more on the way. Amazingly enough, the family just started adding grandchildren to the family five years ago.
Zach Bates and Whitney Perkins were the first couple to add a grandchild to the mix. They welcomed their first child, Bradley Gilvin Bates, in October 2014. Alyssa Bates, who married John Webster in May 2014, gave birth to the first Bates granddaughter in April 2015. Both Zach and Alyssa have had two more children each. Alyssa's second and third daughters were born in January 2017 and March 2018 respectively. Zach's wife gave birth to the couple's second child, a girl, in June 2016. They announced the arrival of their third child in November 2019.
Erin Bates, who married Chad Paine in 2013, announced the birth of her fourth child recently. The couple's first child was born in May 2015. Their second and third children were born in August 2016 and March 2018, respectively.
Both Tori Bates and Josie Bates became first-time mothers recently, too. Tori Bates and her husband, Bobby Smith, welcomed their first child in November 2018. Josie and her husband, Kelton Balka, announced the arrival of their first child in July 2019.
More grandchildren are being added to the mix
Erin may have been the most recent Bates to announce the arrival of a child, but she's not the only Bates family member who announced a pregnancy this year. Tori is currently awaiting the arrival of her second child, the boy is due in April 2020. The couple plan to name their second child Kolter.
An additional Bates grandchild will arrive soon, too. Carlin Bates, who married Evan Stewart over the summer, is expecting her first child. The baby girl is expected to arrive in February 2020. Carlin Bates is close friends with Joy-Anna Duggar. Joy-Anna suffered a tragic miscarriage in July 2019. She was five months pregnant at the time of the miscarriage. Carlin has allegedly offered Joy-Anna a great deal of support as she continues to grieve the loss of her daughter.