This Theory About Brooke From 'American Horror Story: 1984' Will Blindside You
The American Horror Story franchise is no stranger to plot twists. And of course, the ninth season, 1984, will be no different. The new season has already provided fans with enough nuggets of information to pilot a fan theory-fueled rocket. For now, most fans seem to think the series will feature a Big Brother-esque reality show. However, if you're looking for something that will make you rethink everything, this theory about Nurse Rita — we mean Donna Chambers (Angelica Ross) — and Brooke Thompson (Emma Roberts) from American Horror Story: 1984 will definitely blow your mind.
Who is Donna Chambers in 'American Horror Story: 1984'?
Before we delve into the theory about Brooke in American Horror Story: 1984, let's set up a bit of background. In the third episode, titled "Slashdance," Nurse Rita of Camp Redwood turns out to be Dr. Donna Chambers.
Throughout a series of flashbacks, viewers learn Donna is a psychologist obsessed with studying serial killers for her doctorate. Her research eventually led her to Mr. Jingles and it's unveiled she helped him escape. Donna explained she wants to study Mr. Jingles in his natural habitat to understand why serial killers exist in an attempt to stop them. She even proposed Mr. Jingles isn't inherently evil, and his experience in the Vietnam War turned him into a killer.
Donna is experimenting on Brooke in 'American Horror Story: 1984'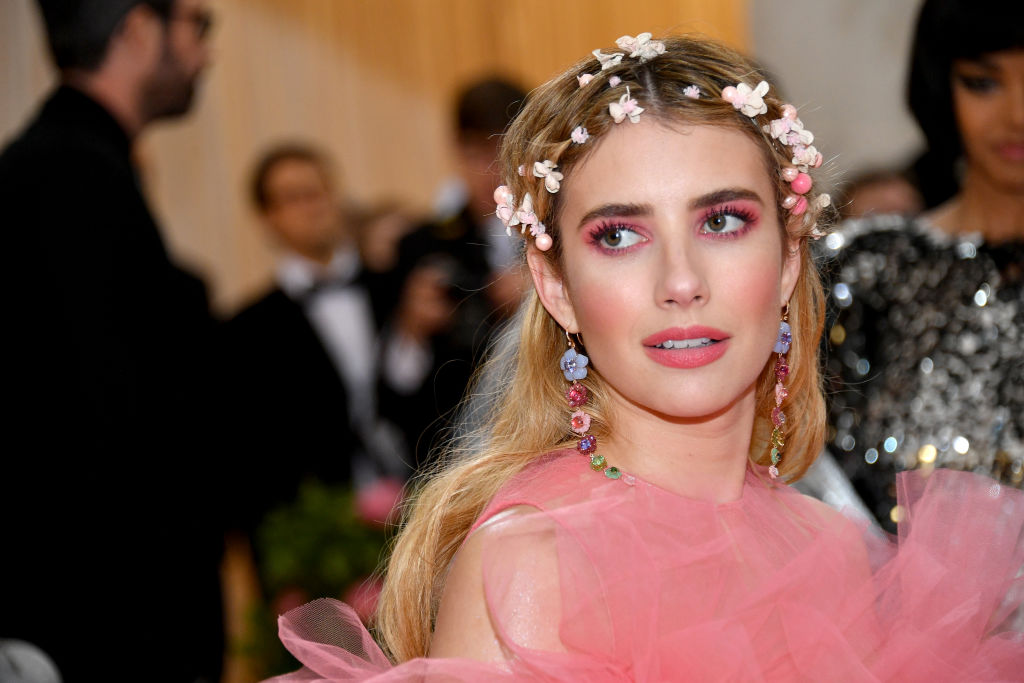 Although fans will have to wait and see what unfolds when AHS: 1984 returns, many viewers concocted their own theories. On Reddit, one fan proposed "The Brooke Experiment," based on Donna's backstory.
"I think that Donna Chambers is genuinely trying to study what turns seemingly normal people into serial killers," the viewer explained. "The whole camp is a big brother type experiment to push an innocent person (Brooke) to the point of becoming an unhinged murderer."
The Redditor also shared why they think Brooke is the subject of the experiment. "She was likely picked because of the trauma at her wedding," the fan wrote, also noting "trauma as an antecedent of violence" is a major theme of season 9. "Throughout the season she'll be exposed to different types of stressors in an attempt to push her over the edge (but none are intended to actually kill her) to see what the middle step is between trauma and becoming a serial killer."
To top it off, the Reddit user also hypothesized Montana (Billie Lourd) and Richard Ramirez (Zach Villa) — aka the Night Stalker — are both in on the plan. They pointed out they're both responsible for bringing Brooke to Camp Redwood. "I also think at the end of last episode Montana was telling him to kill someone else (maybe Donna or Margaret) who might mess up their plans," the fan added.
The viewer then suggested why Donna is experimenting on Brooke. "I think the idea of the government trying to determine what makes a serial killer," the Redditor proposed. "Or maybe to see if they can figure out a formula to create one so that they can build some sort of deranged/merciless army."
What other fans think of the 'AHS: 1984' theory about Brooke
Many fans seemed to think the Brooke experiment theory is a solid twist for American Horror Story: 1984. But, of course, some fans pointed out a few discrepancies with the original post.
"I think the night stalker/Montana part doesn't make sense if Rita doesn't know he's the nightstalker when she saw who was breaking in at the end of episode 2," one viewer explained. "Her reaction seemed like it was dead on genuine, I guess she could've been acting."
The Redditor also added Brooke could just be one of many subjects. "The only thing is I would guess Brooke being here is more accidental than planned out," the fan wrote. "And I think Rita wanted to try this experiment on everyone and control for which variables bring out sociopaths in her subjects."
They then questioned the experiment's purpose and proposed an interesting theory of their own. "If the government is behind it why would they make him escape himself?" the Reddit user asked. "I feel like Rita might be doing this on her own, like she has something to prove to her university or grad school."
But the user didn't leave the community hanging, as they proposed an interesting theory of their own. "Since there are ghosts I have a feeling the experiment will seemingly end when one of the kids kill Mr. Jingles," the fan shared. "But he comes back as a ghost as the supernatural loophole for the serial killer."
To be honest, we're on board with the Brooke experiment theory. It's just the kind of twist fans can expect from the franchise. However, this is American Horror Story, which means anything could happen as 1984 progresses. Regardless, it'll be one wild ride. So hold on tight.
Check out Showbiz Cheat Sheet on Facebook!